Humza Yousaf has pledged to make Scotland an "international leader in human rights" if he becomes Scotland's next first minister.
The SNP leadership candidate said that he will do everything in his power to "protect and advance the rights of people in Scotland" if he is elected.
He said that he will bring forward the Scottish Government's Human Rights Bill, incorporating UN human rights treaties on economic, social and cultural rights, discrimination against women, racial discrimination and the rights of people with disabilities into Scots Law as far as possible under devolution.
And he pledged that an independent Scotland would enshrine these rights in full.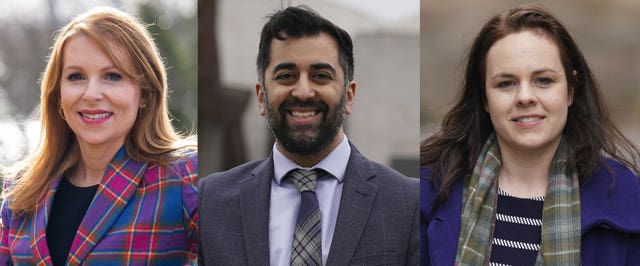 Scotland's Health Secretary is running against the country's Finance Secretary Kate Forbes and former community safety minister Ash Regan in the contest to replace Nicola Sturgeon.
He said: "Advancing human rights has been a key success story of the SNP in government – from a social security system with respect and dignity at its heart to advancing LGBT equality, we have a track record to be proud of.
"But we cannot afford to rest on our laurels – I am the candidate in this contest that has pledged my unequivocal support in advancing people's rights.
"And as first minister, I will constantly strive to ensure Scotland is an international leader in human rights.
"I will start by confirming that the government will bring forward the Human Rights Bill and will incorporate key UN treaties into Scots Law as far as the devolution settlement allows. And any areas found to be out with our power under the current settlement will be incorporated into Scots Law when we are independent.
"Meanwhile, the Tories are clearly itching to rob people in Scotland of their rights at the first opportunity as they look to scrap the Human Rights Act which enshrines so many of the important rights we enjoy today."
He added: "As first minister, I will do everything in my power to protect and advance the rights of people in Scotland – and make the case for the full powers of independence which will allow us to go even further, keeping our human rights out of the hands of Westminster for good."
A UK Ministry of Justice spokeswoman said: "The Bill of Rights builds on the UK's proud tradition of liberty by strengthening freedom of speech, reinjecting a healthy dose of common sense to the system and ending abuse of our laws.
"The UK Government was elected on a manifesto that committed to updating the Human Rights Act to ensure there is a proper balance between the rights of individuals, our vital national security and effective government – that is what we are doing."