SNP leadership candidate Kate Forbes has shared her experience of returning to work after maternity leave in the hope of inspiring other women.
Ms Forbes, who is still on maternity leave from her role as Finance Secretary, gave birth to her daughter Naomi in August 2022.
However, she put herself in the running to replace Nicola Sturgeon as SNP leader and first minister despite the challenges.
Ms Forbes visited the Halo project in Kilmarnock, East Ayrshire, to meet female entrepreneurs and business leaders.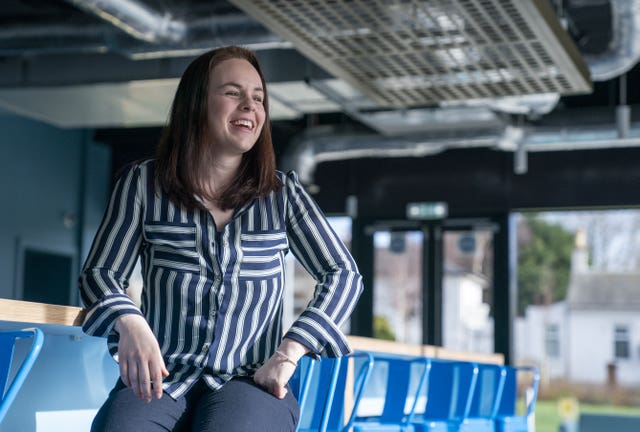 She told the PA news agency: "I live outside of the central belt – it's about four hours one way to get to Glasgow or Edinburgh and I've got a very young baby, and I think a lot of mums will be very sympathetic about how difficult it is to go back to work having had a child – never mind including those distances."
Before the MSP for Skye, Lochaber and Badenoch announced her intention to stand for the top job, questions had been asked about whether it would be the right time for Ms Forbes to enter the leadership race.
"There were comments when it was first mooted that I might stand that it wouldn't be possible for me with such a young family.
"And yet, it needs to be possible. And if I can do it, then I hope that's pioneering and supports other women who might want to go back into work, into challenging jobs, with a very young family."
Her SNP colleagues Angus Robertson and John Swinney both ruled themselves out of the leadership race due to family commitments.
She also told PA that finding the right balance was "hugely challenging", adding: "I'm speaking to you this morning having not slept terribly much at all last night, because of a seven-month-old baby that screamed constantly all night.
"So I'm not saying that it isn't really difficult. And ultimately, it's about the support network that you have around you, which is why for families and for mothers who might not have that support network we need to do more as a government to provide support to them.
"I'm certainly here with the lived experience, the scars and bags under my eyes, when it comes to how difficult it is."
During her visit to Kilmarnock, Ms Forbes met with Dr Marie Macklin, founder and executive chair of the Halo project, where she expressed the importance of protecting women's rights.
She said: "I want my daughter to grow up in a country free of prejudice, harassment and violence targeted at women and girls and so this is as much a mother's mission as it is a politician's pledge."
Rival candidate Humza Yousaf also spoke about the demands of family life during a visit to Lanark on Monday.
With an intense period of debates and hustings events scheduled over the next week, Mr Yousaf said he was holding up "not too bad" and felt the campaign had been "respectful" so far.
He told PA: "It's not necessarily helped by my three-year-old who came into my bed last night and decided to wake me up at three in the morning.
"But this is not just an issue I'm dealing with, I think other candidates are no doubt dealing with this too."