Talks to avert tens of thousands of NHS workers in England from continuing strike action "do not mean the dispute is over" but do indicate there is a "potential route out" of the bitter row over pay, the unions' lead negotiator has said.
The Department of Health and Social Care is to enter talks with unions representing ambulance workers, physiotherapists, nurses and midwives on Tuesday.
Unison's head of health Sara Gorton, who is leading the negotiations for the unions, said that the talks will "run until done".
But any payment for the current financial year will be "non-consolidated", meaning it will come in the form of a one-off payment and will not be carried over to next year's pay packet for health workers.
The Government has already indicated that it will only be able to give NHS staff on the Agenda for Change contract – which includes the majority of NHS workers apart from doctors, dentists and very senior managers – a maximum of a 3.5% uplift in next year's pay award.
But it has been suggested that there may be some wiggle room on this figure during negotiations.
"The factor that told us there had been a significant shift was the confirmation that we had from the Department on Thursday evening that there is additional investment in pay for both years above the budget," Ms Gorton said.
"So although they won't be drawn on figures and numbers until we're in the negotiations, it is that assurance that kind of unlocked the goodwill from our elected committee to actually say 'we know that there is something here in addition to what members have already had'."
Discussions may focus on other issues including staff banding, work hours, pay at the lower pay rates and the way the pay is set each year, it is understood.
Unions have agreed to postpone strike action while talks are ongoing, but an ambulance strike set for March 20 is yet to be called off.
And unions can still plan future strike dates.
Ms Gorton said unions were entering the talks with "extreme caution" but added: "But we're also glad that we are in this position, rather than sitting here briefing you about the industrial action that we'd be taking on Wednesday.
"I think the key takeaway from the events of the last few days, is this does not mean the dispute is over, but it means we potentially have a negotiated route out of it, which is very definitely a better place to be in than we were this time last week."
The Government had previously just held talks with the nurses, but these have now been "folded in" to the wider staff group, she added.
"The expectation that I have at the moment is that those talks will start tomorrow morning and run until they are done," she said.
The unions directly involved in the talks are: Unison; the Chartered Society of Physiotherapy; GMB; Unite; the Royal College of Midwives; and the Royal College of Nursing.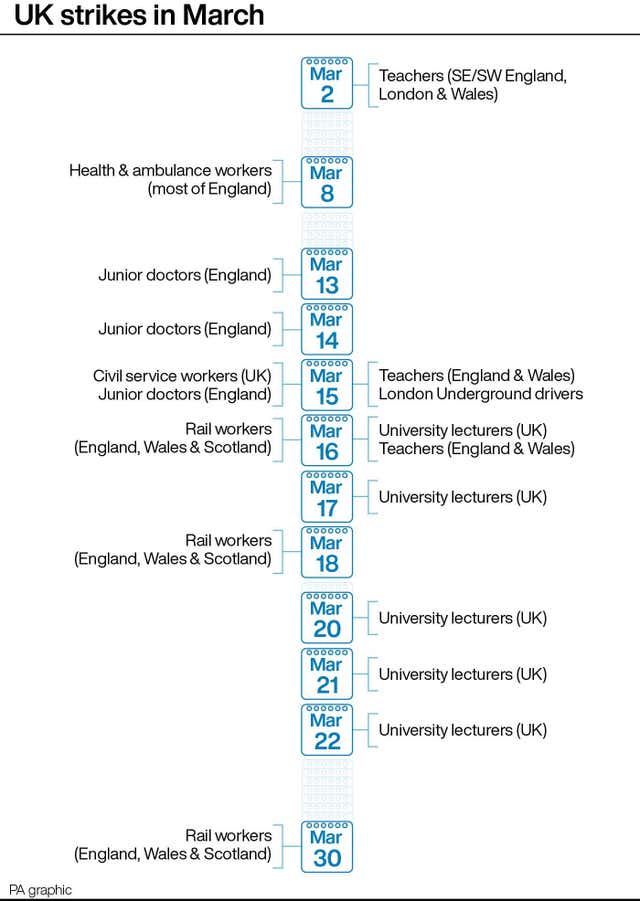 "That's the next kind of official check in and the lay members from Unison and other unions will need to know whether these talks are meaningful, rather than just a tactic to delay and get through the other side of the budget without having any more industrial action," Ms Gorton added.
She continued: "We will find out within the first few days whether these are serious talks, or whether they're just a stalling tactic, because of the willingness to engage from what we see at the other side of the table, I think that will be pretty apparent whether we are being fobbed off."
The negotiations are not with junior doctors, who are still set to walk out for 72 hours next week.
Meanwhile, the British Medical Association (BMA) announced that it will ballot consultants over potential strike action in April.
And Unison members working for the Care Quality Commission announced they are to take strike action over pay.
The Department of Health and Social Care said it would not provide running commentary on the talks but said in its most recent statement: "We're pleased that unions representing the majority of ambulance workers, nurses, physiotherapists, porters, cleaners and other non-medical staff have agreed to pause strikes and enter a process of intensive talks.
"We want to find a fair and reasonable settlement that recognises the vital role of NHS workers, the wider economic pressures facing the UK and the Prime Minister's priority to halve inflation."