An independent inquiry into a Sheffield street trees controversy has concluded that the city council's behaviour "amounted to a serious and sustained failure of strategic leadership".
Veterans of the campaign against the felling of thousands of street trees in the city said they felt "relieved and vindicated" on Monday after Sir Mark Lowcock published his 100,000-word analysis of how the operation resulted in daily confrontations in some of the city's leafiest suburbs.
"Responsibility for that ultimately rests with the political leadership, in particular the relevant cabinet member and the council leader – they were responsible for setting the direction and tone."
Sir Mark added: "The council did not, between 2016 and early 2018, adequately consider whether its strategy of facing down the campaigners would work.
"Nor did it adequately consider whether the increasingly drastic action it was taking, and was seeking from both Amey (the contractors) and the police, was wise."
"It is the inquiry's view that the council stretched the proportionate use of its authority beyond reasonable limits."
Sir Mark said the council "lacked transparency and repeatedly said things that were economical with the truth, misleading and in some cases were ultimately exposed as dishonest".
He also said the council misled the courts, adding: "The inquiry did not find perjury or criminality but misleading the courts is a serious matter."
Police were deployed in vans and a number of people were arrested during the long-running dispute.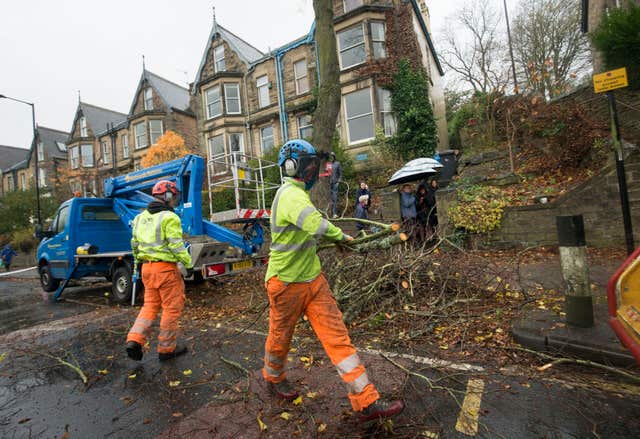 There were also allegations from contractors that protesters had poisoned them with cups of tea and a middle-aged woman was arrested in the suburban setting of Rivelin Valley Road for blowing a toy trumpet.
At one point, Sheffield City Council unsuccessfully attempted to have a group of demonstrators jailed for the actions they took.
The controversy was rooted in a 25-year £2.2 billion private finance initiative agreement Sheffield City Council signed with the contractor Amey in 2012.
The contract included a huge programme to resurface thousands of miles of Sheffield's pothole-ridden road system and, as part of this, Amey was tasked with maintaining roadside trees.
Sir Mark said the strategic failings began as early as 2008 when a misinterpretation of a consultant's report that 74% of the city's 35,000 street trees were mature or over-mature led to the 2012 Amey contract including an intention to replace 17,500 trees.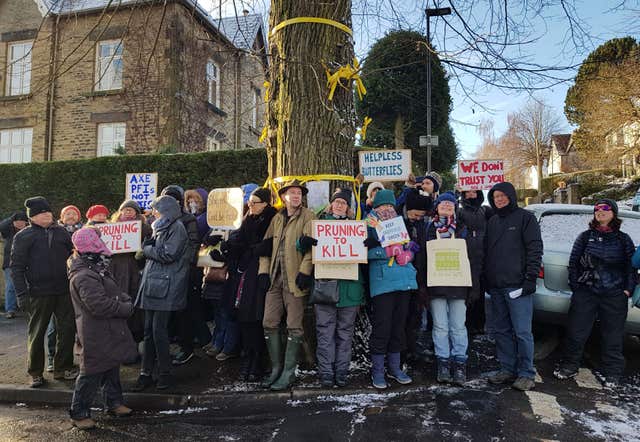 Sir Mark said: "Some of the things the council did were, in the view of the inquiry, unacceptable. Some of the ideas it flirted with but did not pursue were worse."
He said that by early 2018 "the council had united almost everyone against them – it was hard to find any influential outsider willing to defend what they were doing".
Sir Mark said the dispute was a "dark episode" which did "did significant harm".
He said "Thousands of healthy and much-loved trees were lost. Many more could have been.
"Sheffield's reputation was damaged."
Sir Mark said in his report that "apologies issued to date do not do justice to the scale of what went wrong" and he recommended the council issue a "comprehensive and fulsome apology for the things it got wrong in the course of the dispute".
The report said that 41 arrests were made on 21 occasions but it only had a record of one prosecution, which resulted in a fine and 12-month conditional discharge; one penalty notice for disorder and one caution.
Rich Ward, co-chair of the Sheffield Tree Action Group (STAG), said: "Sir Mark has shown that pretty well everything we had believed about our city council's actions is true.
"A lot of people will be feeling relieved and vindicated today.
"We are committed to working with the council to rebuild trust, explore reparation and to ensure that something like this never happens again in our city."
Protester Judy Stewart said: "This is a very emotional day for me.
"We spent huge amounts of time on the street, often in freezing weather, facing the intimidation of large numbers of police and security guards. It's such a relief to discover that it was all worthwhile and we may have achieved a lasting change in Sheffield and maybe in other towns and cities."
The report said about 5,600 trees were removed and replaced between 2013 and 2018.
A statement on behalf of council chief executive Kate Josephs and council leader Terry Fox said the authority had received Sir Mark's report only at the same time as the public, on Monday, and needed time to respond fully.
It said: "The council has already acknowledged that it got many things wrong in the handling of the street trees dispute, and we wish to reiterate our previous apologies for our failings.
"We have taken huge steps already to ensure past mistakes are not repeated and we hope the release of this report will further help us to learn lessons as we move forward from the dispute."