SNP leadership hopefuls must be given the space to set out opposition to party policies despite the Scottish Government's collective responsibility rules, Humza Yousaf has said.
The Health Secretary, who is vying to replace Nicola Sturgeon as SNP leader and Scotland's next first minister, discussed his opponents' refusal to back controversial gender reform laws.
Holyrood passed the Gender Recognition Reform (Scotland) Act in December, but it was later blocked by the UK Government using a section 35 order amid concerns it interfered with reserved equality laws.
While Mr Yousaf has made it clear he would contest the section 35 order in court, fellow leadership candidate Ash Regan has pledged to drop the law, while Kate Forbes said she would not be in favour of challenging the order but would engage with UK ministers on amendments.
Following her comments, questions have been asked of Ms Forbes on whether she should resign from her role as Finance Secretary on the principle of collective responsibility.
It is expected that ministers who do not back the government's approach should resign their position.
Speaking to reporters in Arbroath on Friday, Mr Yousaf said: "I don't think it is necessary for Kate to have to resign her position as Finance Secretary. She's in a leadership contest, she's giving her views about a whole range of issues."
He added: "Collective responsibility is incredibly important in government and government can't act without maintaining that collective responsibility.
"What I would say, there has always got to be leeway in an election contest. We have got to accept that people are able to put forward differences in terms of policy position.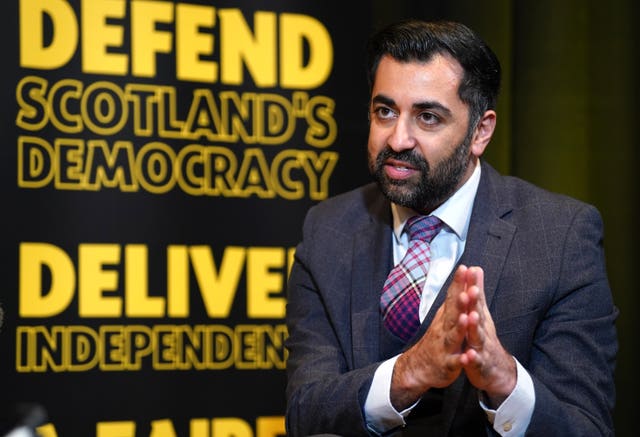 "I don't think we should be trashing the record of the government because it's the record that has managed to get us to incredibly unprecedented levels of support, election after election."
He added: "I think it's right that we give candidates a space to be able to speak about what policies they want to bring forward."
However, while Ms Forbes is an "exceptionally capable" minister, Mr Yousaf made it clear that if he was first minister, all cabinet members would be expected to support his agenda.
He said: "Kate is exceptionally capable and very talented.
"If I was the first minister of Scotland, and that's presumptuous because we are many, many weeks away from that decision, then I would want the best talent in the cabinet.
"And what I would say to them all, of course, is that this is what my agenda is. This is the progressive agenda, the socially just Scotland I want to build.
"And we've got to make sure that everybody is signed up to that and collective responsibility is an integral part of every government function."
He added: "I'm telling you my policy is that I don't know how anybody who believes in the democratic will of the Scottish Parliament, the democratic voice of the Scottish people, can do anything other than stand up against that section 35."