Nearly £75 million will be invested in schemes to protect the world's oceans, the Government has said.
Environment Secretary Therese Coffey made the announcement at the Our Ocean conference in Panama on Thursday, where heads of state, civil society and the private sector discuss ways to protect the marine environment.
Ms Coffey said £45 million will go towards a new "Blue Tech Superhighway" project, which aims to build collaboration between communities in Africa and Asia who would develop and share technologies to help fisheries become more climate resilient and less damaging to the oceans.
The UK will also contribute £24 million to the Global Fund for Coral Reefs and said it has become the first donor to the Blue Carbon Action Partnership by offering £4 million.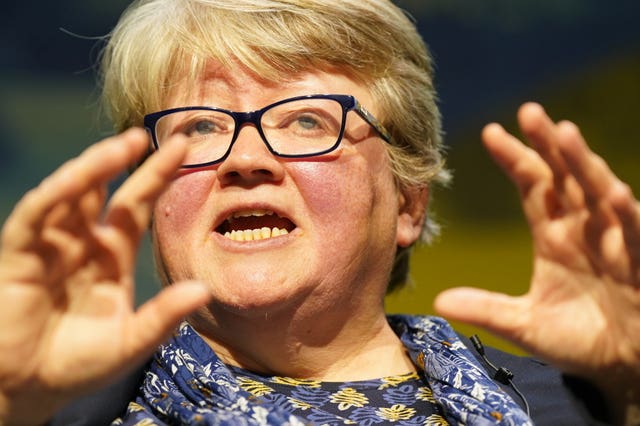 Blue carbon ecosystems are coastal environments with plants that remove carbon dioxide from the atmosphere – such as mangrove trees, salt marshes and seagrass – which together are present on every continent on Earth except Antarctica.
A further £1.5 million will go to the Asian Development Bank's new Blue Pacific Finance Hub to support marine-based economies in the Pacific, the Government said.
Ocean conservation groups have welcomed the news, but said the UK must strengthen the protection of marine areas at home and improve its relationships with developing countries to ensure that international negotiations to safeguard the oceans are successful.
Ms Coffey said: "It is almost impossible to overstate the importance of stepping up our efforts to bolster the resilience of the marine environment and, in turn, the economies and communities that depend on it.
"At the UN nature summit in Montreal, we made a commitment to manage our whole ocean sustainably and set a target to protect at least 30% of the world's ocean by 2030.
"The UK is leading, co-leading, and supporting global coalitions of ambition to drive forward this mission, and I urge countries to come together to deliver coordinated, impactful action on the ground."
She also urged more countries to work together to stop illegal, unreported and unregulated fishing, which she said undermines efforts to conserve fish stocks, damages marine ecosystems, impacts global food supply chains and threatens coastal communities.
Thursday's funding announcements will be drawn from the £154 million Climate and Ocean Adaptation and Sustainable Transition programme (Coast) launched by Lord Goldsmith at the UN Ocean Conference in 2022.
The Coast programme will run until 2030 and is itself part of the wider £500 million Blue Planet Fund, which the Government said is to support "developing countries to protect the marine environment and reduce poverty".
Hugo Tagholm, executive director of Oceana UK, said: "We welcome the UK's international work to tackle illegal fishing and also to fund some marine conservation initiatives globally, but this must be matched by action back home.
"Oceana yesterday published our findings that industrial fishing is still pervasive in most UK offshore Marine Protected Areas (MPAs) with industrial fishing occurring for over 136,000 apparent fishing hours by UK and EU vessels in 2022.
"We still need to ban industrial fishing in MPAs to show leadership on our commitment to protect 30% of the ocean. And more must be done to tackle overfishing as two-thirds of UK stocks are unsustainably fished."
Megan Randles, Greenpeace UK political campaigner, said: "These funds are pitiful and from an existing pot.
"Countries are in the final, critical, hours of talks at the UN to agree a Global Ocean Treaty – a once-in-a-lifetime opportunity to protect the high seas – but after Coffey's announcement this morning, you could be forgiven for wondering if the minister is even aware those negotiations are taking place.
"The UK still refers to itself as a world leader when it comes to ocean protection but, to prove that, it desperately needs to put money on the table to build trust with G77 countries in these final hours of negotiations to support the implementation of the treaty once established.
"Agreeing a strong, Global Ocean Treaty is a crucial tool to achieve the globally agreed target to protect at least 30% of the world's oceans by 2030. It's now or never."
Dr Peter Richardson, head of ocean recovery at the Marine Conservation Society, said: "Our ocean is a crucial ally in the fight against climate change, and we're pleased to see funding directed towards reducing ocean pollution, and protecting and restoring important carbon sequestration species and habitats, such as mangroves and seagrass.
"But in addition to this, we need to see more investment in fully protecting our seas closer to home."