Proposals which could lower the age at which people are automatically placed in a workplace pension to 18 are being backed by the Government.
Currently, employers must automatically enrol workers into a pension scheme and make contributions if they are aged between 22 and the state pension age and earn at least £10,000 a year.
The lower earnings limit, at £6,240, is the minimum level of an enrolled worker's earnings on which they and their employer have to pay contributions.
Conservative MP Jonathan Gullis's Private Members' Bill, backed by the Government, grants two extensions to automatic enrolment – abolishing the lower earnings limit for contributions and reducing the age for being automatically enrolled to 18.
Removing the lower earnings limit could help to bring more lower earners and people working part-time jobs into automatic enrolment.
It will undergo further scrutiny at a later date and is on track to become law.
The intention is that the provisions will not result in any immediate change but will give the Secretary of State powers to amend the age limit and lower the qualifying earnings limit for automatic enrolment.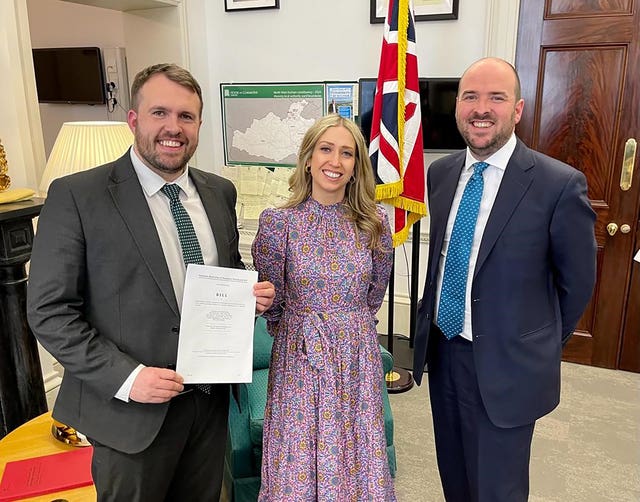 Minister for Pensions Laura Trott said: "We know that these widely supported measures will make a meaningful difference to people's pension saving over the years ahead.
"Doing this will see the Government deliver on our commitment to help grow the economy and support the hard-working people of this country, particularly groups such as women, young people and lower earners who have historically found it harder to save for retirement."
Mr Gullis, who represents Stoke-on-Trent North, said: "With all the evidence of the huge positive impact it can have, it is a no-brainer that we now need to extend auto-enrolment to those aged 18 and above."
"This is a genuine success story. Combined with the new state pension, automatic enrolment ensures that many more people can meet some of the costs of later life."
He added: "The PLSA supports increasing the momentum in automatic enrolment by extending it to workers under age 22 and removing the lower earnings limit so that people save from the first pound of earnings.
"We have also long maintained that in order for savers to reach an adequate income in retirement, further increases should be undertaken over the next decade so that (automatic enrolment) rises from an 8% pension contribution today to around 12% in the early 2030s – split 50/50 between employers and employees."
Yvonne Braun, director of policy, long term savings, health and protection at the Association of British Insurers (ABI), said: " We strongly welcome the return of the Pensions (Extension of Automatic Enrolment) Bill and it is encouraging to see it make progress.
"Automatic enrolment has transformed workplace pension savings in this country but the challenge remains to ensure that it captures as many people as possible and that they are saving enough for their retirement. Removing the lower earnings limit and reducing the lower age limit helps to achieve this…
"The success of this policy over the last 10 years is down to consensus between government, political parties, industry and employers, and we stand ready to work with Jonathan Gullis MP and all other partners to build on this over the next decade."
Earlier this week, it emerged that the timetable for pensions dashboards, which will eventually enable people to see all their pension pots in one place online, is being pushed back.
Pension schemes were due to start connecting to dashboards from August 31 2023 and dashboards were expected to be available to the public next year, but Ms Trott said previously that more time is needed to deliver the "complex build".