A new offer has been tabled in a bid to end a long-running pay dispute which has led to strikes by teachers across Scotland.
The proposals, agreed by council leaders at a meeting of umbrella body Cosla on Friday, would see teachers receive a 7% rise backdated to April last year, a further 5% at the start of this financial year, and another 2% in January next year.
Katie Hagmann, Cosla's resources spokeswoman, said: "Council leaders are clear that it is in all of our interests, not least those of children, young people and families, to conclude the teachers' pay negotiations as quickly as possible and bring back stability and certainty in our schools."
The new offer follows intense discussions between the unions and Scottish Education Secretary Shirley Anne-Somerville earlier this week, and the Scottish Government said the latest deal would see most teachers' pay packets rise by £5,200 in April.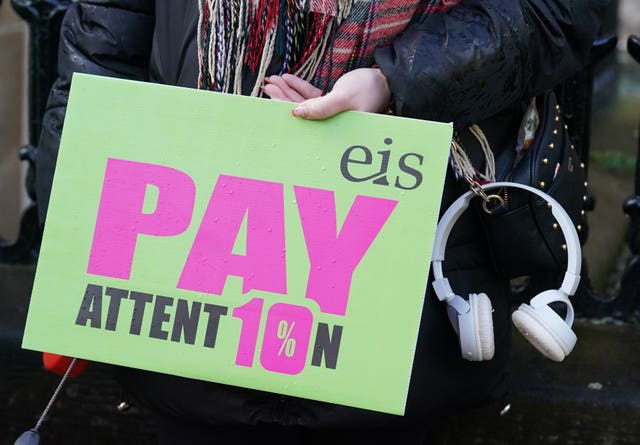 She labelled it a "historic offer" which, if accepted, "would see teacher pay increase by 33% from January 2018 to January 2024".
With more strikes looming, Ms Somerville urged unions to put the deal to their members.
Teachers with the Educational Institute of Scotland (EIS) are currently set to walk out in the constituencies of some Scottish Government ministers, including First Minister Nicola Sturgeon, next week as part of their pay campaign.
Twenty days of rolling strikes are then planned by the EIS across Scotland, targeting every local authority north of the border between March 13 and April 21.
A spokesman for the EIS said it had "received the revised offer from Cosla, and our salaries committee is considering that offer".
The Scottish Secondary Teachers' Association (SSTA) and the NASUWT are also involved in the dispute. The SSTA said it would put the new offer to members next week.
The Association of Headteachers and Deputies in Scotland cancelled its planned participation in further strikes after a majority voted in favour of accepting the last deal put to unions.
Earlier on Friday, Deputy First Minister John Swinney said he was "very optimistic" the pay dispute could be resolved imminently, but he warned cuts will have to be made elsewhere to allow him to fund the new offer.
"The Government has obviously got to find the money to support that, so I'm having to take on, in the last few weeks of this financial year, additional financial pressures," he told the BBC Radio Scotland's Good Morning Scotland programme.
Scottish Labour leader Anas Sarwar said before the new offer was tabled that the dispute had "gone on for far, far too long", adding: "That's not because of the unions, I'm keen to stress.
"It's because of intransigence from Government, who are not serious about getting round the table and finding an answer to this dispute."