Young climate protesters stopped traffic as they marched through the centre of Edinburgh.
Around 200 campaigners walked from the Meadows, down the Mound, along Princes Street and then down the Royal Mile to Holyrood on Friday as part of demands for climate justice.
The march was part of the global climate strike organised by Fridays For Future – a group of young people under 25 who have been organising school, college and university strikes to protest against climate inaction since January 2019.
As protesters chanted slogans such as "Hey hey, ho ho, fossil fuels have got to go", passers-by stopped to take photographs and videos of them.
A rally took place outside the Scottish Parliament following the march where speakers addressed the crowd.
Dylan Hamilton, 18, from Fridays For Future, said: "We are here because of greed, we are here because of our reliance on a finite source of energy. We are here because the richest want to get even richer.
"It did not have to be this way. The system was designed this way. The system was designed to extract and exploit the Earth's resources.
"But they never stopped to think at what point that would become impossible.
"Society's reliance on fossil fuels is the cost-of-living crisis.
"To solve this we have to put people before profit. We have to stop burning fossil fuels.
"(The government) pretend they are doing what is necessary, they pretend that they are hearing us, but we know this isn't true.
"They call Scotland world leaders on climate change, but that doesn't make any sense when the bar is on the ground.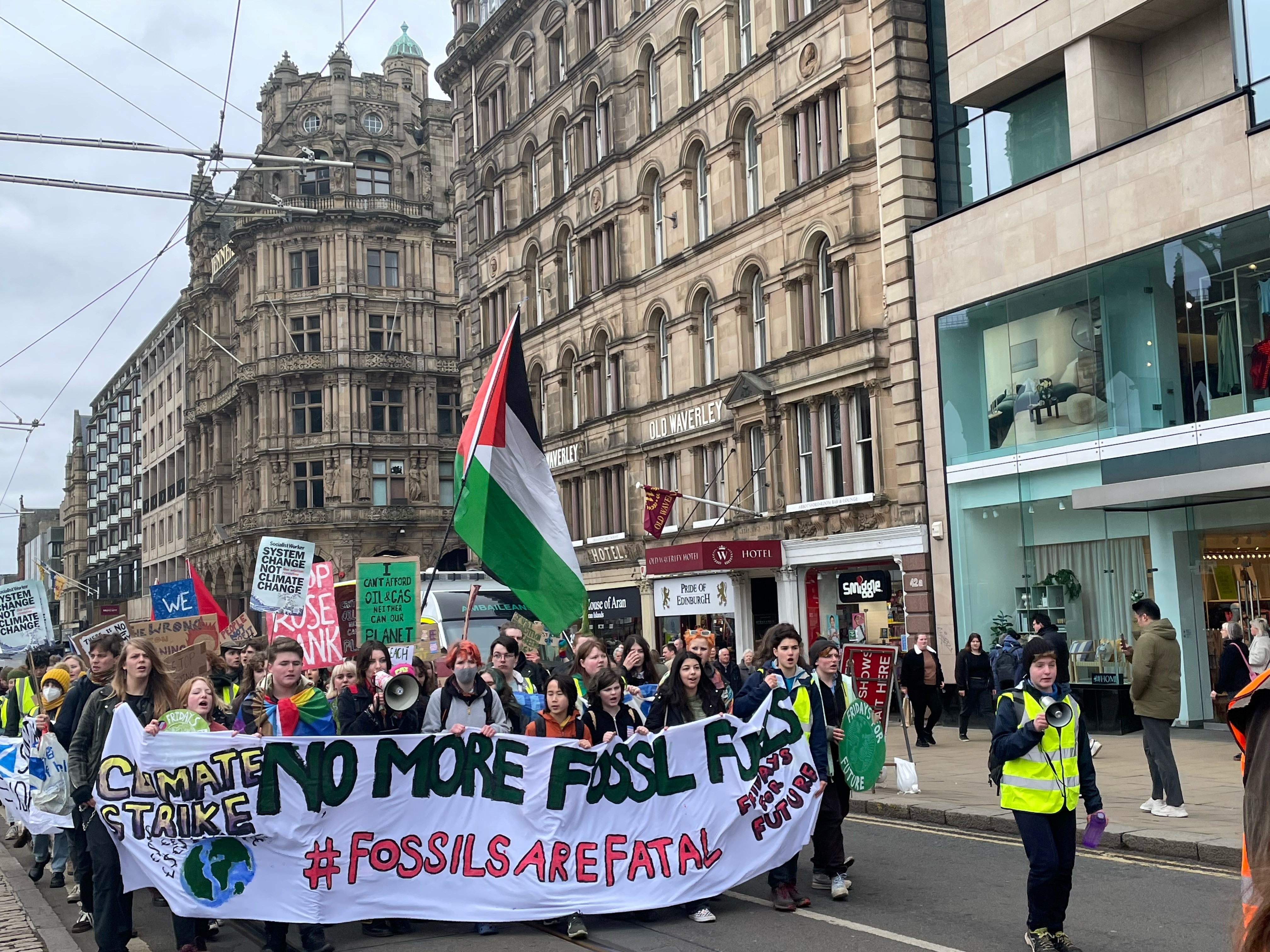 The protest was also attended by Friends of the Earth Scotland and activists campaigning to stop the Rosebank oil field being approved.
Adam Ballard, 17, another activist with Fridays For Future, said: "The climate crisis and the cost-of-living crisis have the same root cause: the refusal to move away from fossil fuels.
"There is no energy shortage; there is a corrupt system that prioritises profit over people.
"While ordinary people are forced to choose between heating and eating, the people in power and fossil fuel CEOs continue to make unimaginable profits."
Another activist, Niamh Gill, 16, said: "The science clearly states there can be no more oil, gas or coal developments if we want a liveable future.
"The UK Government is keeping Rosebank, Jackdaw and the newly proposed Whitehaven coal mine on the table, instead of securing and investing in a just transition to renewables for the workers and wider society, and climate justice for all."