Hospitals in England are still struggling with delays in ambulance handovers and discharging people who are medically fit, despite other winter pressures easing, new figures show.
More than one in four (26%) ambulance patients waited at least half an hour to be transferred to A&E teams last week, the second weekly rise in a row and the highest level since the start of the year.
Meanwhile, an average of 13,786 beds per day were occupied by people ready to be discharged – around a sixth higher than the 11,762 waiting at this point last year.
Both sets of figures reflect the ongoing challenge faced by hospitals in finding room for new arrivals, with handover delays linked to the shortage of space caused by people who no longer need to be in beds.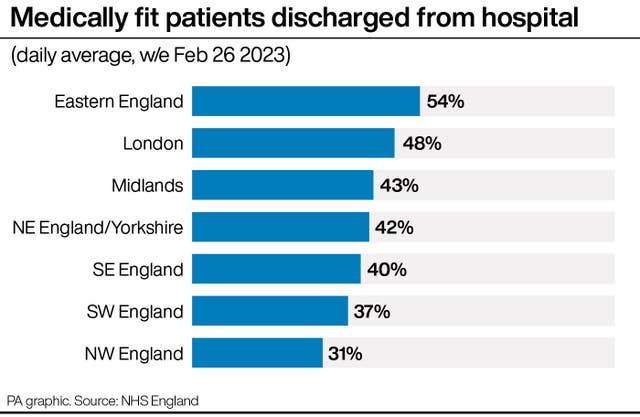 In some NHS trusts the rate is below one in 10, with 7% at Warrington & Halton Teaching Hospitals, 6% at Ashford & St Peter's Hospitals in Surrey, and just 5% at Stockport Foundation Trust, according to analysis of NHS data by the PA news agency.
There are also sharp differences across England in the level of ambulance handover delays.
Of those trusts reporting more than 1,000 ambulance arrivals last week, just 4% were delayed for at least 30 minutes at Leeds Teaching Hospitals and 12% at the Northern Care Alliance in Greater Manchester, compared with 38% at University Hospitals Birmingham, 42% at London North West University Healthcare and 43% at the Mid & South Essex Foundation Trust.
Around one in nine (11%) ambulance patients in England waited more than an hour last week for an A&E handover – again, the highest level since the start of the year.
An average of 518 beds a day were filled by flu patients last week, a drop of 19% from 638 the previous week and down 90% since the beginning of January.
Professor Stephen Powis, NHS medical director for England, said the figures were a reminder that "as we begin to see signs of spring elsewhere, pressure on NHS staff remains significant," with almost 5,000 more patients in NHS hospital beds every day compared to this time last year.
"The ongoing impact of winter viruses continues, with hundreds of flu patients still in hospital," he added.
"Norovirus remains a concern, with cases in hospital three times higher than last year.
"Despite this pressure and the impact of industrial action last week, the NHS continues to tackle the Covid backlog with waits of more than 18 months down a quarter in a month, as well as recovering urgent and emergency care services with thousands of extra beds, hundreds more ambulances and a range of measures to better treat people in the community."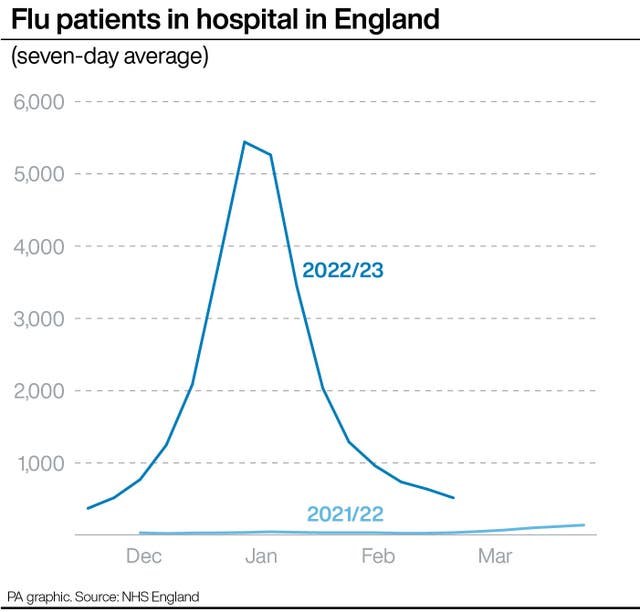 The number stood at 182 at the equivalent point last year.
Norovirus is the most common infectious cause of vomiting and diarrhoea.
It spreads easily through contact with someone who has the virus or with contaminated surfaces.
While most people make a full recovery within two or three days, the virus can lead to dehydration, especially among the very young, elderly or those with weakened immune systems.
Saffron Cordery, deputy chief executive at NHS Providers, the membership organisation for NHS trusts in England, said: "Trust leaders are deeply concerned by the ongoing mismatch between capacity and demand as bed occupancy remains far too high at 94% and delayed discharges persist.
"Every day last week, more than 13,700 medically fit patients couldn't leave hospital, in part due to the need for more investment in social care.
"These pressures impact the entire system – including mental health and community services – while escalating industrial action and the vast workforce shortages further obstruct trusts' ability to function at their best.
"To help resolve this, the Government needs to urgently open talks on pay for this financial year with all striking unions and agree on a fully funded settlement. The national long-term workforce plan, due this year, should also help address staff shortages. This, too, must be fully funded so that other vital resources are not depleted."