A second teaching union in Scotland has warned its members could take more strike action if the long-running pay dispute is not resolved.
Children are again missing lessons as many schools around the country are closed on Wednesday for the second day in a row as members of the NASUWT and Educational Institute of Scotland (EIS) unions walked out in the latest national strike action.
It follows national strike action involving several unions in January and late last year.
The NASUWT has not announced any further strike dates, however Mike Corbett, its national official for Scotland, said there is "certainly potential" for more walkouts, though members would be "reluctant" to disrupt exam season.
Speaking on a picket line outside Rosshall Academy in Glasgow, he told the PA news agency: "Our strike action programme was up to and including today and I suppose our action committee probably hoped that that would be enough and we would have resolved the dispute by now, but it doesn't look like we have, so our action committee will meet again and review where we're at.
"We do have a programme of action short of strike action in schools at the moment so that's there still to try and put pressure on employers to come to a resolution to the dispute.
"Certainly there's potential for more strike action, obviously in a secondary school like the one we're standing outside we've got exam season coming after Easter, and we would be reluctant I think to disrupt exam season, disrupt exams and the pupils' potential achievements."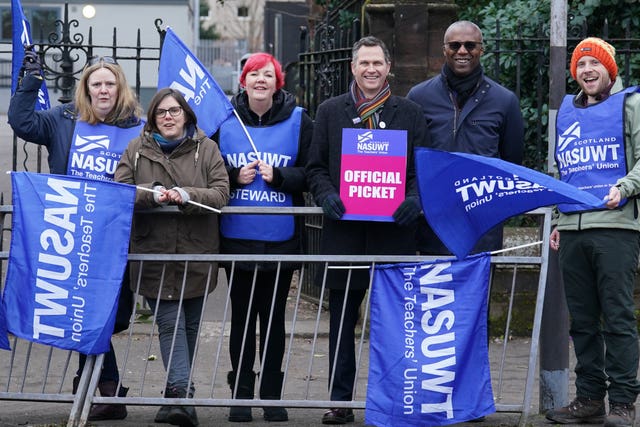 Mr Corbett said an "improved offer" is needed to resolve the dispute, and if the union receives an offer it feels is a "significant improvement", this will be put to members for them to decide on.
He said: "Our members are still solidly behind the strike action at the moment. There was a revised offer put out to the teaching unions on February 14, so we did put that to our members, and a clear majority rejected that offer, said it's still not enough.
"Although I know the Cabinet Secretary likes to add the figure together for the two years and say you're getting an 11.5% offer, our members are looking at inflation, and the fact if you put those two figures together, inflation last year and the coming year together, that's over 20%.
"So the point they've made all along, a significant real-terms pay cut is still what they're facing and why they're still out on picket lines today across the country and saying that they need a better offer from Government and employers."
He said the union has not heard from the Scottish Government regarding further talks but added the NASUWT is always happy sit down at the table for negotiations.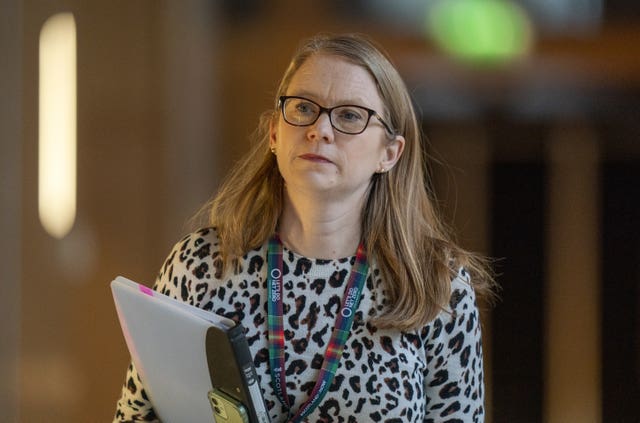 The EIS union is calling for a 10% increase which the Scottish Government has said is unaffordable.
EIS Glasgow secretary Susan Quinn said that the mood across picket lines in the city on Tuesday was "still strong", with teachers resolved to continue with strike action until a "decent pay offer" is on the table.
The union hopes that talks with the Scottish Government and Cosla this week may lead to progress.
She told the PA news agency: "We are ever hopeful that the talks with the government and Cosla will bring something new to the table – that's really why we continue with the discussions, because we hope that they will make the difference.
"They know what they need to do to end these strikes, so hopefully these talks this time will make the difference."
Asked what kind of offer the union would need to see to call off further strikes she said: "One that's much closer to the 10% claim than the current one."
Members of the Scottish Secondary Teachers' Association (SSTA) agreed to defer this week's industrial action after a member survey found they would very marginally vote in favour of accepting the latest offer.
The Association of Headteachers and Deputies in Scotland (AHDS) also cancelled its planned participation in further strikes after a majority voted in favour of accepting the deal.
Ms Somerville has said the disruption to young people's education is "completely unacceptable".
Speaking on Wednesday, she said: "All parties want to see a resolution to this pay dispute and an end to disruption to children and young people's education.
"The Deputy First Minister and I had useful talks with union colleagues yesterday.
"I am very pleased that more talks will take place today, where we will continue to look at options for compromise."
A Cosla spokesman said: "We remain in ongoing dialogue with the Scottish Government and our trade union colleagues.
"We want to find a resolution for the sake of our children and young people as well as the teaching workforce.
"Cosla leaders and Scottish Government are clear that it is in all of our interests, not least those of children, young people and families, to conclude the teachers' pay negotiations as quickly as we can to bring back stability and certainty in our schools."