Teachers in the Midlands and eastern regions of England will strike on Wednesday in a long-running dispute over pay.
It is the second day of regional walkouts by the National Education Union (NEU) after teachers took strike action in the north of England on Monday.
The NEU has estimated that around 200,000 members across England and Wales will strike over three days of action this week, with the "majority of schools" expected to either restrict access to pupils or fully close.
Further strikes by teachers are planned across Wales, the south of England and London on Thursday.
Last week, Education Secretary Gillian Keegan invited the teaching unions to "formal talks on pay, conditions and reform" on the condition that this week's walkouts were suspended.
Ms Keegan has called the union's decision not to suspend the regional strikes "hugely disappointing".
But Mary Bousted and Kevin Courtney, joint general secretaries of the NEU, have accused the Government of "burying its head in the sand" as they claim underfunded pay increases have "pushed the profession to its limits".
They said: "We reiterate once again that we are willing to enter negotiations at any time. Teachers want to be in the classroom, not the picket line.
"The Education Secretary needs to withdraw her unnecessary pre-conditions and get around the negotiating table."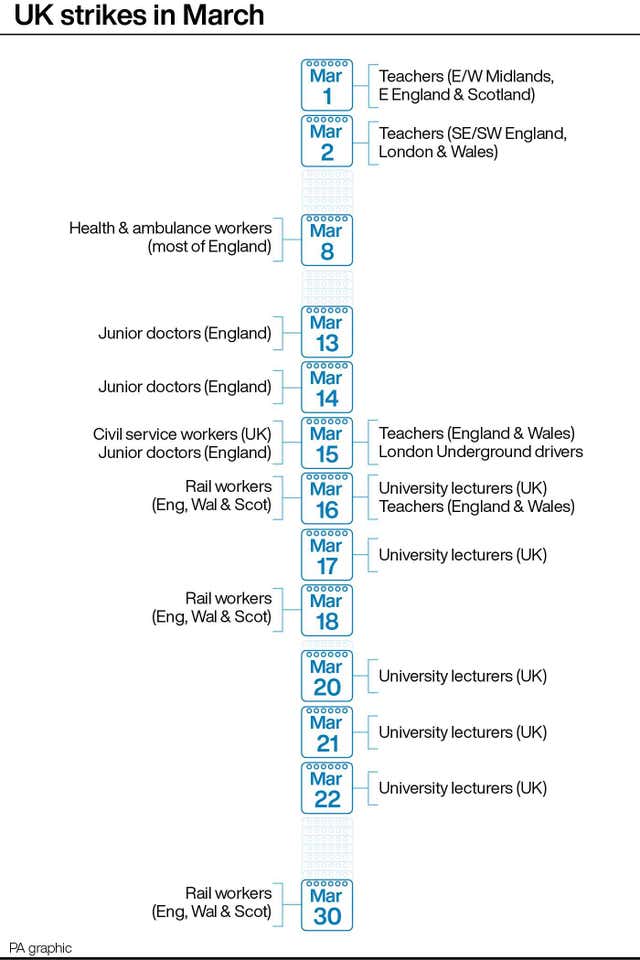 "School leaders will be considering what approach to take for those schools affected, based on their individual circumstances and risk assessments."
He added: "It is very disappointing that the Government has not been more willing to act to prevent strikes by bringing something of substance to the table for discussion. For all the hours of talks we have conducted thus far, they have not offered any tangible move on pay, which is what is required."
On February 1, the first day of walkouts by NEU members, the majority of state schools in England were forced to shut their doors to some pupils.
Some 44.7% of schools in England were open but with restricted attendance on February 1 and 9.3% were closed, Department for Education data suggested.
Geoff Barton, general secretary of the Association of School and College Leaders (ASCL), said: "The impact of this week's strikes will likely be similar to that of the national strike on February 1, when the majority of schools were partially open but there was still significant disruption."
He added: "There is an overwhelming sense of frustration among school leaders that so little progress has been made in the last month in terms of resolving the industrial dispute.
"The lack of urgency from the Westminster Government compared to the administration in Wales is notable and dispiriting. It's time to dial down the rhetoric and engage in serious negotiations."
Schools across Scotland face more closures on Wednesday as members of the Educational Institute of Scotland (EIS) and NASUWT unions embark on their second day of national strike action this week in a row over pay.
It comes after EIS members took three days of "targeted" strike action in four areas represented by key politicians, including First Minister Nicola Sturgeon, last week, and it also follows national strike action involving several unions in January and late last year.