Rishi Sunak claimed the UK offers a "very special status" to Scotland when challenged to replicate Northern Ireland's "special" EU single market access for other home nations.
The SNP asked the Prime Minister to explain why Scotland is being denied the same "attractive" arrangement given to Northern Ireland as part of the latest Brexit deal.
Mr Sunak had said the Windsor Framework, which seeks to remove post-Brexit trade barriers, would create "the world's most exciting economic zone".
SNP MP Joanna Cherry (Edinburgh South West) noted Mr Sunak had "boasted" the deal puts Northern Ireland in an "unbelievably special position" given its access to the UK and EU markets.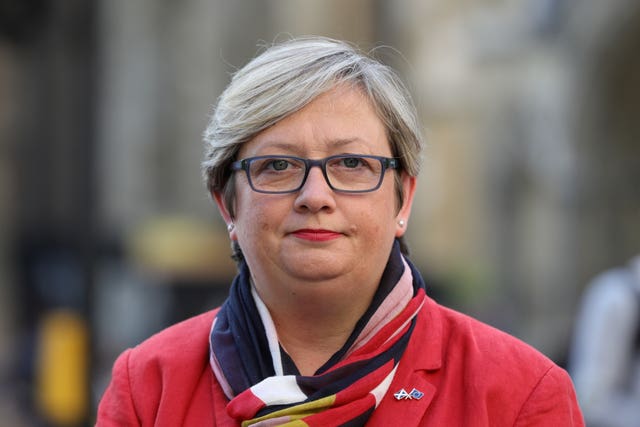 Mr Sunak replied: "There is a very special status for the nation of Scotland and that's inside our United Kingdom."
SNP Westminster leader Stephen Flynn earlier said: "Yesterday the Prime Minister said that EU single market access was special, exciting and attractive.
"If that's the case, why is he denying it to the rest of us?"
Mr Sunak responded: "It's disappointing (Mr Flynn) is seeking to play politics with the situation in Northern Ireland.
"Northern Ireland, as he well knows, has a unique place in the United Kingdom and what we are trying to do is restore the balance inherent in the Belfast Good Friday agreement, and he would do well to acknowledge that."
Mr Flynn said: "What the Prime Minister said yesterday is that EU single market access will be a good thing for business. Now of course that's in contrast to the leader of the Labour Party (Sir Keir Starmer) who said in December that EU single market access would not boost economic growth.
"Does it hurt the Prime Minister to know that the Labour Party believe in Brexit more than he does?"
Mr Sunak replied: "The important thing to note is to avoid a land border on the island of Ireland between north and south. That is what is crucial to achieve in getting the right framework for the arrangements in Northern Ireland.
"And the businesses there that trade across that border on a daily basis with complex supply chains need and value that access. That is something that the Windsor Framework has sought to achieve and I believe delivers it.
"It's not about the macro issue of membership of the European Union, it's about getting the right mechanisms in place to support businesses and communities in Northern Ireland. He knows better than that."
At Wales questions, Plaid Cymru Westminster leader Liz Saville Roberts said of Mr Sunak's advocacy for the benefits of Northern Ireland retaining access to the EU's single market: "This is an excellent argument for Plaid Cymru's policy to rejoin the single market.
"Why isn't it good enough for Wales?"
Wales Office minister James Davies said: "Wales voted to leave the EU quite decisively.
"She knows that the situation in Northern Ireland is really quite different to that in Wales, and there has been a carefully put together deal to accommodate that situation, and I feel quite sure that the EU is not in the business of allowing what she suggests."
The Prime Minister's official spokesman defended Mr Sunak's comments about Northern Ireland's status.
"The reason that Northern Ireland has this unique position is because of the importance under the Good Friday Agreement of not establishing a border on the island of Ireland," he told reporters.
"Protecting the Good Friday Agreement has been at the heart of what we are trying to achieve with this new Windsor agreement."