As Matt Hancock battles claims that he rejected advice on coronavirus testing, attention is also turning to the source of the story – journalist Isabel Oakeshott, who was handed the messages by the former health secretary while she worked on his Pandemic Diaries memoir.
Allies of Mr Hancock have accused her of breaching a non-disclosure agreement (NDA), after the Daily Telegraph splashed on its front page the allegations based on more than 100,000 WhatsApp messages.
It is not the first time a row over confidentiality agreements or NDAs has emerged in Westminster. Nor is Ms Oakeshott, currently a TalkTV presenter, a stranger to high-profile political rows.
A vehement lockdown critic, as well as a Brexit backer, the journalist has often been at the centre of some of the most memorable stories and scandals of the past decade.
Before that as a Sunday Times journalist, she was involved in breaking the story that saw former Liberal Democrat cabinet minister Chris Huhne jailed for eight months in 2013 for lying about a speeding ticket.
She was forced to defend her reporting after Vicky Pryce – who made the story public after was she asked to take the penalty points – also ended up being given an eight-month sentence.
Most recently, Ms Oakeshott was embroiled in a row over millionaire Brexit backer Arron Banks and his alleged links with the Kremlin, after acting as ghost-writer on his The Bad Boys Of Brexit book – a diary account of the unofficial leave campaign.
During the pandemic she is said to have attended a barbecue with her reported partner and Reform UK leader Richard Tice that saw Tory MP Bob Seely apologise for failing to follow lockdown advice.
In 2019, she denied that her relationship with Mr Tice was linked to her reporting on leaked cables from Britain's US ambassador Sir Kim Darroch, which prompted his resignation over remarks about Donald Trump.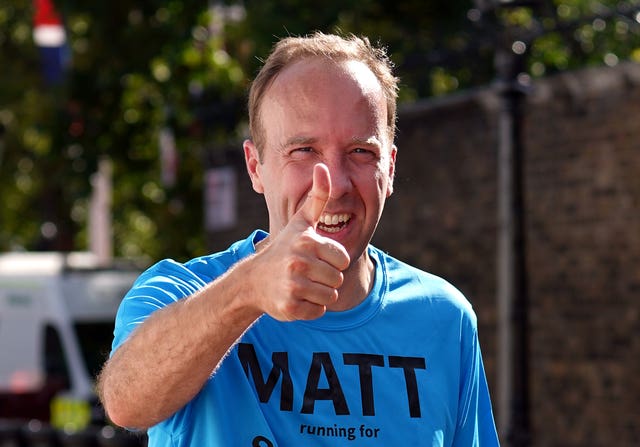 Ms Oakeshott is now facing an allegation that she breached an NDA to help break the Hancock story.
The PA news agency has contacted her, while Biteback Publishing – which published Mr Hancock's pandemic book – declined to comment.
Writing in the Telegraph, she said: "There's no secret about how I came to be in possession of this communications treasure trove. The common thread is Matt Hancock, the former health secretary.
"Throughout the pandemic, he used the messaging service WhatsApp to communicate with colleagues practically every minute of every day. Following his resignation in June 2021, he downloaded the records from his phone and shared them with various people, including me.
"I was helping him to write his book about the crisis, and we drew heavily from the material to reconstruct his day-by-day account. Suffice to say there was plenty of important material left over."
Questions about NDAs at Westminster are another matter that have often been linked to sexual harassment scandals by politicians and whether such legal agreements are being abused.
Back in 2019, Theresa May's government announced plans to tighten the rules around confidentiality clauses and NDAs in workplaces to prevent them being used to stop victims reporting harassment or discrimination.
That came after allegations regarding the behaviour of retail tycoon Sir Philip Green and his use of the legal tool.
The Daily Telegraph newspaper has been contacted about the claim by Mr Hancock, whose spokesman has said allegations the then minister rejected clinical advice on care home testing was "flat wrong" because he was told it was "not currently possible" to carry out the tests.