MasterChef presenter Gregg Wallace urged the public to use tinned or frozen vegetables to combat food shortages after collecting an MBE at a ceremony at Windsor Castle.
The 58-year-old broadcaster, who fronts the popular cooking show and its spin-offs alongside John Torode, has been recognised for services to food and charity.
Born in Peckham in south-east London, Wallace sold vegetables on a council estate before beginning his career in the Covent Garden fruit and vegetable market.
He started George Allan's Greengrocers in 1989 and has gone on to have a successful broadcasting career, presenting shows including Veg Talk on BBC Radio 4, Saturday Kitchen, Eat Well For Less, Inside The Factory, Turn Back Time, Harvest and Supermarket Secrets.
"I live in a house with a beautiful Italian, I don't know where we would be without tinned tomatoes, tinned beans. Borlotti I mean, not Heinz."
He urged the public to "get into your veg".
"There is nothing healthier and more filling than vegetables," he told PA.
"Learn more and more veg recipes. It is so good for you, it's got no fat in it and it's so filling."
He added that if you can cook pasta, couscous and rice with vegetables then "a whole world of calorie possibilities across five continents has just opened up to you".
He also told PA that people would be "served" by picking up more kitchen experience to reduce reliance on processed and expensive foods.
"I'm not a political animal but if I was going to campaign for one thing that would be compulsory cooking in schools," Mr Wallace said.
Asked about common mistakes with vegetables, he replied: "Tomatoes on the vine are the biggest con.
"It is a bit like paying more money for potatoes with dirt on them."
The MasterChef presenter acknowledged that the popular show played a big part in getting him to the castle on Tuesday.
He said: "I think if I was still in the council estate in Peckham selling carrots I may not have got the same attention."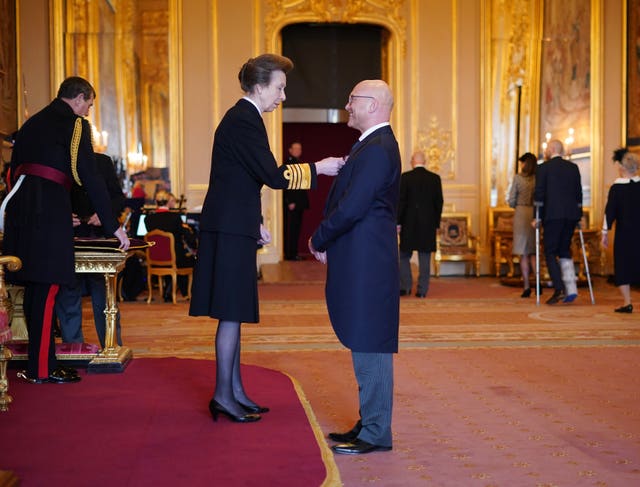 "I'm just happy. I'm like a three-year-old who has just had four bags of sweets," he said.
"My heart rate won't go down, I can't get the silly grin off my face."
He added he was amazed that Princess Anne had heard of his friendship with Zara and Mike Tindall.
The Princess Royal also expressed her disappointment to him about Scotland losing narrowly to France on Sunday in the Six Nations.
Martyn Butler, who helped set up the Terrence Higgins Trust after his friend Terry died from an Aids-related illness in 1982, and three-time Olympic field hockey player Ben Hawes also received honours during Tuesday's ceremony.
Former Wigan loose forward Sean O'Loughlin, who played for his hometown club for 19 years, collected an OBE award for services to rugby league while 81-year-old Faith Rutterford was made an MBE for public service having worked at RAF Mildenhall for more than 63 years.