Irish premier Leo Varadkar has said that the EU had moved "a lot" to facilitate a deal to improve the Northern Ireland protocol, and that negotiations would be difficult to reopen.
Mr Varadkar stayed quiet on what would happen if the DUP were to reject the Windsor Framework, saying the party should be given time to study the text of what had been agreed.
He said the free flow of goods and people on the island of Ireland had been maintained and the EU's single market had been protected as part of the revised protocol.
"What is different is that there will be no restrictions on trade when it comes to goods moving from Britain into Northern Ireland, or goods moving from Northern Ireland to Britain," he said on Monday .
"It's a uniquely positive arrangement for Northern Ireland businesses in particular, that trade can flow freely back and forth from Britain to Northern Ireland, without any need for any checks or complications, provided those goods stay in Northern Ireland."
The Fine Gael leader also said that relations between the EU and UK had not been so positive for years, helped by UK Prime Minister Rishi Sunak and his team building up trust, and by negotiations being kept confidential.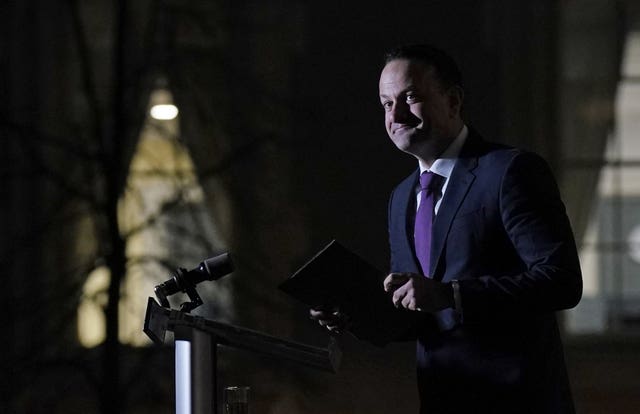 Ireland's deputy leader said the EU-UK deal represented a "genuine" attempt to address key unionist concerns.
Foreign affairs minister Micheal Martin said the new EU-UK deal ensures that Northern Ireland "benefits by having unique access to both the EU single market and the UK's internal market".
"I heard first-hand the concerns of many unionists," he said in a statement after the Windsor Framework deal.
"I believe they will see in this a genuine response to their genuine concerns.
"Medicines will also be available to people in Northern Ireland at the same time and under the same conditions as the rest of the UK."
Mr Varadkar echoed these comments, saying: "The European Union has moved a lot, moved a lot to facilitate a new agreement for Britain.
"Brexit was a concept on paper before it happened, but the same was the case for the protocol.
"Understanding how Brexit and the protocol affected trade movements in reality allowed us to understand better what aspects of it maybe weren't necessary, and we were able to take some of those away."
Although he did not comment on whether further negotiations were possible, he said the deal was "hard-won, took a huge amount of work on both sides to get to this point and, as always is the case, is something that's very, very hard to reopen".
Political parties in Northern Ireland said they would assess the text underpinning the agreement, in the wake of the announcement by Mr Sunak and European Commission President Ursula von der Leyen.
The DUP said it would engage with the British Government to "seek further clarification, reworking or change as required", while Sinn Fein will meet on Monday to discuss what has been agreed.
Sinn Fein president Mary Lou McDonald listed the Good Friday Agreement, no hardening of the border on the island of Ireland and continued access to the EU market as its priorities.
DUP leader Sir Jeffrey Donaldson said he would compare the deal against the party's seven tests.
"I appreciate that some time may be needed to consider the detail of the deal, but I would urge political leaders in Northern Ireland to act quickly, to put in place institutions that can respond directly to the needs of the people of Northern Ireland," he said.
Both Mr Martin and Mr Varadkar signalled that the deal could mark a turning point in the UK's relationship with both the EU and Ireland, which has been strained in recent years.
"I can't remember a meeting of a UK prime minister and European Commission president that has gone so well in a very, very long time, long before Brexit," Mr Varadkar said.
"So I can see the possibility there for a very good relationship between the UK and the European Union, a real economic and security partnership into the future."