Jeremy Hunt has said that the UK will have a response soon to the United States' major climate and tax law, amid concerns it creates unfair competition.
The Inflation Reduction Act (Ira), a sweeping piece of legislation passed last year, was a boost to US President Joe Biden – but has caused concerns in Europe and the UK that it creates new advantages for American businesses.
The Chancellor was quizzed by business leaders on the UK's response to the 430 billion US dollar plan, which includes tax credits for green technologies aimed at attracting investment.
He was speaking at a Treasury event for green industries in east London alongside Energy Security and Net Zero Secretary Grant Shapps and Environment Secretary Therese Coffey.
Speaking to reporters, Mr Hunt promised a response in the "next few months" even as ministers stressed that the UK remains an attractive market for green business.
"We are not hanging around on this. We need to give all those guys you saw at the conference a clear sense of how we are going to respond to Ira," the Chancellor said.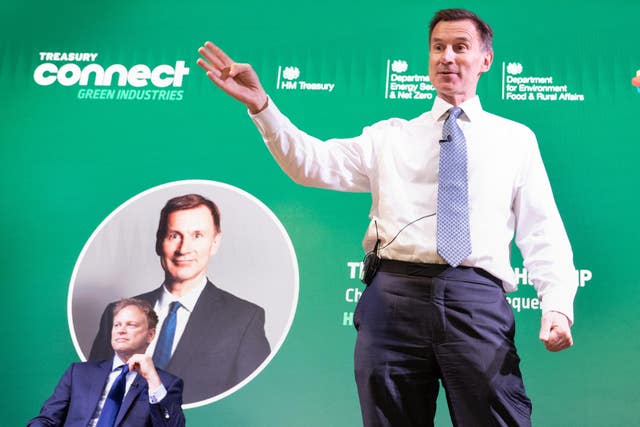 Mr Shapps also stressed to reporters that the "political consensus" on climate change in the UK remained a major advantage, as he suggested that the US and other countries were "Johnny-come-latelys" in comparison to the UK's progress on green technology.
"There is a political consensus in this country, which doesn't exist in others – notably the US, and which is more forward leaning on this green tech issue we're discussing today than anywhere else in the developed world, anywhere else in Europe," he told reporters.
"There are lots of Johnny-come-latelys coming to it now, but we've got a 10-year advantage that we need to capitalise on – in hydrogen, in [carbon capture, utilisation and storage], in our approach to off-shore wind and even onshore wind."
Mr Hunt also said that the Government would respond by spring or early summer to Chris Skidmore's review on net zero.
The report, published last month, described the goal of net zero greenhouse gas emissions as "the growth opportunity of the 21st century".
The Chancellor told business chiefs that the Government would respond "fulsomely".
"We're not thinking of this as a long process, we want to respond in the late spring or early summer."