NHS leaders pleaded with Rishi Sunak's government to negotiate on pay as junior doctors in England announced plans for a 72-hour walkout next month.
Junior doctor members of the British Medical Association (BMA) overwhelmingly backed the strike as the union hit out at Health Secretary Steve Barclay for failing to take part in meaningful talks on wages.
Deputy chief executive Saffron Cordery said health leaders were "deeply concerned" about the potential impact of the junior doctors' strike, which comes on top of action  by nurses and ambulance staff.
She said: "An unprecedented 72-hour strike next month is extremely worrying as the NHS battles to cope with the effects of the most widespread industrial action in its history, soon to include a 48-hour walkout by nurses from March 1.
"Leaders across the NHS are deeply concerned about the impact this will have on their ability to deliver care, especially as hospitals will now be left without emergency cover by junior doctors for three days straight."
"An urgent resolution is needed if we are to prevent harm to patients and the NHS.
"Trust leaders will do everything they can to mitigate the impact of these strikes on services, but disruption is inevitable, and they're worried it will hamper efforts to tackle care backlogs and meet elective targets.
"Nobody wants this, but burnt-out frontline staff feel they've been pushed to this point by challenges including the rising cost of living, below-inflation pay and vast workforce shortages."
BMA junior doctors committee co-chairs Dr Robert Laurenson and Dr Vivek Trivedi said: "The Government has only itself to blame, standing by in silent indifference as our members are forced to take this difficult decision."
More than 47,600 junior doctors in England were eligible to vote in the BMA's ballot.
Almost 37,000 votes were cast and 98% of those were cast in favour of strike action, meaning this was the largest ever turnout for a ballot of doctors by the BMA and a record number of junior doctors voting for strike action.
Dr Laurenson and Dr Trivedi said: "This vote shows, without a shadow of a doubt, the strength of feeling among most of England's junior doctors.
"We are frustrated, in despair and angry and we have voted in our thousands to say, 'in the name of our profession, our patients, and our NHS, doctors won't take it anymore'."
They said that after a real-terms pay cut of more than 26% since 2008, junior doctors were offered an "insulting" 2% pay rise in the current year.
"I think he was writing that in anticipation because he was worried about what exactly this ballot result would look like.
"And I think he's right to be worried, unfortunately.
"This is a massive mandate and it's quite shocking that he has had to respond only when industrial action is on the table.
"It never needed to come to this point. Our 72-hour of full walkout does not need to happen.
"He needs to come to the table with assurances that the Treasury, Jeremy Hunt and Rishi Sunak will provide new funding so that they do not pit doctors against other staff or doctors against patients."
He said doctors are "are graduating on about £14 an hour" and that such wages are putting them in "really difficult situations" which is "extremely demoralising".
He added: "Every August there's a natural period where doctors rotate and we know so many doctors are looking over their shoulder with one eye at Australia and New Zealand.
"If we do not make a resolution quickly, these doctors will leave in August and we will set ourselves up for another winter where tens of thousands of Britons are going to lose their lives because of the lack of planning from this Government."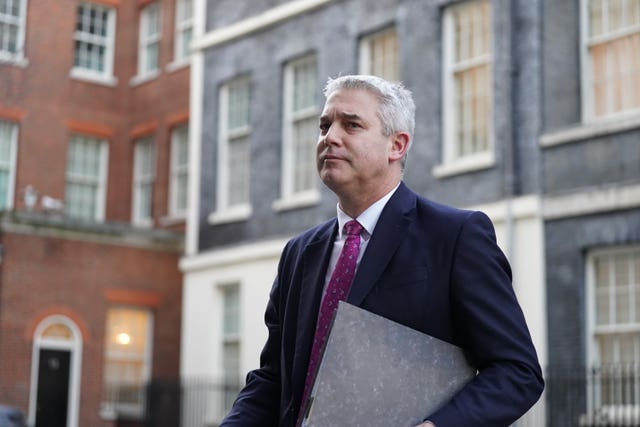 "As part of a multi-year deal we agreed with the BMA, junior doctors' pay has increased by a cumulative 8.2% since 2019/20. We also introduced a higher pay band for the most experienced staff and increased rates for night shifts.
"I've met with the BMA and other medical unions to discuss what is fair and affordable, as well as wider concerns around conditions and workload.
"I want to continue discussing how we can make the NHS a better place to work for all."
The BMA's action is the latest industrial dispute to hit the NHS as workers face a squeeze on living standards driven by soaring inflation.
A smaller number of junior doctors in the Hospital Consultants and Specialists Association (HCSA) have already said they will strike for the first time in the union's history next month in a dispute over pay.
Thousands of ambulance workers were staging a fresh strike on Monday in their long-running dispute over pay and staffing.
The GMB said more than 11,000 of its ambulance workers will walk out in England and Wales, including paramedics, emergency care assistants and call handlers, with ambulance workers in the Unite union in parts of the country also on strike.