A Nigerian street trader at the centre of an alleged organ-harvesting plot has told jurors he thought he was coming to Britain to work.
The man, who cannot be identified for legal reasons, was allegedly brought to the UK to donate a kidney to the sick daughter of wealthy Nigerian politician Ike Ekweremadu in exchange for a cash reward.
But giving evidence at the Old Bailey on Monday, he told jurors he did not even know why he was being taken to see a doctor.
He described being "controlled" and told to lie about having a family connection with the Ekweremadus before a consultation at the Royal Free Hospital.
At the meeting, the doctor appeared "surprised" and asked him if he knew why he was there, to which he said no.
When told it was for a kidney transplant, the young man was "shocked", felt like crying, and said: "Nobody told me about kidney transplant."
The doctor at the north London hospital concluded he was unsuitable as a donor for 25-year-old Sonia Ekweremadu, the Old Bailey has heard.
Jurors were told that afterwards, he was treated "like a slave" and became "afraid" at what would happen to him.
He walked out of the house in London where he was staying and slept under bushes for three days and nights, asking any black people he met for help before walking into Staines Police Station in Surrey in May last year.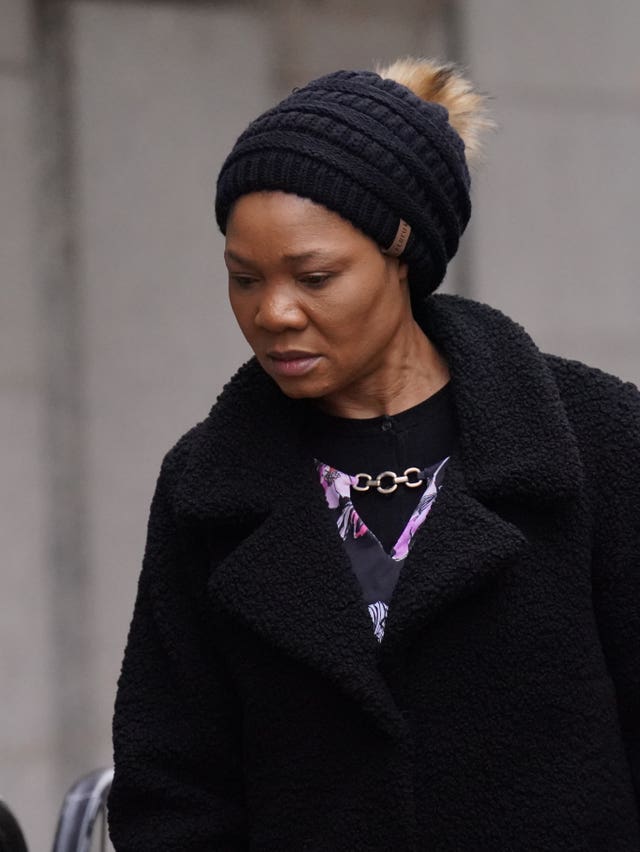 The young man, then aged 21, said he thought he was coming to Britain to work.
He told how he was born and bred in a village in Nigeria, the oldest of nine children to his carpenter father and mother.
He went to a village school until the age of 15 when he left because his parents needed money, the court heard.
His uncle took him to live with him in Lagos and gave him work selling phone accessories, he said.

After four years, he started his own business selling phone accessories from a wheelbarrow in the market earning 3,000 or 4,000 naira (around £5-£7) a day.
Prosecutor Hugh Davies KC asked how he came to fly to London from Lagos.
The witness, who gave evidence by video link with the assistance of an interpreter, said: "Obinna (Obeta) is the man who brought me here to this country.
"He asked me what am I doing and I told him I'm doing business selling phone accessory in Lagos and he start talking about coming to London.
"He going to take me to London, stay at his house, and I will work."
The court heard how he travelled to the Nigerian capital Abuja for tests and was taken to have passport pictures taken.
He told jurors the first time he saw his passport was when he went for a visa interview and he did not see it again until the day he travelled to the UK.
Mr Davies asked: "What did you think you were going to do when you came to London?"
He replied: "To work – any type of work that I would get paid."
He said he thought Dr Obeta was helping him because he was "from God".
After travelling to the UK, the man was pictured sharing a meal with Sonia Ekweremadu and smiling into the camera.
At the meal, those present "only discuss for themselves" and did not ask him any questions, the witness said.
He told jurors he thought it was for a test before he could start work.
Before going inside, they allegedly met Sonia Ekweremadu, a tall Nigerian man who had escorted him on the plane and another woman.
He told jurors: "They used to discuss by themselves. Obinna would just tell me where to stay. Like they was controlling me.
"They said I am going to see the doctor. The doctor is going to ask me question and they will give me the answer."
He was allegedly told to lie that he had been to a "higher institution" school and that he and Sonia Ekweremadu were cousins.
He went on: "Obinna told me that if the doctor asks me if they give me money, if they pay me for what I want to do, I should tell the doctor they no pay me.
"He give me many answer to give the doctor but everything was not true."
As he entered the hospital, an interpreter told him that what he was doing was "not a small thing", the court heard.
But the witness said: "I don't understand the woman when she said what they brought me to do was not a small thing because I did not know why they bring me to the hospital."
The Ekweremadus, who have an address in Willesden Green, north west London, and Dr Obeta, from Southwark, south London, deny the charge against them and the Old Bailey trial continues.