Scottish Labour leader Anas Sarwar has said he would take any of the rumoured SNP candidates to replace Nicola Sturgeon.
No one has officially declared their candidacy to replace the First Minister after her shock resignation this week, but reports suggest a number are weighing up their options.
Health Secretary Humza Yousaf, former community safety minister and SNP rebel Ash Regan and environment minister Mairi McAllan are all considering a tilt at the top job, according to reports.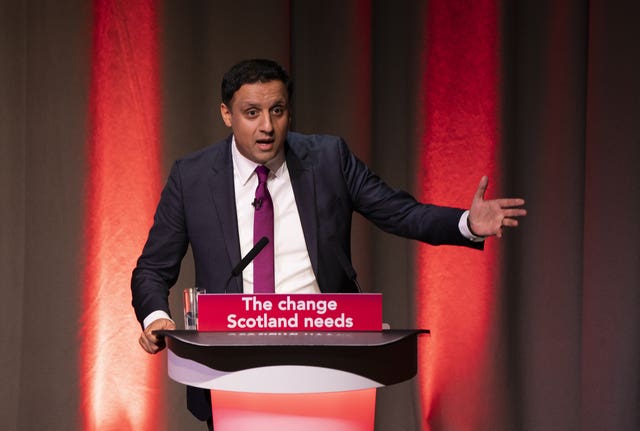 But Mr Sarwar, speaking to the PA news agency at his party's conference in Edinburgh, was confident in his party's chances against any of those rumoured to be set to announce their candidacy.
"I'd take any of them," he said.
"I'm less interested in who leads the SNP, I'm more interested in what we would do differently.
"Let them talk to themselves, let them have those divides out in the public."
He added: "There used to be a time – a long time in Scottish politics – where people looked to us in the Labour Party and said we were the most divided party in the country, I think people are looking at other political parties and seeing their divisions and seeing that the unified ambition from our country now comes from Scottish Labour."
Mr Sarwar's sentiments were echoed by shadow Scottish secretary Ian Murray in his speech to the conference on Saturday, when he told delegates: "Right in the middle of a crisis when Scots are struggling, the SNP is going to turn in on itself even further.
"For the next six weeks, the Scottish Government is going to be completely paralysed.
"Scotland's ministers – from the Finance Secretary to the Health Secretary – will be trying to outdo each other on who can be the most extreme on independence while bills and waiting times surge."
SNP Scotland Office spokeswoman Dr Philippa Whitford said it was "telling" that both Mr Sarwar and Mr Murray were talking "the differences between the SNP and Labour rather than between Labour and the Tories – that's because there are barely any".
She added: "Both the Labour and Tory parties are now closely aligned on a number of key issues, they are pro-Brexit, anti-immigration and intent on denying Scots their democratic right to self-determination.
"Neither party will stand up for Scotland.
"Labour has made that clear by failing to to defend devolution from being undermined by the Tory government.
"Only the SNP have proven they will stand up for Scotland and follow through on their manifesto commitments, including putting the question of independence to the people of Scotland and giving them a choice over their own future."