A rare silence descended on Edinburgh's Royal Mile as thousands of mourners and emergency service personnel lined the street to pay their respects to firefighter Barry Martin.
The 38-year-old died on January 27 as a result of serious injuries sustained while fighting a large fire at the former Jenners department store in the city earlier that week.
Mr Martin's cortege made its way up the Royal Mile at noon on Friday, with his coffin travelling on a fire engine from McDonald Road fire station where he had been based throughout his career with the Scottish Fire and Rescue Service (SFRS).
Hundreds of firefighters from across Edinburgh and Scotland lined the route, as did police officers and paramedics.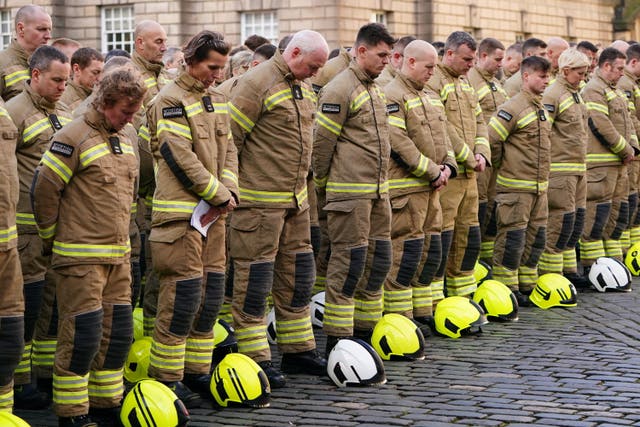 Upon its arrival at St Giles' Cathedral around half-an-hour later, Mr Martin's coffin was accompanied by a piper playing Scotland The Brave as it was carried inside by six of his colleagues.
First Minister Nicola Sturgeon was among those attending the service.
SFRS interim chief officer Ross Haggart delivered a eulogy to Mr Martin, who was from Fife.
He told mourners: "The death of a fellow firefighter is deeply felt throughout the whole fire and rescue service community – not just across Scotland but around the UK and beyond.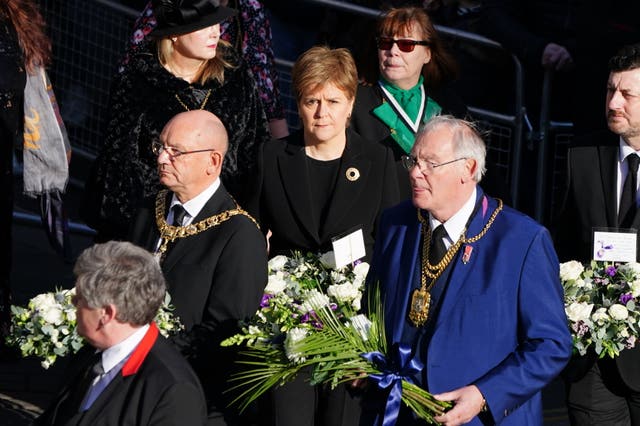 Mr Martin was married to Shelley, and they had eight-year-old twin sons called Daniel and Oliver.
Paying tribute to him ahead of the service, his wife said: "Our sons could not have wished for a more loving and attentive father. He was a busy dad, transporting our sons to their various activities, and being there for them.
"I felt utterly privileged to be his wife throughout our life together and always will.
"Our love, admiration and respect for him, will last forever."
Mr Martin joined the SFRS in January 2020 and Mr Haggart said he immediately stood out to instructors as "somebody who could be relied upon" to support his squad.
He added: "When the instructor asked for a volunteer to be the first to climb the ladder, Barry stepped forward – displaying courage and putting others before himself.
"He was the epitome of what you would want in a colleague and friend – hardworking and loyal, he always had your back.
"One remembers Barry on the first night bulling shoes and attempting to show the rest of the squad how to do it. Unfortunately, this resulted in the hotel room floor being awash with boot polish marks.
"Another member of Barry's squad remembers him as a kind and selfless gentleman, always thinking of others and fixing their uniforms before parade, making sure they were in the right place at the right time.
"He was a big fan of the word buzzin', which always helped hype everyone up for drills or training scenarios."
Mr Haggart thanked members of the public for the messages of support the fire service had received following his death.
He said: "Fire and rescue services fell silent on Monday as a minute's silence was observed to pause and reflect on Barry's life and sacrifice.
"That silence reached the earthquake disaster area in Turkey, where firefighters from the UK International Search and Rescue Team stopped and paid a moving tribute to one of their own."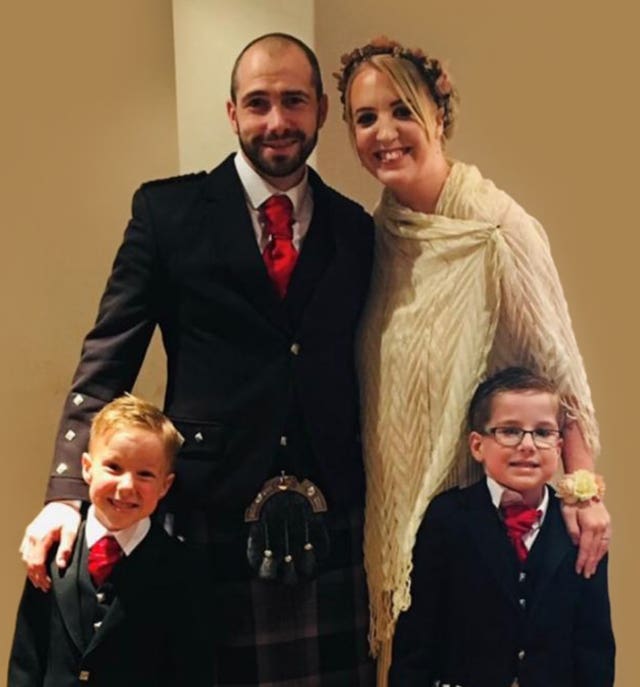 He told the service: "The tributes to Mr Martin show how deeply his passing has been felt both by people throughout the city and across Scotland.
"Firefighters put their health and lives on the line to protect us day after day.
"Thankfully it is a very rare occurrence indeed for any firefighter these days to lose their life in the course of their duty.
"That makes the loss of Barry Martin all the more keenly felt by all of us in Edinburgh, and I am sure by his fellow firefighters."
The congregation was then invited to observe a minute of silence to remember Mr Martin, and the mourners who had gathered outside the cathedral also joined in.
Mr Martin's wife and sons left the cathedral to make their way to his private committal.
The cortege left the grounds to a ripple of spontaneous applause from members of the public.