A future Labour government would ensure the defence needs of Ukraine continued to be met, Sir Keir Starmer told the country's president Volodymyr Zelensky.
In face-to-face talks in Kyiv, the Labour Party leader assured Mr Zelensky that Ukraine would have his "unwavering support" against Russian aggression if he became Britain's next prime minister.
Sir Keir told Mr Zelensky, during their first conversation in Ukraine since Russian president Vladimir Putin's troops invaded, that a Labour administration would "maintain the defence, training, and technological support" that was currently being provided by the UK.
The Opposition leader's surprise visit to the Ukrainian capital comes a week before the first anniversary of the bloody conflict with Moscow.
It also comes after Mr Zelensky visited Britain and other European capitals last week to appeal for the West to give his air force fighter jets, as Ukraine prepares to counter an expected Russian spring offensive.
In a statement issued by the party, Sir Keir said: "I had a very constructive meeting with President Zelensky, and we were able to discuss the support that Ukraine needs and the justice that it deserves.
"We spoke about the need for that justice to cover both the use of Russian state assets for reconstruction and the need for there to be prosecutions for war crimes.
"It's a very important message for me to be able to relay to the president face to face, and I've been able to do that this afternoon.
"We discussed a range of issues, he's very concerned about support through weapons and the continuation of training for Ukraine, and I stressed that the Labour Party supports and would maintain the defence, training and technological support the current UK government is providing.
"I've said throughout this conflict there will be no difference between the political parties on this, so we will continue to work with the Government to see what further support we can provide."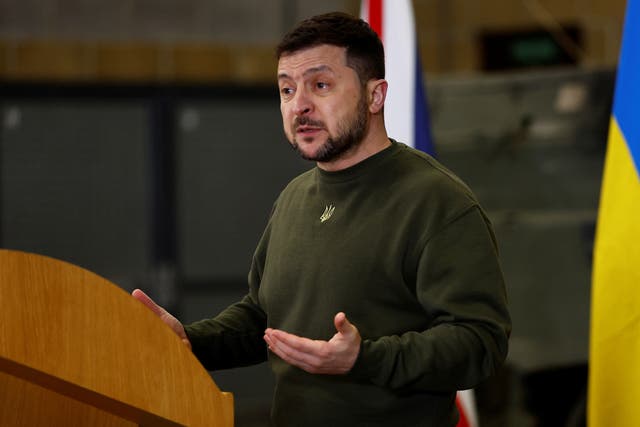 He also travelled to Bucha, on the outskirts of the capital, an area where war crimes were allegedly carried out by the Kremlin's occupying armed forces.
Sir Keir, a former director of public prosecutions, used his time in eastern Europe to speak with experts in human rights, reconstruction and appropriations.
He told reporters: "It's incredible to see the evidence of atrocities that I've seen this morning.
"Photographs of civilians in the outskirts of Kyiv blindfolded, with their arms tied behind their back.
"There has to be justice for this. There has to be justice in The Hague and there has to be proper reparation in the rebuilding of Ukraine."