The King surprised volunteers and users at a food bank in Milton Keynes with an unexpected visit on Thursday afternoon.
They were only told an hour before he arrived after commemorating Milton Keynes's new status as a city, which was awarded during last year's Platinum Jubilee.
Charles was amused when he found out the identity of their VIP guest had been kept secret, laughing "You didn't know why?"
The King was introduced to volunteers, users and supporters of the MK Food Bank, which supports more than 5,000 families across the city.
Louisa Hobbs, the food bank's operations manager, showed him round and said his interest was clearly genuine after he requested to visit a food bank in the city.
She told the PA news agency: "Some people had definitely put two and two together but others were absolutely shocked and came up to me afterwards going, 'What?'. I think everybody was absolutely thrilled.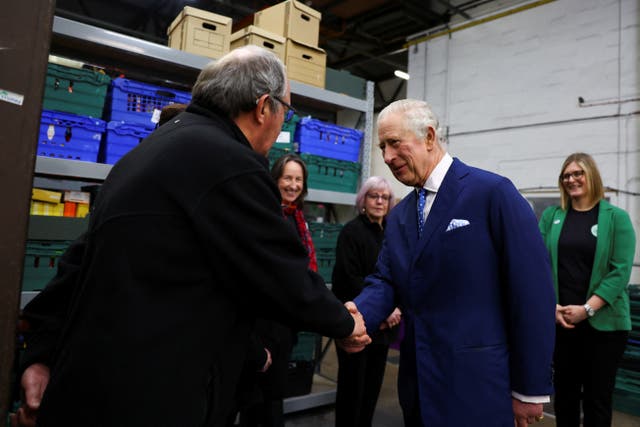 "I think the volunteers will remember this day for the rest of their lives."
When introduced to Charles, Rose Mepham, a 72-year-old volunteer, told him, "I'd love to curtsey but I've just had a new knee", to which the King replied, "No, don't even think about it."
She said she was "starstruck" to have met him and it was "weird" how normal he was to speak to.
"How many times in your life do you get in your life to meet the King," she told the PA news agency.
"It was absolutely brilliant, so normal and that's a bit weird isn't it? He is an absolutely lovely man.
"He made sure that he shook every single person's hand in this room and that's important.
"It shows just what he is going to do for our country."
As he spoke to local supermarket bosses who support the food bank, Charles called out and requested that Charlotte Hill, chief executive of the Felix Project, join the conversation.
The charity, which distributes surplus supermarket food to stop it going to waste, recently received a donation of 800 fridges and freezers from the Prince of Wales's Charitable Fund.
Ms Hill told PA: "The King called me over to speak to the supermarkets here today to make sure they understood the investment in the blast freezers we have.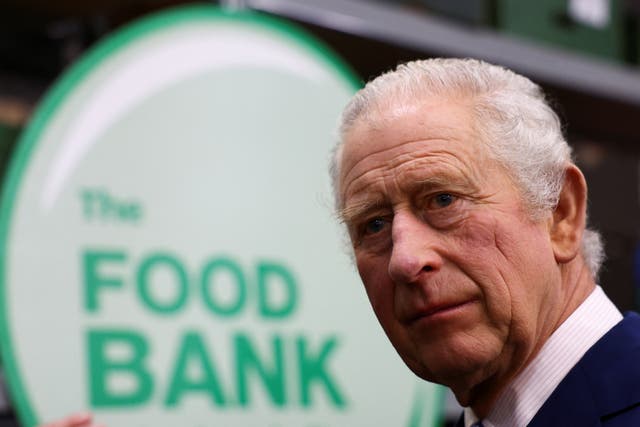 "That's our commitment at the Felix Project – to make sure no good food is wasted and no one goes hungry."
She added: "It is a great privilege that he is so engaged and interested in this agenda and I'm always so impressed with his great knowledge.
"It is always brilliant to talk to him about it because he has such genuine passion for the work we do."
The food bank, which was founded in 2004, handed out 26,000 food parcels last year, a 40% increase on 2021.
The cost-of-living crisis has seen demand soar but donations fall by a third.
It operates from an industrial estate and distributes food at 10 centres in the city and also via a mobile top-up van.
The van allows food bank users to purchase additional food and household essentials at lower prices.
Individuals living alone pay £2 for a maximum of 10 items for £2 and couples and families pay £4 for a maximum of 20 items.