An 18-year-old man has been arrested on suspicion of murdering a 16-year-old boy, with detectives sealing off an area of woodland beside a children's playground as they investigate.
Essex Police said officers were called to Waterson Vale, a residential street in Chelmsford, at around 11.30pm on Sunday following reports of a boy sustaining "serious injuries".
The force said that the boy was taken to hospital where he died.
An 18-year-old man was arrested in the early hours of Monday on suspicion of murder and he remains in custody.
Officers say they are confident the incident was "isolated and targeted".
An officer in a white forensic suit appeared to take photographs of a short path that passes through the woodland, from a road to an open area of grass.
A handler led a police sniffer dog around the wooded area.
The woodland has a children's playground beside it where children played on Monday, and some floral tributes were left against the railings.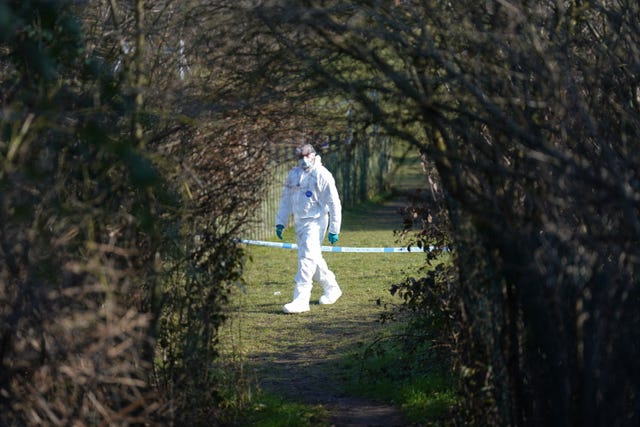 Detective Superintendent Rob Kirby, head of major crime, said: "This is a shocking incident leading to the death of a young boy and I understand that many will be concerned after waking up to this news.
"We are confident that this is an isolated and targeted assault.
"The specialist teams are likely to remain in the area for the next couple of days in order to continue gathering crucial evidence.
"We are continuing to appeal to anyone who was in the area of Waterson Vale or surrounding roads in Chelmsford last night and may have witnessed or heard anything, to contact us.
"Additionally, anyone with any further information is asked to get in touch.
"We have launched a major incident public portal, meaning the public can submit information online, directly to the investigation team."
Bernadette Godson, 56, who lives nearby, said that she could hear "raised voices, just shouting" at about 11pm on Sunday.
She said the voices were male, she did not know how many there were and it did not go on for long.
She said that since Covid-19 restrictions had lifted there had been "problems with gangs of youths, particularly at night, congregating".
She said she would call police and was asked to keep a log of incidents.
She said that on a previous occasion a neighbour had "challenged (youths) as to what they're doing in there (the woodland), why are they pulling branches down off trees, why are they lighting fires".
"I'm upset," she said.
"It's something that could have been prevented if they'd taken this constant youth behaviour up here with the drug-selling and stuff like that seriously.
Liz Rudgewick, who lives near to the woodland, said she was unaware that anything had happened until 8.30am on Monday when she left her house to go to the gym.
"I'm quite shocked," she said. "It's just a sad state of affairs."
The 55-year-old said that her children would play football on the green space when they were younger.
She said that more than 20 years ago there was a "problem with drugs on the green, but the police sorted all that out and there hasn't been any problem since as far as I'm aware".
A neighbour said it was "just a friendly area", adding: "It's a close-knit community – everybody seems to know one another."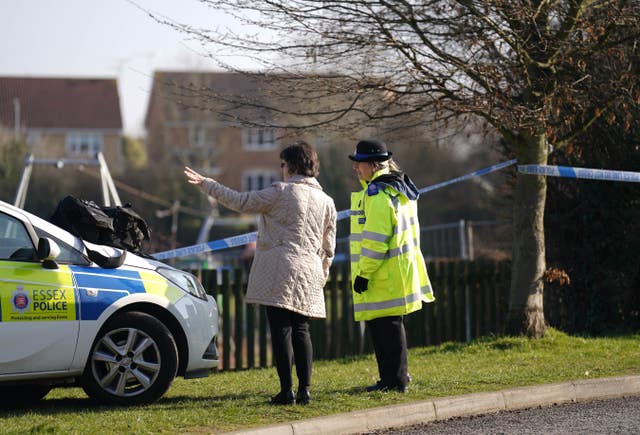 "You hear kids playing loud music, drinking, stuff like that, but nothing like this.
"It's quite scary."
A woman who lives close to the park said: "There's always noise and stuff over the park.
"It's a park so the holidays and stuff tend to create more kids hanging around."
She said there are sometimes teenagers there, "music playing out, like a little bar, cans being drunk".
Anyone with information about the incident has been asked to call police on 101 or online through a dedicated major incident reporting portal.
To make an anonymous report call independent charity Crimestoppers on 0800 555 111 or on its website.