Grief-stricken relatives of those killed in the devastating earthquake in Turkey and Syria have spoken of panic and sleepless nights as the death toll continues to climb.
The 7.8 magnitude quake has claimed the lives of more than 21,000 people since it hit on Monday – reducing thousands of homes and buildings to rubble as people slept.
At a Kurdish community centre in Haringey, north London, one man said he had lost 20 relatives in the disaster, telling the PA news agency he had been "crying for the past four days".
Akif Rizgar Wan, 63, who has lived in Britain since 1990 and works for the Kurdish National Congress political party, said: "My family who survived, they were lucky enough to have a spare tent.
"In my family, 20 close family members have been killed.
"I have been crying for the last four days. I am crying but I am not willing to cry. We are here and we are proud to be Kurdish, we are resilient."
In a tweet on Friday, the UK-ISAR said the team had completed the rescue of a two-year-old girl, as well as a man and a woman, aged 35 and 30, after they spent 101 hours under the rubble.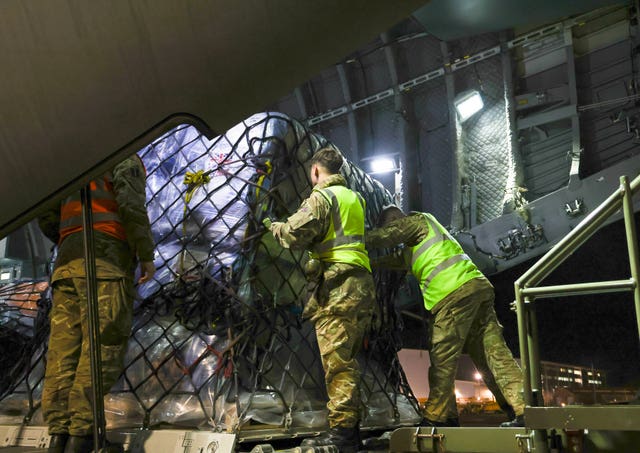 In a further boost for relief efforts, the Disasters Emergency Committee (DEC) said its appeal for funds had raised more than £30 million in its first day – including generous donations from the King and Queen Consort and the Prince and Princess of Wales.
But at the Kurdish Community Centre in Haringey, one man said his grief was so strong he could not sleep after nine of his relatives were killed in the quake.
"Our friends flew out to Turkey and we are speaking to them. Nothing is as it seems and what you see on television is not the real thing – it is so much worse.
"The community has gathered and we are helping each other. We are gathering clothes, food, donations and aid. But I can't do anything and I feel helpless because I can't enter Turkey for political reasons."
Asked how he felt about the donations made so far to the DEC appeal, Mr Genc said it was a "great thing", but said "help is not enough and food is not enough when they have nowhere to stay".
Mr Rizgar Wan said he is from Adiyaman, one of the worst-affected cities in Turkey where more than half of the buildings are thought to have collapsed.
"Most of my family lives in the city and 250 live in the villages which have also been affected," he said.
"I am a human being and thousands of my people are dead."
Earlier, aid workers expressed their concerns about the help being provided to Syria after the earthquake – describing the current situation as a "nightmare scenario".
Jeremy Smith, the Middle East & North Africa country cluster manager for the British Red Cross, told PA that war-torn Syria was in a "tale of two disasters" after having gone through 12 years of conflict, as well as a cholera outbreak and "horrible winter storms".
On Tuesday, Foreign Secretary James Cleverley said the department's Crisis Response Hub is working to support at least 35 Britons caught up in the disaster – including three who were missing.