Volodymyr Zelensky is touring Europe after calling for fighter jets in the UK to help his country's struggle against Russia's invasion.
The Ukrainian President will join an EU summit in Brussels on Thursday to continue his push for more advanced weapons.
Starting his surprise trip in London on Wednesday, Mr Zelensky used a rousing speech to Parliament to urge the UK and Western allies to provide "wings for freedom".
The Prime Minister said sending warplanes is "part of the conversation" about aid to Kyiv.
Mr Zelensky warned that without supplies, including jets, ammunition and long-range missiles, there is a risk of "stagnation" in the conflict.
Downing Street confirmed that Mr Sunak has asked Defence Secretary Ben Wallace to investigate what jets the UK could potentially give.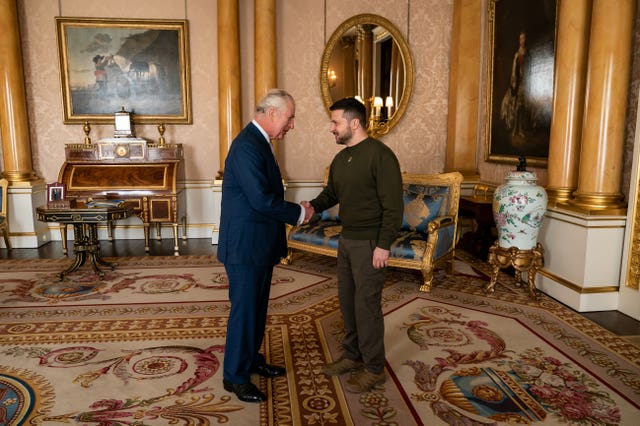 It marked a change in approach, with No 10 previously arguing that it would take too long to train pilots to fly Western fighter planes to have an impact on the war in eastern Europe.
The Russian Embassy in London warned the UK against supplying warplanes, saying Britain would bear responsibility "for another twist of escalation and the ensuing military-political consequences for the European continent and the entire world".
The United States and other Nato allies have been wary of becoming more involved in the conflict for fear of provoking the Kremlin.
Mr Zelensky's trip to the UK included talks with Mr Sunak in Downing Street, a meeting with the King at Buckingham Palace, and a visit to Ukrainian armed forces in Dorset where they are being trained to use Challenger 2 tanks.
He then travelled to Paris to meet French President Emmanuel Macron and German Chancellor Olaf Scholz, telling a press conference there is "very little time" to provide the weaponry.
He will be flying with Mr Macron to Thursday's gathering of EU leaders.
It is only his second trip abroad since Moscow's forces launched their full-scale invasion nearly a year ago.