Ambulance response times and A&E performance improved in England in January, during a month that saw a drop in levels of flu and Covid-19 but ongoing industrial action by NHS workers.
Here are the key figures from the latest data:
– Accident and emergency (A&E) waits
Some 42,735 people had to wait more than 12 hours in A&E departments in England in January from a decision to admit to actually being admitted.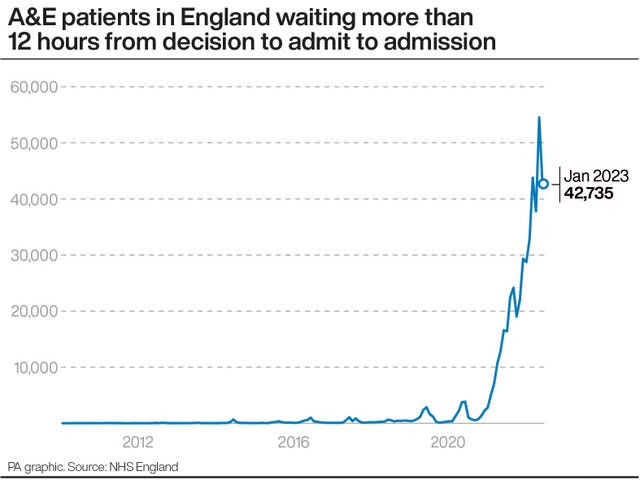 A total of 142,139 people waited at least four hours from the decision to admit to admission in January, down 17% from a record 170,283 in December.
Meanwhile 72% of patients were seen within four hours of arrival at A&Es last month, up from the record low of 65% in December.
The operational standard is that at least 95% of patients attending A&E should be admitted, transferred or discharged within four hours, but this has not been met nationally since 2015.
– A&E attendances
The number of people visiting A&E departments in England in January was 1.96 million, down from a record 2.28 million in December.
The figure is also below the 2.11 million for the pre-pandemic month of January 2020.
Nurses and ambulance workers took industrial action on a number of days in December and January, which led to some NHS services advising the public to dial 999 only if there was a risk to life or if somebody was seriously ill or injured.
– Ambulance response times
The average response time in January for ambulances in England dealing with the most urgent incidents, defined as calls from people with life-threatening illnesses or injuries, was eight minutes and 30 seconds.
The target standard response time for urgent incidents is seven minutes.
Ambulances took an average of 32 minutes and six seconds in January to respond to emergency calls such as heart attacks, strokes and sepsis.
This is down sharply from one hour, 32 minutes and 54 seconds in December, which was the longest on record.
The target is 18 minutes.
Response times for urgent calls, such as late stages of labour, non-severe burns and diabetes, averaged one hour, 26 minutes and nine seconds in January, a steep fall from a record four hours, 19 minutes and 10 seconds in December.
– Ambulance handover delays
Nearly a quarter (24%) of ambulance patients in England waited at least 30 minutes last week to be handed to A&E teams.
This is up from 18% the previous week, but is well below the record 44% in the week to January 1.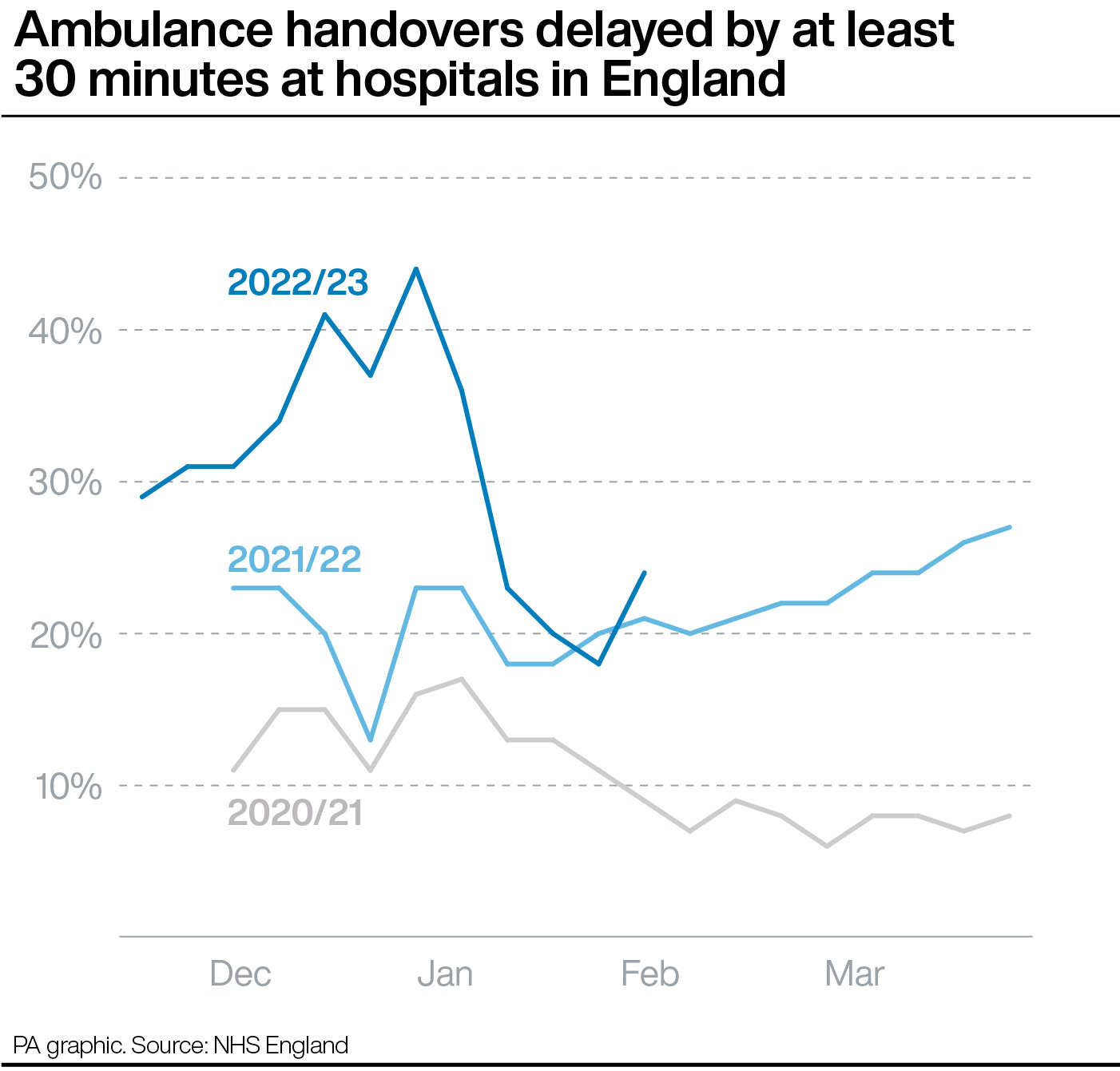 The figure is up week-on-week from 6%, but below the record 26% at the start of the year.
– Overall waiting list
The number of people waiting to start routine hospital treatment has risen slightly, but remains below the recent record high.
An estimated 7.20 million people were waiting to start treatment at the end of December.
This is up from 7.19 million in November but below the record 7.21 million in October, which was the highest number since records began in August 2007.
– Waits of more than a year
An estimated 406,035 people in England had been waiting more than 52 weeks to start routine hospital treatment at the end of December.
This is down slightly from 406,575 at the end of November.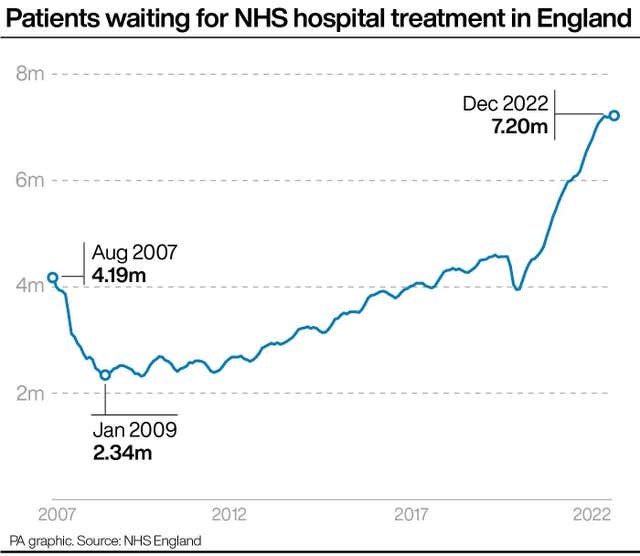 – Waits of more than 18 months
There were 54,882 people waiting more than 18 months to start routine treatment at the end of December.
This is up from 48,961 at the end of November.
The Government and NHS England have set the ambition of eliminating all waits of more than 18 months by April 2023.
– Cancer referrals
The proportion of patients seeing a cancer specialist within two weeks of being referred urgently by a GP in December was 80.3%, up from 78.8% in November but still well below the 93% target.
Some 70.7% of patients urgently referred for suspected cancer were diagnosed or had cancer ruled out within 28 days, up from 69.7% the previous month.
The elective recovery plan sets a goal of March 2024 for 75% of patients who have been urgently referred by their GP for suspected cancer to be diagnosed or have cancer ruled out within 28 days.
Meanwhile 213,442 urgent cancer referrals were made by GPs in England in December, down from a record 264,391 in November.
– Delayed discharges
An average of 13,975 hospital beds per day last week in England were occupied by people ready to be discharged.
This is broadly unchanged from 13,983 the previous week and is slightly below the record 14,069 for the week to January 8.
A year ago the figure stood at 12,387.
Some 41% of patients ready to leave hospital last week were actually discharged, compared with 43% at this point last year.