Blessings for same-sex couples in the Church of England have been welcomed as a "moment of hope" but with a recognition that "divisions run deep" on the issue.
It is expected that by summer people in same-sex civil partnerships or marriages will be able to go to Anglican churches and receive a blessing to celebrate that relationship.
A motion on the proposals was voted through by the Church of England's General Synod on Thursday, following a marathon eight-hour debate spanning two days which heard multiple opposing views.
The position on gay marriage will not change and same-sex couples will still be unable to marry in church – although senior figures in the Church have recognised the conversation on equal marriage is likely to continue.
The motion also included an acknowledgement of a "failure" to welcome LGBTQI+ people and a repentance for the harm they have and continue to experience in the Church.
The motion did not have to be put before the synod, but bishops said they wanted to get as many views as possible.
All three houses – the House of Bishops, Clergy and Laity – had a majority vote in favour.
There has been no legislative change in the Church and the decision for clergy to offer blessings is a voluntary one.
Speaking last month the Archbishop of Canterbury, Justin Welby, said he "joyfully" welcomed the blessings proposals but added that he will not personally carry them out due to his "pastoral responsibility for the whole communion".
Following the vote the Archbishop of York, Stephen Cottrell, said he would "gladly" give blessings, while the Bishop of London, Dame Sarah Mullally, who led the debate and chairs the group which oversaw the development of the proposals, said she "would have the conversation (with a couple), and there are certainly prayers within that suite (of prayers) that I would use".
Dame Sarah described the result as a "moment of hope for the Church" but recognised that differences of opinion and strong feelings remain.
She said: "I know that what we have proposed as a way forward does not go nearly far enough for many but too far for others."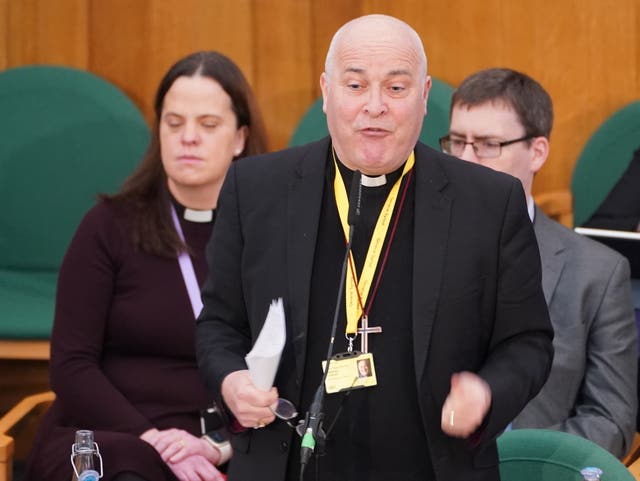 The archbishops added: "For the first time, the Church of England will publicly, unreservedly and joyfully welcome same-sex couples in church.
"The Church continues to have deep differences on these questions which go to the heart of our human identity."
Mr Cottrell said while he was pleased with the result, he could not feel joyful due to his awareness of differences in opinion.
He told the PA news agency: "We are divided on this as a church and those divisions run deep.
"So, although I am pleased about the decisions we've made, I suppose I'm not feeling joyful because I'm concerned for my sisters and brothers for whom this is going to be very difficult."
He said the decision taken by the synod "puts the Church of England in a better place" but that ways must be found to protect the conscience of those who do not approve of the blessings.
He added: "Part of that better place, and if we want to be an inclusive church that needs to mean including those for whom this will be difficult."
The blessings will not come into effect immediately as the bishops need to issue new pastoral guidance, something that is expected to happen by the July synod.
Both Dame Sarah and Mr Cottrell recognised the debate on gay marriage has not gone away.
Mr Cottrell told PA: "We can't and don't want to stop debate. And so I've no doubt the debate will continue in one way or another.
"But today we've made a clear decision about maintaining holy matrimony as between one man and one woman, and issuing or commending these prayers of love and faith. So that's what we're doing today. But yes, the conversation will continue, I'm sure."
Dame Sarah said groups for and against gay marriage in the church "will want to continue to put their voice into both the Church of England and the wider group and so therefore there is no doubt that those conversations will carry on".