Providing Ukraine with Royal Air Force jets would require agreement with international allies, Downing Street has confirmed.
The Prime Minister's official spokesman said: "In terms of permissions for the two different types, in order to use a Typhoon in a country other than the UK, you would need permission from the Typhoon consortium.
"That's Italy, Spain, Germany and obviously us. F-35s would require US agreement."
Asked whether conversations with those countries had been held on the "principle" of signing-off on British jets being supplied, the spokesman added: "As you would expect, we are having discussions about additional capabilities with our allies including those countries.
Prime Minister Rishi Sunak had pointed to the need to hold talks with allies over supplying British warplanes to Kyiv due to "joint treaty with multiple other countries".
In a joint press conference with Mr Sunak on Wednesday, Ukrainian President Volodymyr Zelensky also said he recognised "not everything depends just on the decision of Great Britain" when it came to choosing whether to provide his air force with Typhoons.
Mr Zelensky said he would be raising the issue with European leaders, having travelled to both Paris and Brussels since his surprise visit to the UK.
Former prime minister Boris Johnson, who has called for all 100 RAF Typhoon jets to be given to Ukraine to help defeat Russian President Vladimir Putin's forces, said he saw "no reason" why allies would object to handing them over.
Mr Johnson said on Wednesday: "It is true that the Typhoon is a four-nation plane and that we require the approval of allies for export.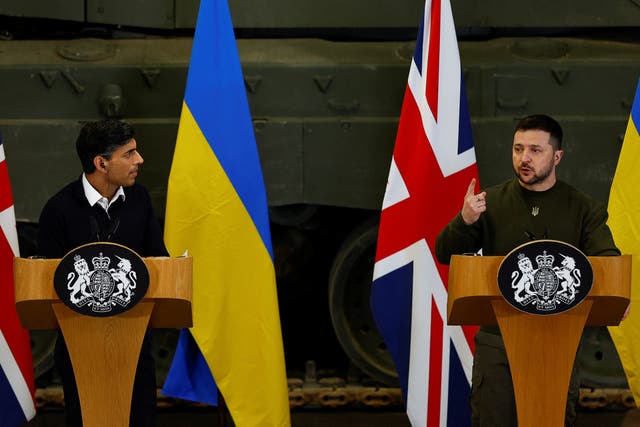 But Berlin has shown itself to be resistant when it comes to supplying major weapons to Kyiv.
German Chancellor Olaf Scholz took weeks to deliberate on whether to send Leopard 2 tanks to Ukraine, despite facing international pressure to approve their use.
Other nations who were willing to provide Leopard model tanks, such as Poland, had to wait for Berlin's approval as they are supplied under a German licence.
US President Joe Biden has also appeared reluctant to send US Air Force F-16s to eastern Europe, suggesting any transatlantic discussions about approving UK-based F-35s for Ukrainian deployment could prove difficult.
Downing Street said supply chain needs would also need to be considered before a decision can be taken on fighter jets.
Mr Sunak's spokesman said: "These are very complex pieces of machinery which require significant teams of people and equipment to keep them running.
"You need not only the planes themselves, the trained pilots, trained engineers, logisticians and a supply chain that runs behind that which enables them to keep them in the air.
"That's obviously a significant piece of work and that is part of the discussions that the defence secretary is having and we are having with our Ukrainian counterparts."
The Downing Street official ruled out sending older models of British aircraft, such as Hawks or Tornados, to Kyiv.
He declined to comment when asked about reports that short and unkept Ukrainian runways could make it difficult for British fighter jets to be used there.