The newly appointed deputy Conservative Party chairman has said he would support the return of the death penalty because "nobody has ever committed a crime after being executed".
Outspoken Ashfield MP Lee Anderson was handed the position, working as one of new chairman Greg Hand's lieutenants in the run-up to the next election, by Prime Minister Rishi Sunak during Tuesday's reshuffle.
A former Labour councillor before converting to the Tories, Mr Anderson has been no stranger to controversy since being elected to Westminster in 2019, having criticised food bank users and the England men's football team for taking the knee in protest at racism.
He also suggested using Royal Navy frigates to return to France those arriving in small boats across the English Channel.
Asked whether he would support the return of the death penalty, Mr Anderson told the weekly magazine: "Yes.
"Nobody has ever committed a crime after being executed.
"You know that, don't you? 100% success rate."
The death penalty for murder in the UK was outlawed permanently in 1969, with it totally abolished for all crimes in 1998.
The last people executed in Britain were Peter Allen and Gwynne Evans on August 13 1964.
The UK has signed up to the European Convention on Human Rights (ECHR), which prohibits the restoration of the death penalty.
But Mr Anderson argued that heinous crimes — such as the murder of Fusilier Lee Rigby in 2013 by Islamist extremists Michael Adebolajo and Michael Adebowale — where the perpetrators are clearly identifiable should be punished by execution.
Mr Anderson told the magazine: "Now I'd be very careful on that one (the return of the death penalty) because you'll get the certain groups saying: 'You can never prove it'.
"Well, you can prove it if they have videoed it and are on camera – like the Lee Rigby killers.
"I mean: they should have gone, same week. I don't want to pay for these people."
On the issue of preventing small boats from crossing the Channel — one of the Prime Minister's top five priorities — Mr Anderson said migrants arriving unlawfully in Britain should be returned the "same day" to where they came from.
He said that during a visit to Calais last month he met migrants referring to Britain as "El Dorado".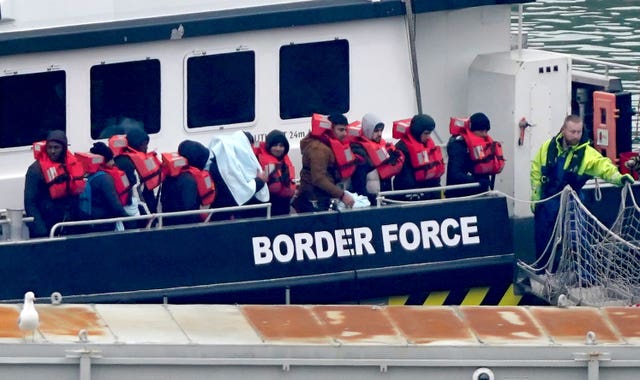 "They are going to be in a four-star hotel. And they know that Serco is buying up houses everywhere, to put them in for the next five years. Why wouldn't you come?"
Asked for his solution, he replied: "I'd send them straight back the same day.
"I'd put them on a Royal Navy frigate or whatever and sail it to Calais, have a stand-off. And they'd just stop coming."
The former miner said, despite facing criticism in some quarters for his opinions, he found voters often agreed with him.
"If I say something that is supposedly outrageous in that place [the Commons], I get back to Ashfield on a Thursday, people will come out the shops and say, 'You say what I'm thinking'," he added.
"Maybe some of my colleagues think I'm a little bit too divisive.
"But I'm of the mind that half the population will hate you, whatever colour you wear."
An expert on the views of political party members pointed out that many Tories would agree with Mr Anderson's views on the death penalty.
A survey of 1,191 members carried out as part of his work on party membership after the 2019 election found 53% agreed that "for some crimes, the death penalty is the most appropriate sentence".
Mr Anderson has a "big fan" among his parliamentary colleagues.
Minister for children, families and wellbeing Claire Coutinho told LBC Radio: "I'm a big fan of Lee and I think he's a very good thing for the party."
Asked about his support for the death penalty, she said she does not "agree with Lee all the time", but thinks "it's really important that we have people who have lots of different opinions".
Mr Sunak's press secretary on Wednesday said Mr Anderson "will do a fantastic job working with the new chairman to champion the Conservative Party", while stressing that "he's not a member of the Conservative Government".