Protesters have gathered outside Holyrood to urge Scottish ministers against placing transgender criminals in female prisons.
Women's rights campaigners with For Women Scotland joined with reform group Keep Prisons Safe and chanted "shame" at the decision to place prisoners who have self-identified as female in Cornton Vale, Scotland's only all-female jail.
The group said urgent questions must be answered on how the Scottish Prison Service, which assesses transgender allocation based on "risk", deemed the placements suitable.
Scottish Conservative MSP Rachael Hamilton told the crowd that the case of double rapist Isla Bryson, who was a man known as Adam Graham at the time of the offences, exposed "major flaws" in current policy.
Following the case, a Scottish Government pause on the housing of trans prisoners with a history of violence against women in the female estate was put in place.
Ms Hamilton, who warned of the potential consequences of self-ID during the Holyrood debate last year on the Gender Recognition Reform (Scotland) Act, said: "It is absolutely clear that the case of Adam Graham, who now identifies as Isla Bryson, highlights the major flaws in the current policy.
"Whilst this Government has tried to wash their hands of responsibility, I want to make it clear that whatever they say, it is undeniably clear that this Government has ministerial oversight of the Scottish Prison Service.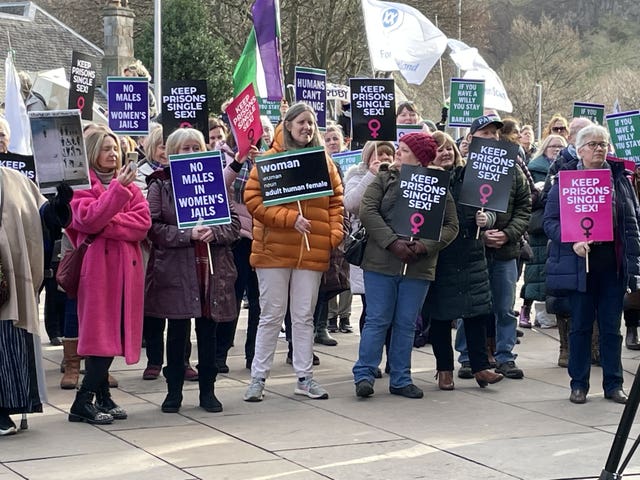 For Women Scotland co-director Susan Smith accused the Scottish Government of "abdicating responsibility" as she urged First Minister Nicola Sturgeon to get her "head out of the clouds".
She said: "I think Nicola Sturgeon intervened in the case of Isla Bryson out of pure embarrassment because it exposed the idiocy, frankly, of these kinds of policies.
"But it's not helping women who are still locked up today, with some really violent offenders.
"I would say to Nicola Sturgeon that she needs to get her head out of the clouds and she needs to deal with reality.
"She needs to sort out her priorities and women need to be a priority in Scotland."