A former Army reservist who was paralysed in a climbing accident has made history by becoming the first person to complete an international endurance challenge in a wheelchair.
Darren Edwards was paralysed from the chest down after falling 40ft down a rock face when the ground gave way beneath him in Snowdonia in 2017.
But the 32-year-old has now completed the World Marathon Challenge, where participants complete seven marathons in seven days, across all seven continents, making history by becoming the first wheelchair athlete ever to finish the challenge since its launch in 2015.
"So what I have done in the years that have followed is to try to show a person that might be in a hospital right now, who may be young and active, what is possible when there is hope, and that there is room for aspiration and ambition and to dream.
"The injury has been the start of what's been the most unexpected journey of my life, the things I've done, the person I'm getting married to this year, all of these things have happened, all of these things wouldn't have happened had that rock not collapsed beneath my feet."
Mr Edwards and 39 others from around the world started the challenge at Novo, a Russian air base in Antarctica, on January 31 before then travelling to Cape Town, Perth, Dubai, Madrid, Fortaleza in Brazil, and Miami.
While the first marathon – in temperatures of minus 20 and winds of up to 60mph – took five hours and 50 minutes, he got faster through the week, with his last race taking just two-and-a-half hours in a custom-made wheelchair, which was fitted with different tyres depending on the terrain.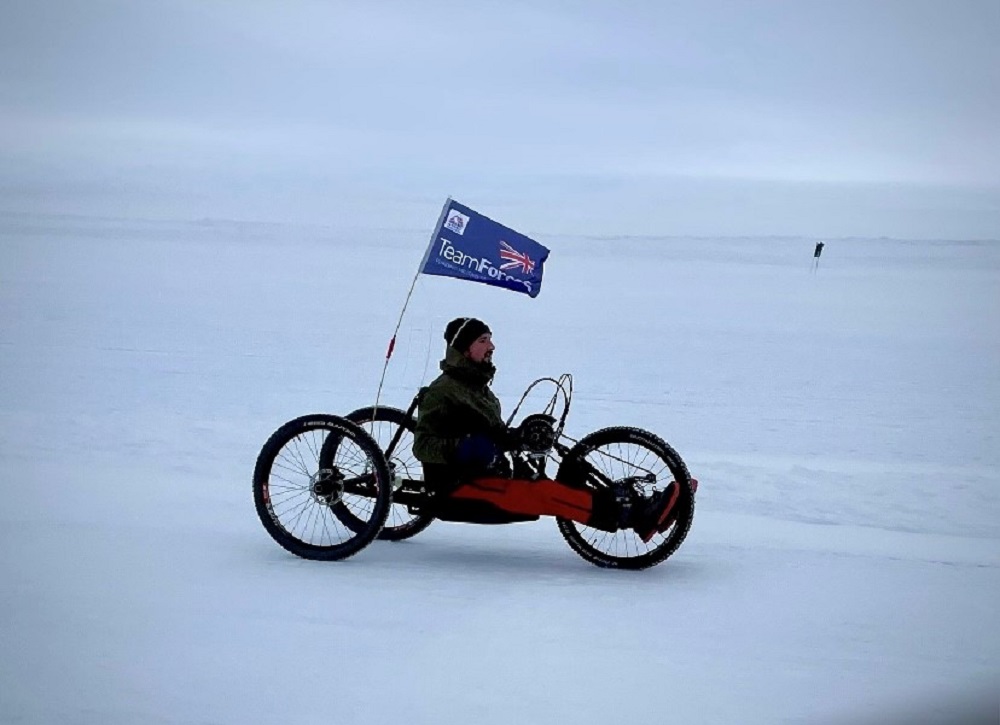 But during the challenge, he has raised around £50,000 for the Armed Forces Para-Snowsport Team, a charity which helped teach Mr Edwards to ski after his accident.
Mr Edwards, who lives in Shrewsbury, Shropshire, was due to start a job as a history teacher when he went climbing with friends up a 120ft rock face in Snowdonia, known as World's End.
After reaching the top, the ground gave way beneath him, causing him to fall around 40ft onto a small ledge which broke his back in two places and paralysed him on impact.
He only avoided falling to the ground thanks to a friend, Matt, grabbing him, with Mr Edwards saying he thought he was going to die. He then spent five months in hospital and rehab.
"I didn't want to be a different person just because I'm in a wheelchair.
"I gave myself 12 months to train, prepare, and really completely change focus to doing a lot of miles on a set of wheels, so it's been a real rollercoaster journey but my life is as fulfilling and as happy as it ever was."
After he returns to the UK on Thursday, he will begin planning his next challenge, skiing across Europe's largest glacier in Iceland in April, spanning 150km.
He will complete the feat with former professional rugby player and TV presenter Ed Jackson, who suffered a fracture dislocation of two neck vertebrae in 2017, and Niall McCann, who also has a spinal injury.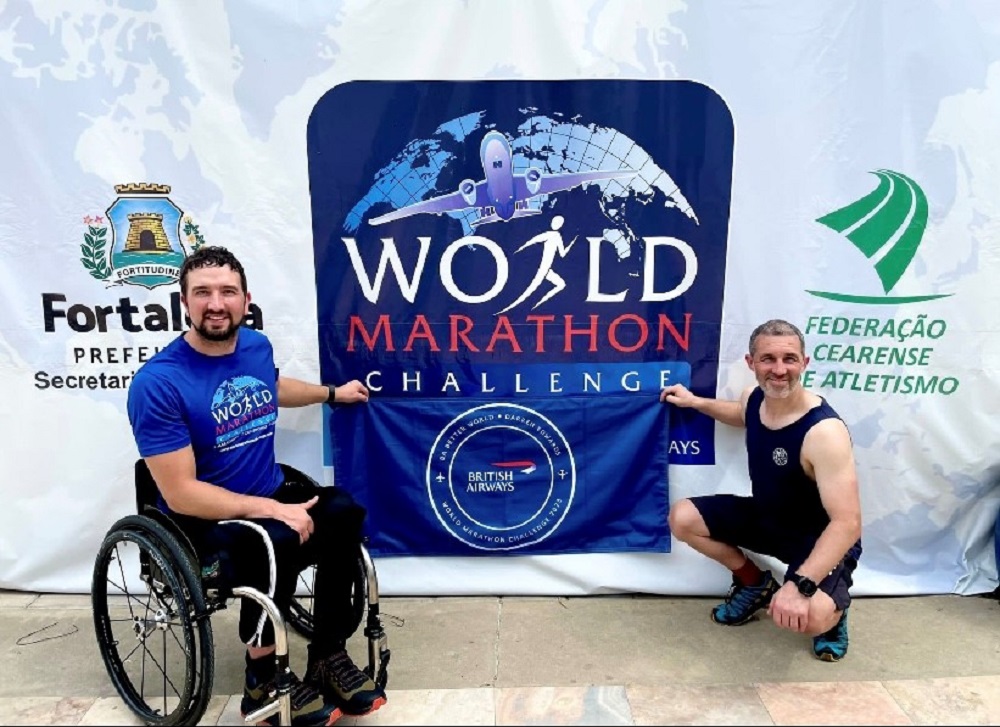 Mr Simmons, 48, from Redditch, Worcestershire, provided fitness and logistical support after retiring from the Royal Army Physical Training Corps and said that he was "ecstatic" to see Mr Edwards cross the seventh finish line in Florida after they began training last July.
He said: "His mental strength is absolutely outstanding. Darren is determined enough and he's good enough to listen to advice, so he does all the right things.
"He's able to listen to his own body better than anyone else, so it's just absolutely outstanding.
"What he is giving back to the charity is absolutely fantastic because it gives other opportunities to other people to change their lives or try something different, that they wouldn't normally get."