Rishi Sunak has asked the Defence Secretary to investigate what jets the UK could potentially give to Ukraine, Downing Street has said.
It comes after the Ukrainian President Volodymyr Zelensky used a surprise visit to London to urge the UK and Western allies to provide "wings for freedom" by supplying his air force with advanced jets.
Earlier, Prime Minister Rishi Sunak announced plans to train Ukrainian pilots, paving the way for them to eventually be able to fly sophisticated Nato-standard jets, but that is seen as a long-term ambition.
Earlier, Mr Zelensky used an address to Parliament to thank the UK for its steadfast support since Russia invaded.
But, as he presented a Ukrainian fighter ace's helmet to Commons Speaker Sir Lindsay Hoyle, he said more planes were needed to defeat Vladimir Putin's forces.
Mr Zelensky said he wanted a coalition of nations to supply planes.
He said: "I appeal to you and the world with simple and yet most important words: combat aircraft for Ukraine, wings for freedom."
But Downing Street stressed that no decision had been taken on whether to supply UK jets.
"I think you can see from the steps that we are taking that we are willing to put Ukraine in the position where, once we have reached the goals of training pilots, they are able to fly these type of jets," the Prime Minister's official spokesman said.
"What we have not made a decision on is whether we send UK fighter jets. Obviously there is an ongoing discussion among other countries about their own fighter jets, some of which are more akin to what Ukrainian pilots are used to."
But the supply of British planes is being "actively" considered by Ben Wallace, the spokesman said.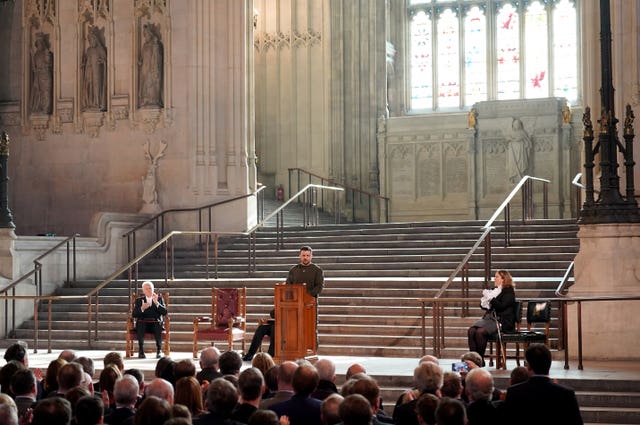 Mr Zelensky, who for the visit was dressed in his trademark khaki green military fatigues, met the King on Wednesday afternoon.
Earlier, to the audience gathered in Westminster Hall, Mr Zelensky had referred to Charles's former military service in the Royal Air Force, saying: "The King is an air force pilot and in Ukraine today, every air force pilot is a king."
He said that on his last trip to Parliament two years ago in peacetime, "I thanked you for delicious English tea", but now he would be "thanking all of you in advance for powerful English planes".
It was only Mr Zelensky's second time travelling overseas since the Russian invasion, after he held talks in the United States and Poland during a trip in December.
Addressing a packed Westminster Hall, Mr Zelensky told parliamentarians: "We know freedom will win. We know Russia will lose.
"And we really know that the victory will change the world and this will be a change that the world has long needed.
"The United Kingdom is marching with us towards the most, I think, the most important victory of our lifetime. It will be a victory over the very idea of the war."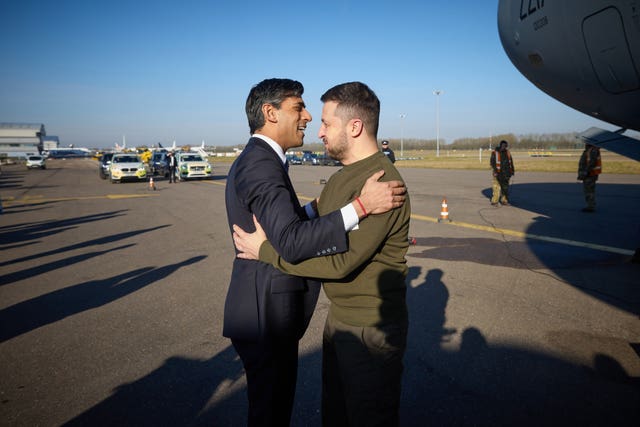 The Prime Minister promised training for pilots and also Ukrainian marines so they can "mount further offensives".
At Prime Minister's Questions, Mr Sunak and Labour leader Sir Keir Starmer staged a show of unity in support of the UK's backing for Ukraine.
Sir Keir said "Putin and all his cronies must stand at the Hague and face justice" when the war is over.
Mr Sunak said he had discussed the situation with Mr Zelensky and "I'm hopeful we will see the first indictments very shortly" at the International Criminal Court.
The expansion of the UK's training programme to include jet fighter pilots is significant given Mr Zelensky's call for Western planes.
The announcement by No 10 signals a shift for the future, and officials said that "as part of that long-term capability investment" the UK will work with Ukraine and international allies "to co-ordinate collective support to meet Ukraine's defensive needs".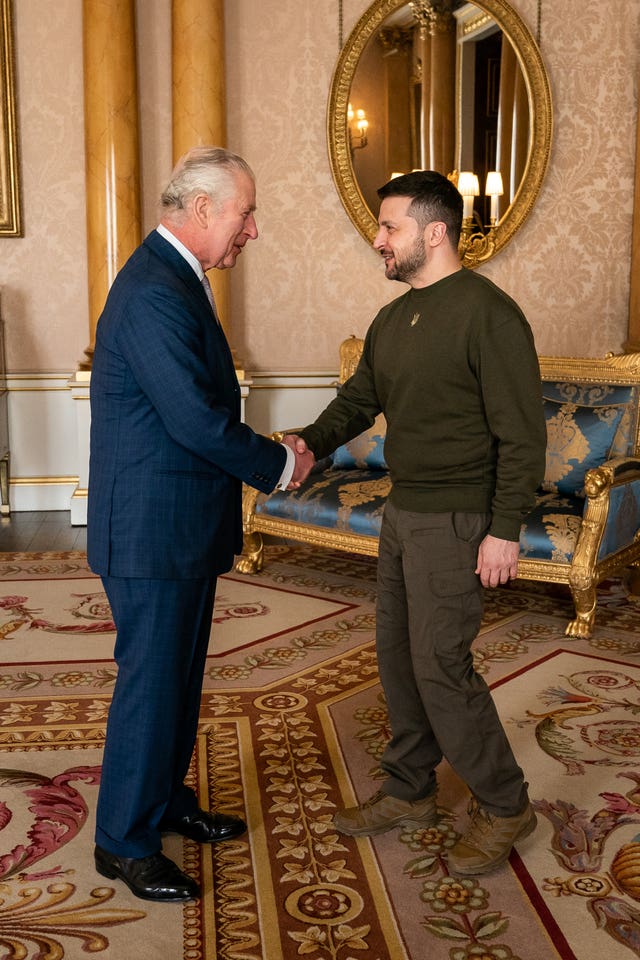 Ukrainian troops are already being trained in the use of Challenger 2 tanks, which are expected to be sent to the country next month.
Former prime minister Boris Johnson also stepped up his call for the UK to provide more equipment – including jets – to Ukraine.
"We have more than 100 Typhoon jets. We have more than 100 Challenger 2 tanks," he said.
"The best single use for any of these items is to deploy them now for the protection of the Ukrainians – not least because that is how we guarantee our own long-term security."