Ukraine's President Volodymyr Zelensky and Prime Minister Rishi Sunak have visited Lulworth Camp in Dorset to meet Ukrainian soldiers being trained by the British Army to use Challenger 2 tanks.
After arriving by Chinook helicopter, the two leaders met some of the Ukrainian troops before Mr Zelensky gave a short speech and thanked the Prime Minister.
Mr Sunak then said to the Ukrainian soldiers: "It is a privilege for us to have all of you here and your courage is inspiring to us and the courage of your families is inspiring to us.
"We will be there until the end and you are victorious."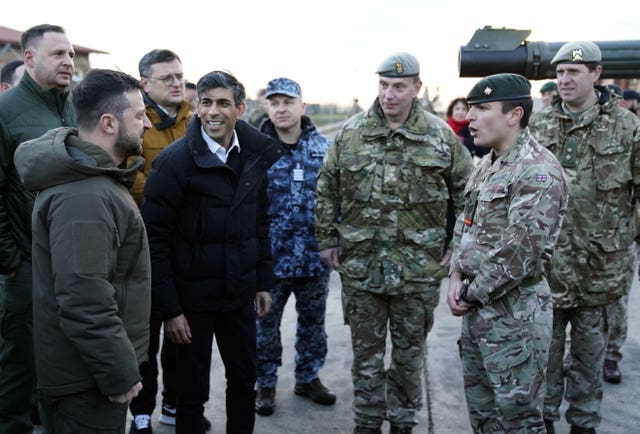 The Ukrainian soldiers are being trained on four to five tanks as well as simulators.
Sergeant James Samson, of the Royal Tank Regiment, said: "It's really exciting, it's really good to be delivering training to these guys and hopefully it will make a difference."
Mr Sunak asked the Ukrainian soldiers about the simulator: "Is it similar to what you have been used to?"
One of the soldiers replied "it's quite different" and Mr Zelensky said: "Yes, it's new."
At the end of the short visit, the two leaders signed a declaration of unity and shook hands, with Mr Zelensky thanking the Prime Minister.
It has been used by the Army on operations in Bosnia and Herzegovina, Kosovo and Iraq.
Built in the UK by Vickers Defence Systems, now BAE Systems and Land Armaments, it was designed as a replacement to the Challenger 1 tank in 1986 and has been in service with the British Army since July 1994.
Challenger 2 is used by four armoured regiments, based in the South West of England at Tidworth, Wiltshire, and Bovington, Dorset.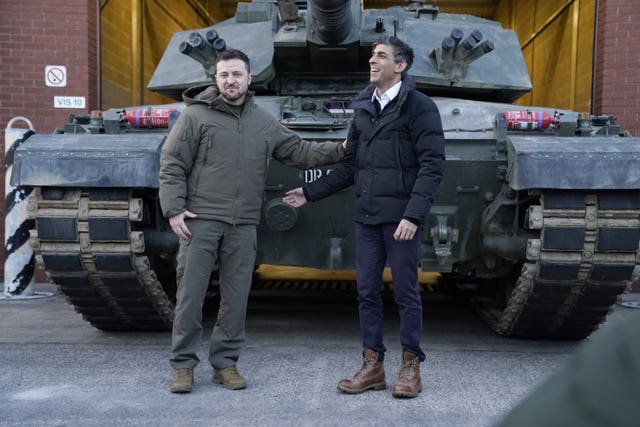 An Army document about the Challenger 2 states: "With an estimated 60,000 tanks currently in operation with armies across the globe, armour remains a critical component of defence for most countries.
"Challenger 2 remains an immensely capable piece of equipment able to fulfil the wide range of tasks required of it.
"One of its strengths lies in its ability to shock the enemy by placing them under pressure by a rapid and fully committed advance, causing them to break and retreat."