The King was dubbed an "inclusive and supportive" monarch by a stalwart of London's Bangladeshi community as he went on a walkabout in "Bangla Town".
Charles and Camilla shook hands with and chatted to well-wishers and even received a takeaway from a South Asian restaurant during a visit to Brick Lane, described as a "marker" for his reign.
When the King removed his shoes as a mark of respect during a visit to one of the area's most notable buildings, the Brick Lane Mosque – once a church for French Huguenots before becoming a synagogue for the Jewish community – there appeared to be a hole in his right sock.
Camilla stood in her stocking feet as she chatted to members of the congregation and other guests.
Ayesha Qureshi and Abdal Ullah, a married couple who co-founded the British Bangladeshi Power & Inspiration Foundation 12 years ago, hosted the royal visit, which came after Charles met leading South Asians last October who suggested the Brick Lane event.
Ms Qureshi said she was "humbled" by the King acting on their offer to visit the heart of the Bangladeshi community, adding: "(It) just goes to show how engaged His Majesty is with the community in the United Kingdom, with multiculturalism, with the anti-racism movement.
"It may seem little, it's just a visit, but actually the poignancy of it, I think, is very fundamental to what I hope will be a marker of his reign."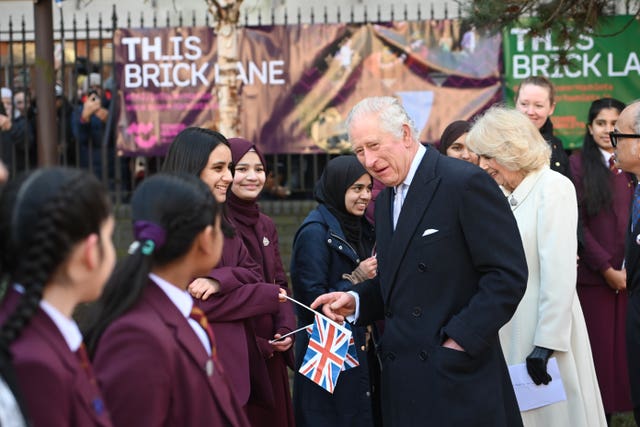 And Queen Elizabeth's former lady-in-waiting, Lady Susan Hussey, stepped down from her official role with the royal household after asking a black British charity boss where she "really came from" during a Buckingham Palace reception.
Lady Susan later apologised in person to the executive.
Responding to these events, Ms Qureshi said: "I think there is racism within British society but what this demonstrates is the fact that His Majesty the King is very attuned to the communities of this country, and wants to reign in a way which is inclusive and supportive of those communities."
When the King and Queen Consort first arrived in Brick Lane, dancers threw petals on the ground ahead of them as a drummer hammered out a rhythmic beat.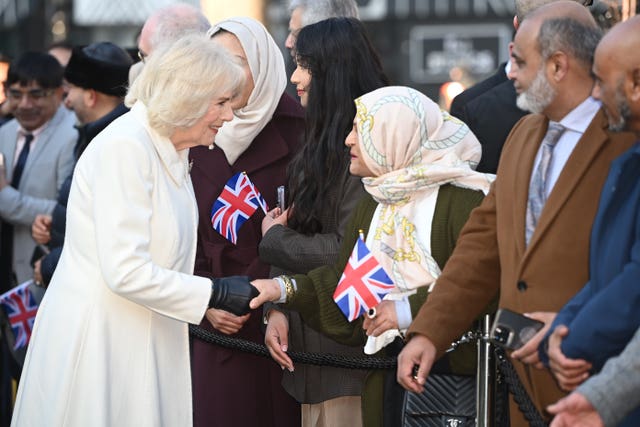 Leo Epstein stood outside his textile business EPRA Fabrics, which he claimed was the last Jewish tailoring firm in the area, with his wrists covered with protective splints after he broke them in an accident.
After chatting to Charles, the 90-year-old said: "The King wanted to know how I was feeling. I said 'Not too well' and he said 'I know the feeling'."
Mr Epstein arrived in the UK in 1938 with his family as a child refugee from Germany and he said of his Bangladeshi neighbours: "We get on very well with everyone. I was here before them and we've become great friends. I always say to the credit of Great Britain, no other country was accepting refugees, but it opened the door."
The King and Queen Consort also met leading women from the local community in a restaurant, where they were given a takeaway bag of treats including jalabi, a sticky dessert enjoyed in South Asia.
Saida Muna Tasneem, the Bangladesh High Commissioner to the UK, also chatted to the royal couple during their visit and said Charles was due to tour her homeland last autumn.
She said of the King: "I think it's extraordinary. During his Christmas message, he mentioned all five faiths that are followed in the UK – he's a very inclusive King and he's making that statement from day one.
"His Christmas message said 'churches, mosques, synagogues, temples and gurdwaras', so everyone felt that he's everyone's King."