Britain's last Governor of Hong Kong has accused the Government of attempting to introduce protest laws that, if introduced by China in Hong Kong, would be denounced as an attack on free speech by the UK.
Tory peer Lord Patten of Barnes said he found it "astonishing" that the Public Order Bill, a government crackdown on disruptive protests, was being proposed.
His comments came as peers voted in favour of an amendment that gives special protections to journalists covering protests, and others monitoring.
Lord Patten said: "If the Chinese Communist Party, through its Quisling administration in Hong Kong, was introducing a piece of legislation like this, we would denounce it.
"The Foreign Office would denounce it, it would be in their six-monthly report about the things that have been attacks on freedom of speech and attacks on freedom in Hong Kong, and we would all cheer.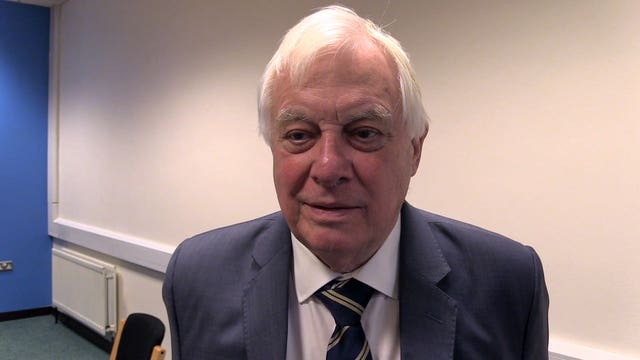 Lord Patten was the 28th and last Governor of Hong Kong, holding the position from 1992 until the handover in 1997.
Since then, the Chinese Communist Party (CCP) has introduced a series of crackdowns on protests and freedom of speech in Hong Kong, in line with similar restrictions in China.
As peers discussed adding protections for journalists to the Public Order Bill, former newspaper editor Baroness Boycott compared the arrest and detention of BBC journalist Ed Lawrence covering protests in Shanghai with the arrest and detention of LBC journalist Charlotte Lynch covering the M25 protests.
She said: "Charlotte, like Ed Lawrence, was handcuffed for doing her job.
"Her arrest took place just two weeks before Ed Lawrence's. Is this the kind of world we want to live in?"
The independent crossbench peer added: "It is more than just a fundamental right, it is a duty of journalists to report on demonstrations, because demonstrations are where we see where society is fracturing, where we see where people really care.
"I cannot believe that, as a former newspaper editor, I would not have to think that it might be more dangerous to send a journalist to Trafalgar Square than to Tahrir Square."
Tory peer Lord Wolfson of Tredegar defended the Government's position that the amendment is unnecessary, because it is already an offence to arrest and detain a journalist simply for doing their job.
The barrister and former justice minister said: "Surely the critical difference between this country and China is that, as I understand it, what this clause does is to prevent a constable exercising a police power for the principal purpose of preventing someone from observing or reporting on a protest.
"If we don't pass this amendment, that act – ie. arresting someone for the principal purpose of reporting on a protest – would still be unlawful. It would be an abuse of police powers to do that."
However, peers heavily defeated the Government, voting 283 to 192, majority 91, in favour of a cross-party amendment that adds protections for journalists and others monitoring protests to the Public Order Bill.