The NHS is preparing for further disruption to services as nurses walk out again in their bitter dispute over pay.
Health leaders said the service is anticipating an "incredibly disrupted week" as it faces strikes by nurses, ambulance staff and physiotherapists.
Monday saw the largest strike in NHS history as tens of thousands of workers in England staged walkouts, including members of the Royal College of Nursing (RCN) alongside GMB and Unite paramedics, call handlers and other staff at ambulance trusts.
More upheaval is expected on Tuesday as nurses continue their strike action.
Union leaders have implored ministers to act to prevent further strike action, but ministers in England have indicated that they will not budge on one of the main points of contention – pay for 2022/23.
RCN general secretary Pat Cullen told the PA news agency: "No Health Secretary and no Business Secretary were there to answer urgent questions in Parliament today – and no response from the Prime Minister after I wrote to him this weekend.
"People may wonder if the Government is also on strike.
"In Parliament today, we heard more of the same from a Government whose most senior figures seem to be missing in action.
"The Westminster Government is punishing England's nurses and looking increasingly isolated as the Welsh and Scottish governments come to the table."
Ms Cullen added: "It is clearer than ever that the Prime Minister has failed to deliver on his promises to the NHS.
"Rishi Sunak is letting the country's most important and beloved institution deteriorate rapidly – but it is not too late. I am urging him to come to the table to negotiate and halt this action now."
Health minister Will Quince, who responded on Mr Barclay's behalf, said Mr Barclay was attending a Cobra meeting so could not be in the House of Commons to answer urgent questions.
NHS leaders said it will be the "most disruptive week of strikes to date" – but urged people to seek urgent and emergency care if they need it and attend appointments as planned unless they have been contacted in advance.
Mr Quince, answering an urgent question from Labour on Monday, said around 88,000 procedures or outpatient appointments have been postponed because of strikes over the last eight weeks.
The bitter dispute shows no sign of a resolution in England as unions and ministers appear to be at loggerheads over 2022/23 pay for NHS staff.
Ministers have said they want to look forward to next year's pay award but unions have said that this year's pay needs to be addressed.
The Government has been warned of a "constant cycle" of strikes until the issue has been resolved.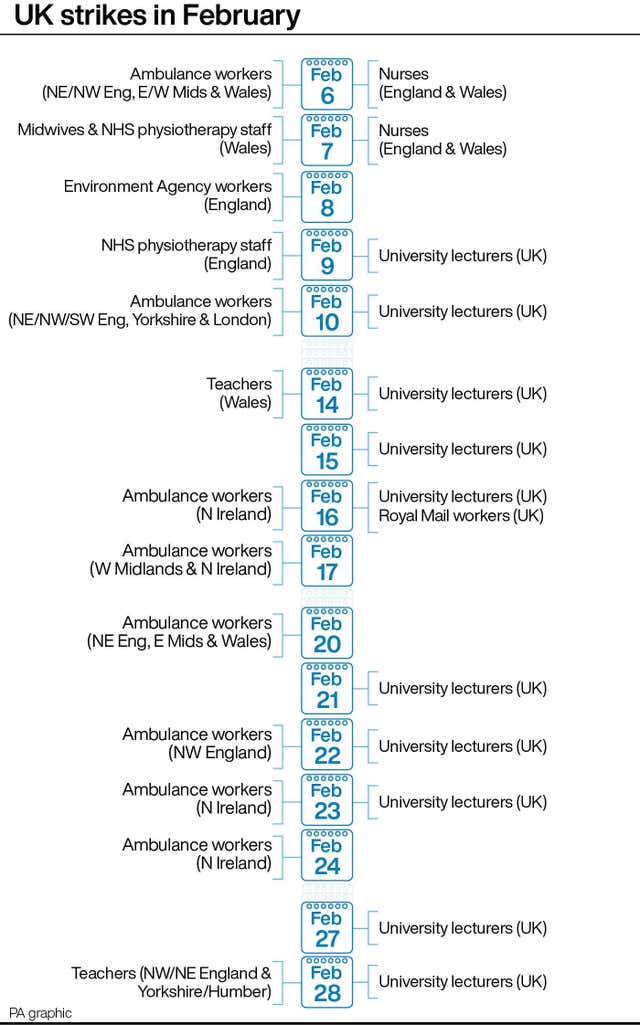 Ambulance crews and call handlers were returning to work on Tuesday but are due to walk out again on Friday, while physiotherapists are set to strike on Thursday.
Unions in Wales largely suspended similar action after the Welsh Government came forward with an improved pay offer on Friday.
Ms Cordery urged the Government to negotiate with unions on 2022/23 pay.
"I hope it ends by the Government coming around the table to negotiate a settlement for this year's pay for NHS staff," she said.
"I think that we need to recognise that NHS staff have faced soaring costs, (the) cost of living has gone up, inflation has gone up, and the settlement from this year's pay review body was made at a time when inflation wasn't at the levels it's at at the moment.
"So I think it's really important that we focus on getting a deal for this year, as well as then thinking about what next year's pay deal looks like."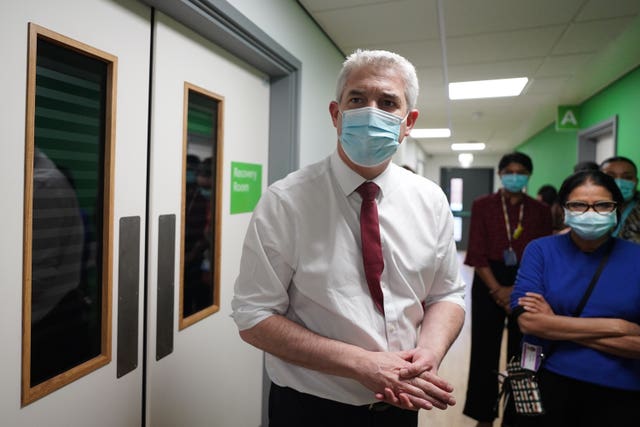 "We have been discussing this coming year, from April, pay with the unions," he said.
"We have this process through the pay review body; it's an independent process and we're keen to get the evidence so that that reflects the pressure that the NHS has been under and the wider context in terms of inflation.
"I don't think it's right to go back to last year, to last April, retrospectively. We should be looking forward to the pay review body that is taking evidence now and working constructively with the trade unions."
He added: "It's right to recognise that there's been ongoing pressures on the NHS (and) inflation has been higher since last year's pay review body process than was originally forecast in the Spending Review 2021."
"We think it is right to focus on this year's pay and not look backwards. As the minister said this morning, our door remains open."
Ms Cullen told PA: "They (nurses) are trying to bring their NHS back from the brink and they will continue to do this for as long as this Government takes to listen to them."
Speaking at a picket line outside St Mary's Hospital in Paddington, west London, on Monday, Ms Cullen added: "Hundreds of thousands of nurses take part in this ballot and they've given me the strongest mandate of any nursing profession throughout the world, so they will continue to do this for as long as it takes for this Government to actually wake up and listen to their voice, and listen to their voice on behalf of patients and do the decent thing.
"We are in a situation today where this Government has chosen to punish the nurses of England instead of getting round a table and talking to me about pay in the same way as they've done in Wales and Scotland."
Sharon Graham, general secretary of the Unite union, said the Government should open negotiations on pay or face a "constant cycle" of walkouts.
On 2022/23 pay, Ms Graham added: "They can't just always sing 'la la la la la' and hope that the year goes by and we will forget what's happened. This year's pay needs to be addressed."