Nearly 10,000 coins, including the biggest in the Royal Mint's history, have been submitted for testing at a 700-year-old ceremony.
The Trial of the Pyx aims to protects consumers by upholding the quality of coinage through rigorous testing.
The process ensures the coins produced by the Royal Mint meet standards of precision, accuracy and craftsmanship.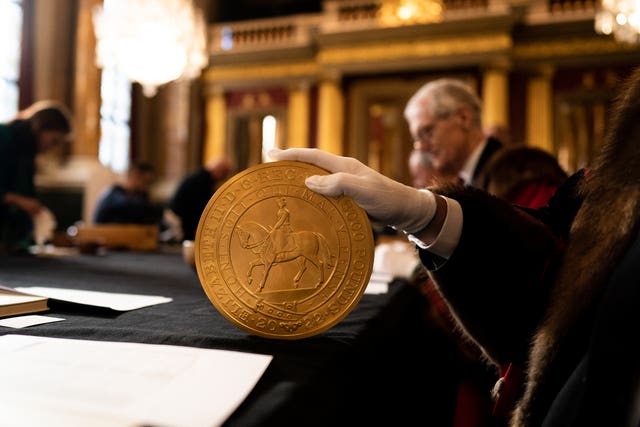 It was the first time in several decades that coins bearing the effigies of two monarchs were tested at the same time.
Samples of all new coins struck by the Royal Mint – both currency and commemorative – are submitted to the Trial of the Pyx each year.
Anne Jessopp, deputy master and chief executive of the Royal Mint, said: "This year's Trial of the Pyx is particularly poignant, as coins bearing two monarchs, Her Late Majesty Queen Elizabeth II and His Majesty King Charles III, are submitted to the trial for the first time in decades.
"As the Royal Mint, we have an official duty to strike every coin for every British monarch and have done so since Alfred the Great."
Lord Bridges, prime warden of the Goldsmiths' Company, said: "It is the proud duty of the Goldsmiths' Company to test both the coins found in piggybanks, pockets and purses, along with the spectacular precious metal masterpieces that are the reserve of collectors.
"Protecting consumers by ensuring the integrity of their coinage is a responsibility that we have held for more than 700 years.
"In a landmark year, where coins that both celebrate the late Queen Elizabeth II's 70 years of service and welcome His Majesty King Charles III to the throne have been submitted, we are reminded of both the importance of the history and heritage of this ceremony, and its ongoing relevance in the modern world."