The partner of missing Nicola Bulley said her two daughters "desperately" miss her and "need her back".
In a statement released through Lancashire Police, Paul Ansell, said: "It's been 10 days now since Nicola went missing and I have two little girls who miss their mummy desperately and who need her back."
Ms Bulley, 45, went missing on January 27 in St Michael's on Wyre, Lancashire.
Private underwater search experts, using specialist sonar equipment to look for Ms Bulley in the River Wyre, did not find anything on Monday.
"It's a negative search, no signs of Nicola," he told the PA news agency.
He said his team will look through another stretch of river on Tuesday "towards where Nicola went originally missing".
In his statement, Mr Ansell said: "This has been such a tough time for the girls especially but also for me and all of Nicola's family and friends, as well as the wider community and I want to thank them for their love and support.
"We are also really grateful to Peter and his team from SGI for coming up and helping support the work of Lancashire Police as they continue their investigation.
"If anyone has any information which could help find Nicola, I urge them to get in touch with the police and help us provide the answers we all so badly need."
"As a mother myself, I can't even begin to imagine what her two children are going through.
"Please be reassured that our sole focus is Nicola and that we are doing everything we can to find her.
"It is not possible to provide every piece of information to the public because to do so would detract from the investigation, but I'd like to thank everyone who has assisted us so far and for the support provided to Nicola's family at this extremely difficult time.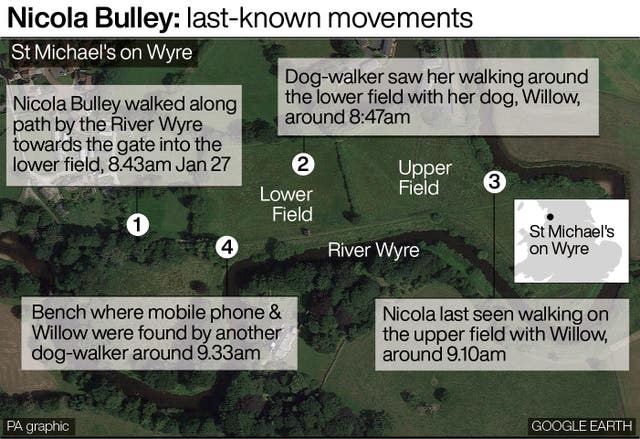 I would ask that anyone who was driving/cycling through St Michael's last Friday morning and who has dashcam footage to get in touch with us if they haven't already done so."
She added: "I would also appeal again to anyone who has any other footage – CCTV or Ring Doorbell for example, or any other information, no matter how insignificant you might think it is, to contact us as every small piece can help us build up a picture."
The force said: "Our inquiries so far have included searches of the river and riverbank which have extended all the way to the sea using specialist search teams, sonar, search dogs, drone and helicopter, house to house and CCTV.
"We have also spoken to numerous witnesses, analysed Nicola's mobile phone and fitbit and searched the derelict house on the other side of the river as well as any empty caravans in the vicinity."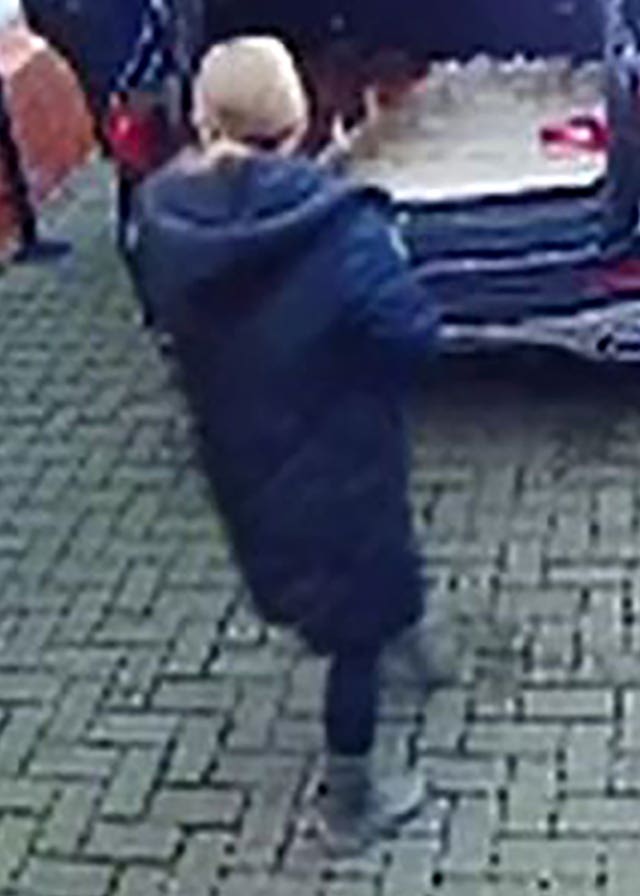 Her phone, still connected to a Teams call for her job as a mortgage adviser, was found on a bench on a steep riverbank overlooking the water, along with the dog lead, with the dog harness on the ground.
"Our working hypothesis remains that Nicola sadly fell into the river for some reason, but we remain open minded, and we are continuing to carry out a huge number of inquiries," the force said.
It is confident after reviewing CCTV that Ms Bulley did not leave the field near the river via Rowanwater, either through the site itself or the piece of land at the side, and she did not return from the fields along Allotment Lane or via the path at the rear of the Grapes pub onto Garstang Road.
Officers are now focusing on the river path leading from the fields back to Garstang Road, and urged drivers and cyclists who travelled that way on January 27 to contact them.
"We would like to remind people that much of the speculation and comments on social media are both unhelpful to the investigation and, more importantly, hurtful for the family, who are going through agony as they wait for answers," the force said.