Nicola Sturgeon has published her tax returns for the years dating back to 2014, as she called for other party leaders to follow suit.
Rishi Sunak has said he will publish his own tax returns "shortly".
Ms Sturgeon's tax documents, which were released by the SNP, list a total annual pay of £140,496 from her employment as an MSP and First Minister.
Since April 2009, Scottish ministers have frozen their pay and declined to accept their full salary entitlement, with the remainder going towards public spending.
The SNP said this meant the First Minister will forgo more than £27,000 of her salary in the current financial year.
Ms Sturgeon said: "I previously committed to being open and transparent to the people of Scotland about my own earnings. Today's publication makes good on that commitment.
"These documents show clearly that my sole source of income is my job as First Minister – the office which I have the immense privilege of holding.
"I hope other party leaders, including the Prime Minister, will follow suit in an effort to promote transparency in public office."
In December, it emerged that Mr Murrell, who is the party's chief executive, made the loan in June 2021.
She said: "The resources that he lent the party were resources that belonged to him."
The First Minister also said she would "anticipate and expect" that Mr Sunak will publish his own tax return.
Scottish Labour leader Anas Sarwar and Scottish Conservative leader Douglas Ross should also provide their own tax details, she added.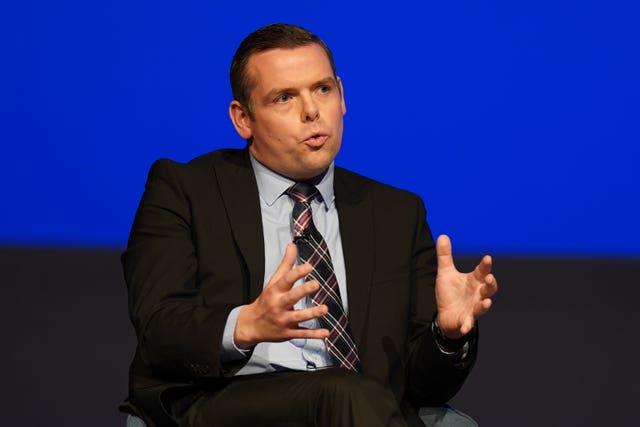 "And I think other party leaders in the Scottish Parliament and, indeed, in Westminster should follow suit."
Mr Ross later published his tax return for the year 2021-22, which showed he earned £72,821 as the MP for Moray.
The document also revealed he received £17,223 for his role as a Highlands and Islands MSP.
MSPs who hold a "dual mandate" by also having a seat at Westminster only receive a third of the full MSP salary – with the amount Mr Ross received slightly less than that as he was not elected to Holyrood till May of 2021, just over a month after the tax year began in April.
He did not earn any money as an assistant referee that year, as an injury prevented him officiating at any matches.