The relatives of a murdered woman who was killed and buried under a kitchen floor have described her as their family's "hope and light" which had been "cruelly snuffed out".
Andrew Innes, 52, was found guilty of murdering Bennylyn Burke, 25, and Jellica Burke, two, after a five-day trial at the High Court in Edinburgh.
He was also found guilty of sexually abusing the toddler and raping another child at his Dundee home between February 20 and March 5 2021.
After Lord Beckett told Innes he must serve a minimum of 36 years in jail, Ms Burke's relatives paid tribute to the "hope and light" of their family.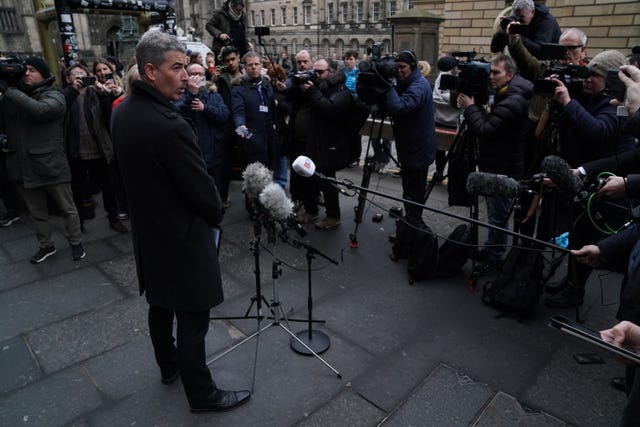 "We shall be forever haunted by what happened to her in this far off place such a long way from us, her family.
"In the Philippines, poor families like ours very often have daughters and sisters who seek to fulfil their dreams for a better future abroad. Never do we imagine it will end in such terror and horror."
"Women and girls must be protected from predators like Andrew Innes," they said.
"There is nothing that can restore Bennylyn and Jellica to us. But the jury's guilty verdict for murder provides some comfort to our family and friends and brings justice for Bennylyn and Jellica."
"In almost 30 years of policing, the depravity shown by Andrew Innes was beyond anything I, or colleagues, had witnessed before," he said.
"Not only did he callously take the lives of a young mother and an innocent child, he then set out to escape justice by burying their bodies beneath his kitchen floor.
"His actions showed no regard for human life, or for the suffering and anguish he brought to their loved ones."
David Green, Scotland's procurator fiscal for homicide and major crime, welcomed the conviction and sentence for the murders and the rape of a young girl.
"Thanks to the keen instincts of two police officers, Innes' horrific crimes were discovered. The prosecution was able to put forward a strong case following diligent police work and forensic investigation," Mr Green said.
"Careful and thorough case preparation allowed prosecutors to focus proceedings to a narrow range of issues, saving Bennylyn and Jellica's family some of the further trauma involved in a protracted trial.
"Innes' crimes are truly appalling and beyond any understanding. Everyone involved in this prosecution has been affected."
Detective Inspector Will Thorpe, of Avon and Somerset Police, said his force launched their investigation after the the woman and two-year-old were reported missing from their home near Bristol in March 2021, and they had managed to link Innes to the probe.
"Once his vehicle movements were traced from South Gloucestershire back north, we asked Police Scotland colleagues to assist and attend Innes' address in Dundee and hoped to find Bennylyn and Jellica safe and well. Sadly, that was not to be case," Mr Thorpe said.
"The community response to their disappearance showed both mother and daughter were much loved and our sympathies today go out to all those affected.
"Such incidents are incredibly rare, but that does not make them any less heart-breaking."