Policing Just Stop Oil protests cost taxpayers £7.5 million in just nine weeks, new figures show.
Home Secretary Suella Braverman declared "enough is enough" as Metropolitan Police data obtained by the PA news agency revealed the daily cost of dealing with the environmental activists reached up to £630,000 last autumn.
The force said the money "could have been better used" tackling "priority crime" in local communities.
Just Stop Oil caused huge disruption with supporters climbing motorway gantries on the M25 and the QEII Bridge in Dartford, Kent, as well as blocking main roads in London.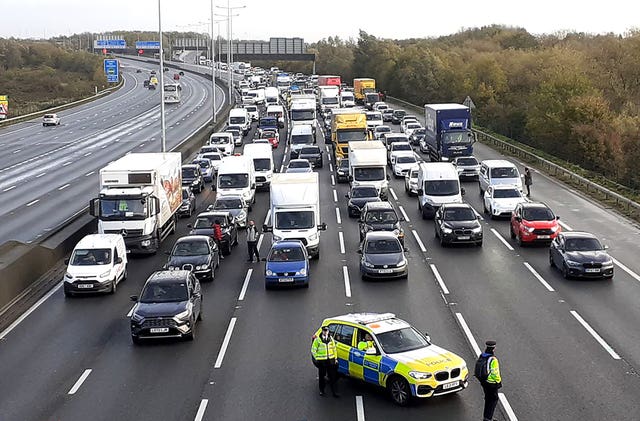 Some activists changed their tactics, holding slow marches along main roads in London and other cities to avoid arrest for blocking the highway.
The £7.5 million cost to the Metropolitan Police – revealed in response to a Freedom of Information request – covers the total of nine weeks from October 1 to November 14, and from November 28 and December 14.
It includes the cost of officers and staff planned to be on duty, overtime bills and costs for vehicle use.
More than 13,600 police officer shifts involved responding to Just Stop Oil protests in that time.
Ms Braverman said: "Enough is enough. Blocking motorways and slow walking in roads delays our life-saving emergency services, stops people getting to work and drains police resources."
Metropolitan Police Commander Karen Findlay, who leads the force on public order policing, said the protests required "policing and money that could have been better used in local communities, dealing with priority crime".
She continued: "Each day Just Stop Oil came out, we had to be ready to respond to their actions.
"When we saw them commit crime, we dealt with it quickly."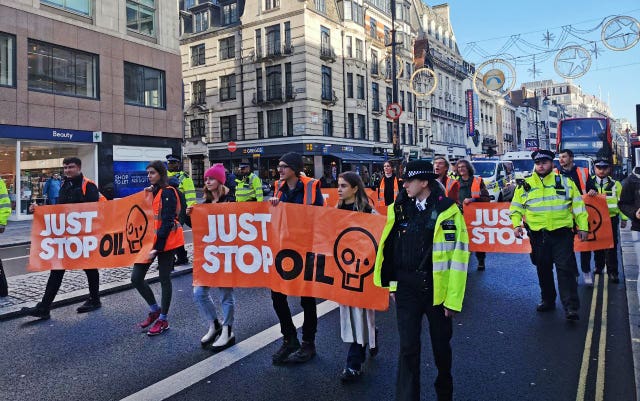 Some 184 of those arrests have so far led to charges.
Ms Findlay said: "We are determined to work with the Crown Prosecution Service to charge everyone who has brought misery to the public through their unlawful actions.
"Everyone has the right to protest but some of their activity was not protest, this was outright criminality intent on disrupting London, which we had to respond to effectively."
Force bosses said in December that because Just Stop Oil had not engaged with them in planning protests, they had to have manpower ready at all times, taking hundreds of officers away from their day-to-day duties.
A National Police Chiefs' Council spokesman said protests can require "a significant amount of planning work and resource for policing".
He went on: "Often, officers will be required to commit several hours away from their core roles and there may be multiple investigations which arise from protests that will impact on their workload."
Just Stop Oil is campaigning for the Government to end all new licences and consents for the exploration and production of fossil fuels in the UK.
Spokesman Grahame Buss, who said he took part in several "permitted" demonstrations last year and was not arrested, described the cost of policing the group's actions as "proportionate" given the billions of pounds being spent globally "adapting to climate change".
He added: "People are already dying because of the climate crisis. It really is a very serious issue.
"Overall, the costs of averting it are far less than the cost of ignoring it.
"We are the fire alarm in the room, the canary in the mine.
"If the Government did its job, we wouldn't have to be there."
The Government is attempting to tighten laws around protests through a Public Order Bill, which has been heavily criticised by civil liberties campaigners.
Ministers suffered a series of defeats on the legislation in the House of Lords this week, and peers will vote on a Government amendment on serious disruption on Tuesday.
Ms Braverman said: "Our Public Order Bill will see proper penalties for the small minority using guerrilla tactics to hold the public to ransom under the guise of 'protest'.
"Having listened to the police, we need to clarify what constitutes serious disruption in law, so officers can take much quicker action to protect the public and prevent days on end of gridlock on our roads.
"I urge colleagues across the House of Lords to pass this measure – it is our duty to stand up for the law-abiding public and protect their right to go about their business."