A massive monument known as the "Stonehenge of the North" has been gifted to the nation and opened up to the public.
Historic England and English Heritage said they have secured the future of the Thornborough Henges complex, near Ripon, North Yorkshire, following an agreement with the construction firm Tarmac to give part of the site to the nation.
The agreement dates back to 2016 when it was part of a wider planning agreement, forged after years of controversy over quarrying by the firm in the surrounding area.
The full site consists of three giant, circular earthworks – or henges – which are each more than 200m in diameter and date from 3500 to 2500 BC.
Historic England said the Thornborough Henges site is "probably the most important single ancient site between Stonehenge and the Orkney Islands in Scotland", describing it as the "Stonehenge of the North".
The central and southern henges have been gifted by Tarmac into the legal ownership of Historic England, the Government's heritage adviser, as part of the National Heritage Collection which includes Stonehenge, Iron Bridge and Dover Castle.
They are being managed by English Heritage, which is encouraging the public to visit from Friday, with new interpretation at the site.
"Comparatively few people are aware of its significance – both locally and nationally. I hope many more will come to appreciate this little-known gem of our history and while doing so provide a welcome boost to the local visitor economy."
Historic England said the Thornborough Henges sit in an ancient, ritual prehistoric landscape running from Ferrybridge to Catterick and are "unparalleled in their size, alignment and degree of preservation".
Like Stonehenge, it is thought the huge amount of people power channelled into their construction is an indication of their significance to the society that created them.
Evidence suggested they may have been covered in a mineral which would have made them glow white and be visible for miles around.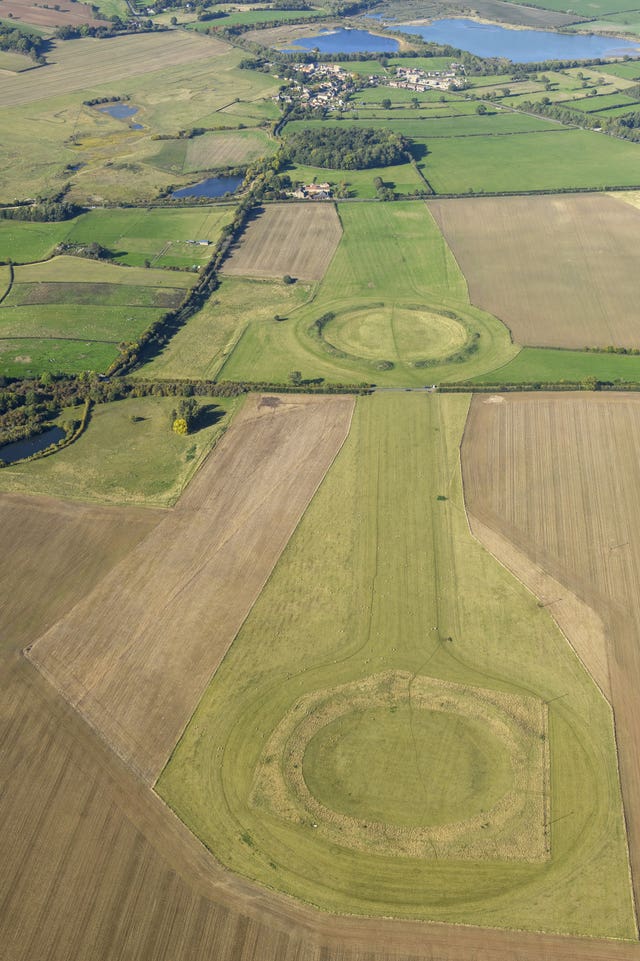 Today all three henges are clearly visible as massive circular banks, up to four metres high, with encircling ditches of various depths.
The central and southern henges have been actively farmed and so are not as well preserved as the northern henge, which remains in private ownership.
The two southernmost henges were added to Historic England's Heritage at Risk Register in 2009 and Historic England has been working with Tarmac to secure their future.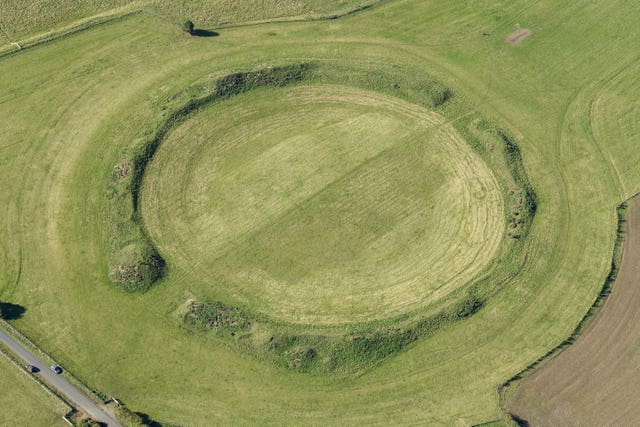 "They are a link to our ancient ancestors, through thousands of years, inspiring a sense of wonder and mystery.
"We are thrilled to have acquired this highly significant site for the nation, ensuring that these magnificent monuments are safe and will be preserved for generations to come."
Stuart Wykes, director of land and natural resources at Tarmac, said: "Tarmac has had a long-standing commitment to secure the long-term future of the monuments and we're delighted to gift this incredibly important historical site to Historic England. With its help, the heritage of the central and southern henges at Thornborough will be protected and preserved for years to come.
"We hope the public enjoy the breath-taking ancient site once it is accessible for them to enjoy."