The recent fall in Covid-19 patients in hospital in England appears to have come to a halt and is showing "concerning" signs of going into reverse.
Patient numbers had been dropping since the start of the year, after peaking at 9,535 on December 29.
But this decline has levelled off in recent days, with 6,055 patients in hospital with coronavirus on February 1, up 8% on the previous week, NHS figures show.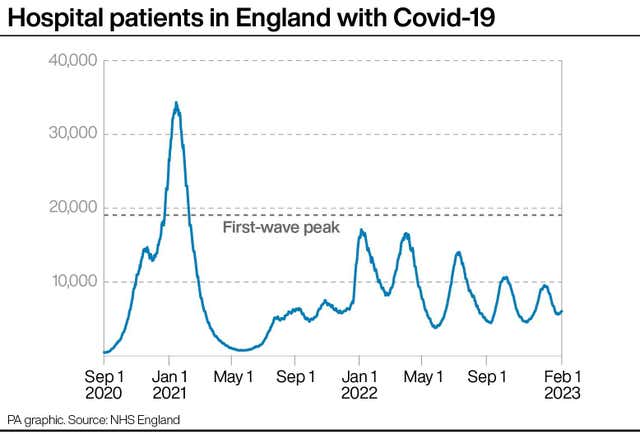 Admissions rose as high as 11.8 per 100,000 in the week before Christmas.
This is well below the rates seen during early waves of the virus, however.
Around two thirds of patients in hospital who test positive for Covid-19 are being treated primarily for something else, but need to be isolated from patients who do not have the virus, putting extra demands on staff already facing pressure from bed shortages, ambulance delays and a record backlog of treatment.
Dr Mary Ramsay, head of immunisation at the UK Health Security Agency (UKHSA), said: "It's concerning that the recent downward trend in Covid-19 hospitalisations has started to show signs of a reverse.
"Two variants, CH.1.1 and XBB.1.5, have a growth advantage in the UK and we can expect further increases in transmission and hospitalisations in future weeks.
"Older people are still at the highest risk of being hospitalised for Covid-19, so it's vital those eligible get their autumn/winter booster jab.
"Come forward before Sunday February 12 when the offer comes to an end – it will top up your immunity and keep you protected."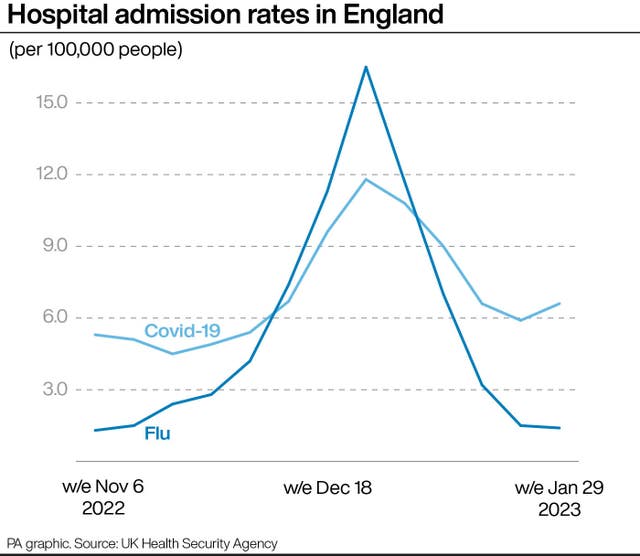 Two newer Omicron variants, CH.1.1 and XBB.1.5, are most likely to take over from BQ.1 as the next dominant variant in the UK, though neither have been classed as being "of concern".
Take-up of the latest booster dose of Covid-19 vaccine remains particularly low among people in their 50s and early 60s.
Only 42.6% of 50-54 year-olds are likely to have received the jab, along with 52.3% of 55-59 year-olds and 61.5% of 60-64 year-olds, according to UKHSA data.
Levels are higher among the oldest age groups, at 82.5% for people aged 80 and over, 82.6% for 75-79 year-olds, 79.0% for 70-74 year-olds and 71.9% of 65-69 year-olds.
All people aged 50 and over were able to book an appointment for the booster, providing they had their last jab at least three months ago.
Doses were also available for frontline health and care workers, pregnant women and people with weakened immune systems.