A 32-year-old man has been charged with the murder of Natalie McNally in Co Armagh in December, the Police Service of Northern Ireland (PSNI) said.
The man was re-arrested on January 31 in the Lisburn area after being previously arrested on December 19.
He is scheduled to appear at Lisburn Magistrates Court on Thursday.
Ms McNally, 32, who was 15 weeks pregnant, was stabbed in her home in Lurgan on December 18.
More than 1,000 people gathered at a rally in her memory at Lurgan Park on Saturday.
The rally was organised by the National Women's Council (NWC) and was attended by Natalie's parents Noel and Bernie and her brothers Brendan, Niall and Declan.
A number of politicians were in attendance, including Sinn Fein's Stormont leader Michelle O'Neill.
Many of those in attendance carried placards reading: "Justice for Natalie", and: "She was only at home", while a number wore pink or blue items of clothing in memory of the mother-to-be.
Brendan McNally told the rally that his sister was an inspiration to other women.
He said: "Natalie was a remarkable person. From the age of three she lived with type one diabetes.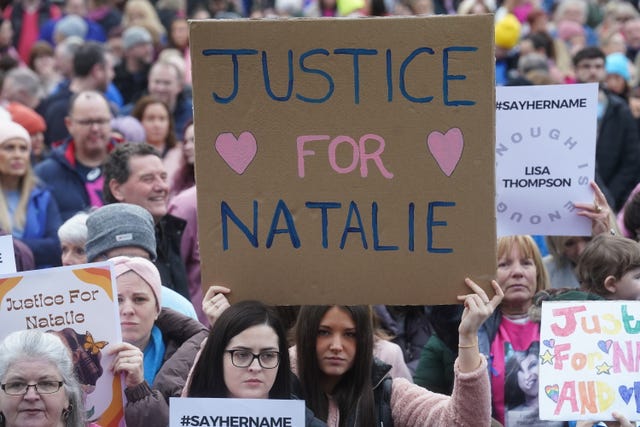 "She was delighted to be becoming a mother for the first time. For any young person living with diabetes in Northern Ireland, Natalie is an ideal inspiration."
He added: "Violence against women and girls is one of the great scourges of our society.
"This is no basis for a shared future.
"The time has long come for us to recognise that we cannot rest until the perpetual assaults against women are ended for good."
Detectives investigating Ms McNally's murder carried out hundreds of house-to-house inquiries and seized more than 4,000 hours of CCTV footage.
A PSNI spokesperson said all charges will be reviewed by the Public Prosecution Service, as is normal procedure.