Sir Keir Starmer accused the Conservatives of having an "addiction to sleaze and scandal" during a heated Prime Minister's Questions clash with Rishi Sunak.
The Labour leader raised questions on the Prime Minister's handling of former Tory party chairman Nadhim Zahawi over his tax affairs and bullying allegations levelled against Deputy Prime Minister Dominic Raab.
Sir Keir also pressed Mr Sunak to tell Boris Johnson to pick up the bill after it emerged taxpayers could end up spending more than £222,000 on legal fees defending the former prime minister from a Commons inquiry into whether he misled Parliament over lockdown-busting parties.
Mr Sunak also claimed Sir Keir is siding with "extremist protesters and union bosses" due to Labour's opposition to controversial strike and protest legislation.
Sir Keir told the Commons: "After 13 years in power, trying to blame the Labour Party for his failure to sort out the strikes is rank pathetic.
"The Tory Party's addiction to sleaze and scandal has done huge damage to this country and the cost to the public keeps adding up.
"We've got a justice system letting murderers walk the street. Heart attack victims waiting hours for an ambulance. An economy that is shrinking quicker than his leadership.
"And even I couldn't quite believe it when I saw that his Government is expecting taxpayers to pay the legal fees for the member for Uxbridge (Mr Johnson) defending himself over his lockdown rule-breaking. A quarter of a million pounds.
"Surely even this Prime Minister can put his foot down, stand up to his old boss and tell him he made the mess, he can pick up the bill?"
Mr Sunak replied: "He can't stand up to his union bosses, he can't stand up for Britain's schoolchildren today and he can't stand up for the women in his party."
He then listed Government priorities before adding: "While he can't even figure out what he believes in, we'll keep delivering for Britain."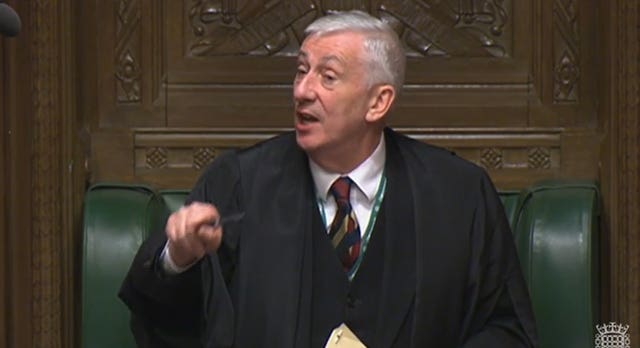 Earlier, Sir Keir said Mr Sunak "raised more questions than answers" when he announced Mr Zahawi would be sacked as Tory party chairman and pressed for answers on when officials knew he was under investigation by the taxman.
After Mr Sunak pointed to the independent investigation, Sir Keir replied: "Oh come on! Anyone picking up a newspaper in July last year would have known that HMRC and the National Crime Agency were investigating months before he appointed him."
After listing a series of newspaper reports, Sir Keir added: "Is he saying his officials hid this information from him? Or was he just too incurious to ask any questions?"
Mr Sunak replied: "As I have said before at the despatch box, the usual appointments process was followed with respect to the minister without portfolio.
"No issues were raised with me at the time of his appointment, but as the independent adviser's report makes clear, there was a serious breach of the ministerial code and that is why I took decisive action on receipt of that report."
Sir Keir then switched to raising allegations of bullying against Mr Raab, who repeatedly shook his head as the Labour leader spoke.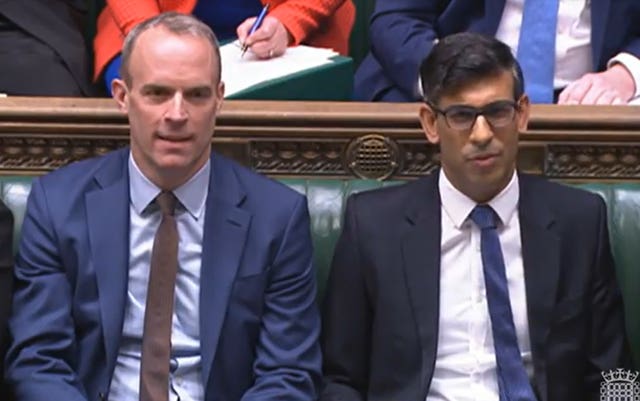 "According to recent reports, some of the complainants were physically sick. One says they were left suicidal. How would he feel if one of his friends or relatives was being forced to work for a bully, simply because the man at the top was too weak to do anything about it?"
Mr Sunak replied: "When I was made aware of formal complaints I instructed a leading independent KC to conduct an investigation because I take action when these things happen.
"But what did he say at the weekend, he said at the weekend that hate had been allowed to spread unchallenged in the Labour Party under his predecessor (Jeremy Corbyn). He was speaking as if he wasn't even there.
"But he was sitting right next to him, supporting him for four long years, not challenging. And it's typical of him, declining to lead, sitting on the fence, carping from the sidelines and never standing up for a principle that matters."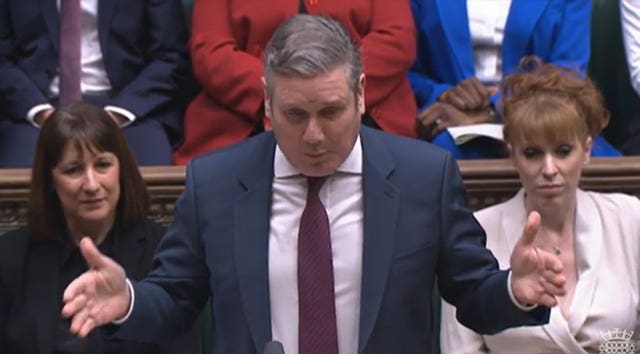 He went on to raise questions about the investigation into Richard Sharp's appointment as BBC chairman, with an inquiry launched amid claims he helped then-prime minister Mr Johnson secure a loan facility of up to £800,000 shortly before being appointed to the post.
Mr Sunak, in his reply, defended the appointments process and criticised Sir Keir for voting against controversial proposals to introduce minimum service levels during strikes and Labour's opposition in the Lords to elements of the Public Order Bill, which seeks to crack down on protests.
Mr Sunak added: "What do the unions and Just Stop Oil have in common? They bankroll him and his party. So while he sides with extremist protesters and union bosses, we stand up for hard-working Britons and schoolchildren."