A community was united in grief at a candlelit vigil for a four-year-old girl who was mauled to death by a family pet in a back garden.
People gathered to mourn the loss of the youngster, who has not yet been formally identified – but has been named in reports as Alice Stones, at a church near to the house on Wednesday evening.
Police were called to the home in Broadlands, Netherfield, Milton Keynes, by the ambulance service on Tuesday and the child died at the scene.
The end-of-terrace home remained cordoned off by police tape on Wednesday, and flowers and soft toy tributes piled up on the pavement.
Thames Valley Police said no arrests have been made and that investigators are working to establish the breed of the dog.
The animal was put down by police on Tuesday evening.
Around 100 people turned out to a vigil that had been organised at Grand Union Vineyard Church, Netherfield Campus, across the road from the house on Wednesday evening.
Prayers were said for the family as people gathered, holding candles, in the darkness in a green space at the rear of the place of worship.
There were moments of reflection as music was played over speakers, including Amazing Grace and Over The Rainbow.
Donna Fuller, a ward councillor for Woughton Community Council, said the area has a "tight-knit community, predominantly families".
She said the vigil was to "enable the community to come together and draw strength from each other".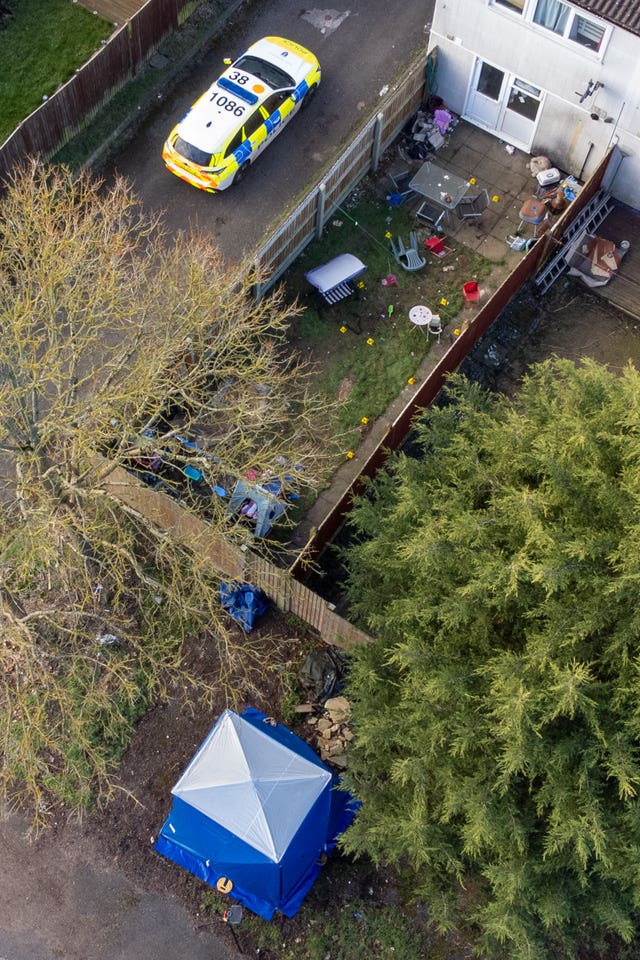 She said there is "such a sense of shock" and it is an "awful situation".
She told gathered crowds: "This family will need the time and space to allow them to process this tragic event and I hope that we can do that and help them in the future.
"I would ask that we support each other.
"There is a feeling of deep sadness that we will feel as a community so I ask you to be neighbourly and I ask you to be supportive and most of all I ask you to be kind."
Giving an update earlier on Wednesday, Superintendent Marc Tarbit said that the child's family are being supported by specially trained officers.
"Accordingly, no arrests have been made at this time.
"I can confirm that the dog was a family pet and was put down by police on the scene yesterday evening."
Neighbour Rita Matthews, 36, said she would see the child while walking her own daughter to school and described the youngster as a "happy little girl, very happy".
Among the floral tributes left to the youngster, one of them read: "Alice!! Fly high with the angels little one. The whole community will miss your smile. Our thoughts are with the whole family, especially her mum."
Police said there will be an increased presence of officers in the area with "reassurance patrols during early shifts and late shifts".