The Health Secretary has insisted he is "engaging" with unions in the bitter dispute over pay as the NHS prepares for the biggest ever industrial action in its history.
Steve Barclay said that discussions had been "constructive", but the comments were made as the GMB union expressed "disappointment" that the minister could not find time to meet with ambulance staff in parliament on Tuesday.
In under a week, the NHS in England is set to experience the biggest industrial action in history as nurses and ambulance staff walk out simultaneously on Monday.
It will be the start of almost a week of strikes for the health service in England as physiotherapists and ambulance workers from other unions also prepare to take action.
NHS Providers warned that disruption caused by the action will "skyrocket" as it pressed for a swift resolution to be reached.
Analysis by the organisation, which represents NHS trusts, suggests that some 88,000 appointments have been postponed in England in just seven weeks.
Addressing the House of Commons Health and Social Care Committee, Mr Barclay said: "We are engaging with the trade unions.
"I think if you look at the last meeting we had, the chair of the NHS staff council said that our discussion had been constructive and that's very much the tenure in which we are engaging with trade union colleagues.
"We recognise that the NHS has been under huge pressure through the pandemic, and also the pressures that many others in society face from the cost of living also apply to those working within the NHS.
"So we recognise both in terms of the demand from Covid, the demand we saw over Christmas in terms of a huge spike in flu on top of a high ongoing level of Covid, the system itself was under huge pressure.
"But also that comes in the wider economic context that society as a whole, given the cost of the pandemic, given the impact on inflation from the war in Ukraine, has also seen cost of living pressures – NHS staff are all part of that.
"So we're engaging with trade union colleagues, I've had a series of meetings with them.
"And we're keen to work with trade union colleagues and indeed have discussions with them in the context of this coming year's Pay Review Body, to best reflect those ongoing pressures within the NHS that play through in retention issues for staff, and so that we can reflect inflation alongside the other Treasury equities which other colleagues in Government will want to reinforce in terms of the wider affordability of any pay deal, given the size of the NHS workforce."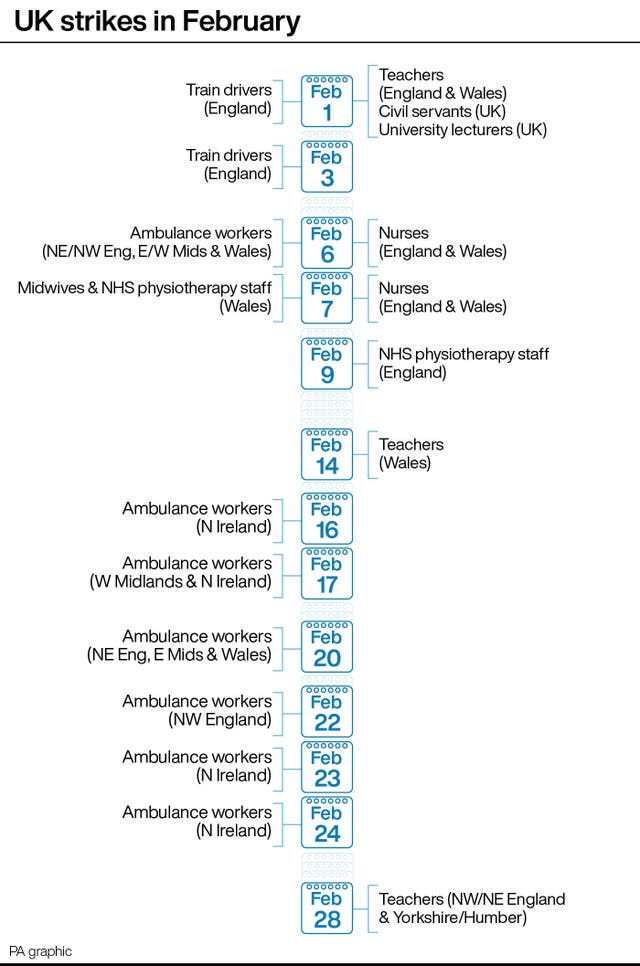 But Rachel Harrison, GMB national secretary, said: "Disappointingly the Health Secretary was too busy to meet with GMB ambulance workers in parliament today.
"Health workers shouldn't have to doorstep the Secretary of State to get their point across.
"Junior Health Minister Will Quince MP was good enough to attend.
"GMB members from ambulance services across England and Wales are angry and asked him robust questions about their wages.
"He listened to their concerns but wasn't interested in talking about pay.
"GMB ambulance workers were clear – only a pay offer will resolve this dispute."
During some of Mr Barclay's evidence to the committee, ambulance staff could be seen watching in the viewing gallery.
Meanwhile, Labour MP Taiwo Owatemi read Mr Barclay a list of expenses for a newly-qualified nurse, including hospital car parking fees, which would put them in the red each month.
Asked during a Health and Social Care Committee meeting whether "basic perks" such as milk for cups of tea or free parking would help retain staff, Mr Barclay said it can look "tokenistic" for a secretary of state to make decisions on what an individual hospital does "around milk and items like that".
He continued: "I think that's the sort of thing that a chief exec of a hospital and a senior management team … will want to talk to their staff council and talk to their teams in terms of how they best support them."
Turning to the issue of free parking, Mr Barclay said: "What your question very helpfully highlights is actually we should look at these issues in the round and actually sometimes non-pay benefits are also important alongside what is done on pay."
Labour MP Rachael Maskell also asked the minister: "Are you saying this is above your pay grade, that this is now a matter for the Treasury to resolve? Because until we get a resolution we are just going to see that spiral ever increase."
Mr Barclay responded that he will be putting evidence into the pay review body, is bringing forward "recovery plans", recruiting more staff and looking at non-pay issues like pensions.
"The honest position is to recognise that this is not simply a pressure on the English NHS, it's something the Welsh, the Scots and others are also facing, as are health systems across the world," he added.