Prime Minister Rishi Sunak will be braced for further questions about Nadhim Zahawi in the Commons as the Tory chairman fights for his political future.
Mr Sunak will face MPs at Prime Minister's Questions after launching an investigation into Mr Zahawi over his tax affairs.
Labour leader Sir Keir Starmer is likely to seize on the fallout from the multimillion-pound settlement with HM Revenue and Customs – at a time when Mr Zahawi was chancellor – when he goes head-to-head with Mr Sunak in Parliament on Wednesday.
A week ago, Mr Sunak told MPs that Mr Zahawi had "already addressed the matter in full" – but Downing Street subsequently revealed the Prime Minister had not been aware that the Conservative Party chairman had paid a penalty to HMRC as part of the settlement.
Mr Sunak admitted there are "questions that need answering" as the inquiry was launched, and it is unclear what he knew when appointing Mr Zahawi to the Cabinet-attending role.
Liberal Democrat deputy leader Daisy Cooper said: "Every day that Nadhim Zahawi clings on does more damage to Rishi Sunak's credibility.
"The Conservative Party is stuck in an endless cycle of sleaze and chaos, while the country suffers from a cost of living and NHS crisis.
"He promised his Government would have integrity and accountability, but instead once again it's one rule for them and another for everyone else."
Labour's deputy leader Angela Rayner also stepped up pressure on Mr Zahawi, reposting the minister's own letter calling for Boris Johnson to quit in July 2022 with the words "listen to yourself".
Mr Zahawi turned up for work at Conservative Campaign Headquarters (CCHQ) on Wednesday as usual ahead of Mr Sunak's Commons appearance.
Meanwhile, the chairman of the Committee on Standards in Public Life, Lord Evans, criticised the legal threats Mr Zahawi made as he tried to prevent stories about his tax affairs emerging.
As they worked to uncover the situation, The Independent website said he personally threatened "legal action" and tax expert Dan Neidle was contacted by "expensive" libel lawyers.
Lord Evans suggested "trying to close down a legitimate public debate" would not live up to the Nolan principles on public life that must be upheld under the ministerial code.
Senior Conservative MP Caroline Nokes has called on Mr Zahawi to "stand aside until this matter is all cleared up", but Mr Sunak has so far stood by him.
Commons Defence Committee chairman Tobias Ellwood said the situation is "a distraction".
But the Tory MP said that now Mr Sunak had asked his independent adviser on ministers' interests Sir Laurie Magnus to examine the case, "it makes absolute sense for the ethics adviser to report" before any further action is taken.
"These are tax matters, nobody knows the full picture of that, by the way, except Nadhim Zahawi and of course HMRC, so let's allow that report to land and then we have to take things from there," he told the BBC.
The row centres on a tax bill over the sale of shares in YouGov, the polling firm Mr Zahawi founded, worth an estimated £27 million which were held by Balshore Investments, a company registered offshore in Gibraltar linked to Mr Zahawi's family.
Mr Zahawi said HMRC concluded there had been a "careless and not deliberate" error in the way the founders' shares, which he had allocated to his father, had been treated.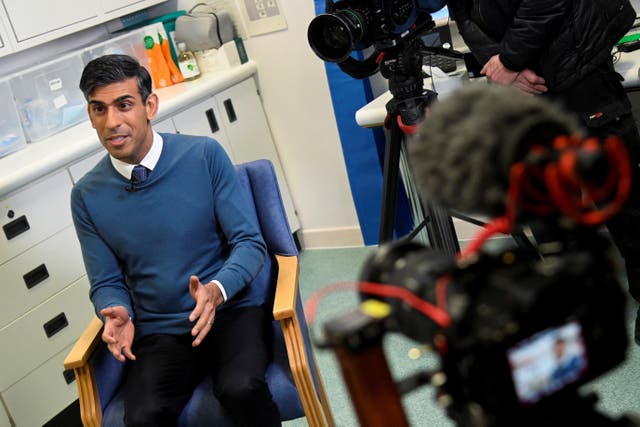 And the Prime Minister said the advice he received ahead of appointing Mr Zahawi party chair in October was that there was "no reason" not to.
Mr Zahawi has insisted he is "confident" he has "acted properly throughout".
He was appointed chancellor by Mr Johnson, whose time in Number 10 is continuing to create challenges for Mr Sunak.
Fresh allegations of cronyism in the Tory party have been levelled after it emerged BBC chairman Richard Sharp helped secure Mr Johnson a loan of up to £800,000 before the then-PM backed his appointment to the broadcaster.
Since the last PMQs, Mr Sunak has also received a second police fine, this time for failing to wear a seatbelt. The first was for breaking coronavirus rules during the partygate scandal.