Mourners at the funeral of a 26-year-old woman shot outside a pub on Christmas Eve were told to leave the service with hope in their hearts.
Elle Edwards was celebrating Christmas with friends when a gunman opened fire at the Lighthouse pub in Wallasey Village, Wirral, shortly before midnight.
She is not believed to have been the intended target of the attack.
On Wednesday, hundreds of family and friends attended St Nicholas Church in Wallasey for her funeral.
The funeral cortege was led by a hearse with a floral tribute saying "Elle May" and was followed by Ms Edwards's coffin in a carriage pulled by four white horses.
The coffin, topped with a display of roses, was carried into the church by pallbearers including her father Tim.
In a homily, Reverend Jeff Staples told the congregation that Ms Edwards's grandfather George had said they need to leave the church with "hope in our hearts".
He said: "The light of hope shone in the goodness of those who were able to act to try and save Elle. Elle was not abandoned to the darkness.
"The light of hope shone in the goodness of those who tended the wounded, who supported the fearful.
"It shone in those who offered words of comfort, who lit candles, who said prayers.
The order of service asked for donations to the Elle Edwards Foundation in her memory.
Mr Edwards said last week that he hopes a foundation set up in his daughter's name will help combat gun violence.
Rev Staples said: "I know Tim has said that he wants to work for good – to find ways to break this circle of violence that wants to destroy everything we hold dear.
"I pray that the good Tim wants to do bears great fruit, and this is the way of hope, the way of saying the darkness of evil will not extinguish the light of goodness."
The service included the hymn Be Still For The Presence Of The Lord and a eulogy, Remembering Elle.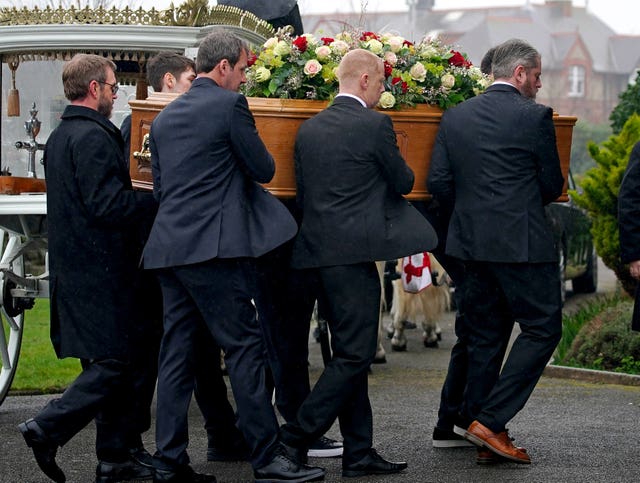 Mourners stood in silence as Ms Edwards's coffin left the church in the horse-drawn carriage after the service, ahead of a private cremation at Landican Cemetery.
The Lighthouse pub was closed on Wednesday as a mark of respect to the beautician and flowers were left at the entrance.
A statement on the pub's Facebook page said: "Elle and her family have remained very much in our thoughts over these past few weeks and even more so right now.
"May she rest in peace."
Connor Chapman, 22, has been charged with murdering Ms Edwards and is due to go on trial on June 7.